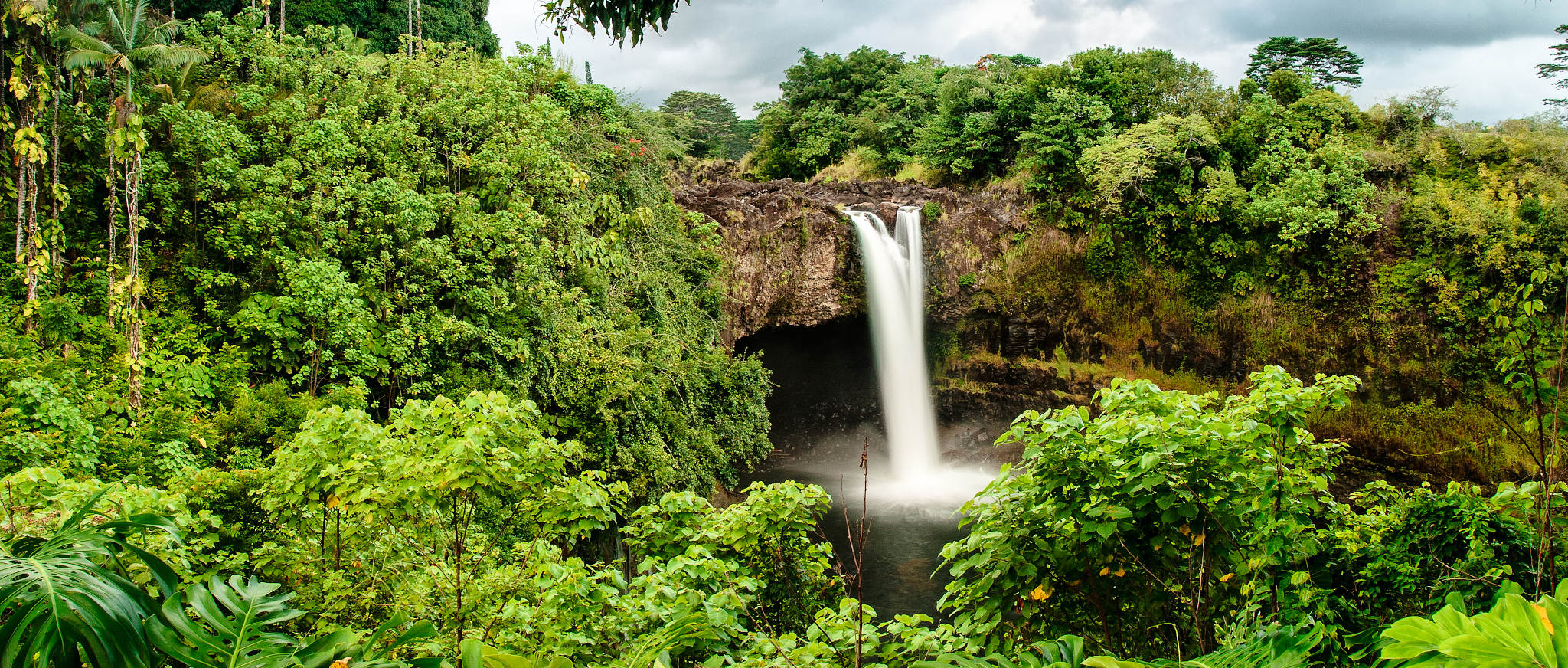 HILO - HOME TO BREATHTAKING NATURAL BEAUTY
Hilo Region is located on the northeastern side of the island of Hawaii, and it is home to the town of Hilo on the eastern boast of the mouth of Hilo Bay. The town and area is blessed with dramatic waterfalls, fertile rainforests and blooming gardens. In the early days, this was a busy farming and fishing community, and in the 1800's evolved into a center for the sugar industry.
Hilo surrounds a crescent-shaped bay, and offers museums, art galleries, shops and restaurants – plenty of places to explore in your Hilo rental car. Enjoy the beauty of the Liliuokalani Garden, including 30 acres of Japanese-style fishponds, rock garden and pagodas, offering a chance for peace and a respite during your stay.
Wailuku River State Park is the home of the 80 foot Waianuenue (Rainbow Falls) and PeePee Falls. Picturesque and worth a drive and walk through the forests. The nation's only rainforest zoo, Panaewa Rainforest Zoo will offer up its collection of exotic plants and animals.
Downtown Hilo is Hawaii's biggest small town, with wooden storefronts that are centuries old, many are recorded on the National Register of Historic Places.
Hilo is the capital of the Big Island, lying on the windward (East) side, and is known for its average rainfall of 140 inches. Rainy, tropical, laid back and friendly all describe Hilo. Visitors from the United States and all over the world comes to Hawaii to experience Hilo,
where time seems to be a bit slower than on the Kona side of the island.
Hilo is also the largest city on the Island of Hawaii – at 3.3 times the size of Kailua Kona, and home to over 23% of the island's residents.
CHOOSING A CAR RENTAL FOR HILO
You can make your way around the Big Island on public transport, but you are at the mercy of the public bus system to get to places on their schedule. Taxi and rideshare options can be great for short distances, but costs can add up to way more than the cost of a rental car in Hilo. Most of the car rental companies have pick-up locations right at the Hilo Intl Airport (ITO). This allows you the convenience of starting your vacation the minute you leave the baggage claim – you are in control of the wheel and can travel to your heart's content.
There is so much to see up and down the cost from Hilo, you will surely need a Hilo Car Rental to get you around, and allow you to visit as many places as possible.
When choosing your Hilo car rental, you will want to consider the size and number of passengers, as well as the amount of luggage and gear you will need. Paying for a very large vehicle like a minivan or SUV just to get your luggage to your accommodation may not be practical when a smaller vehicle will suit your passengers for the majority of the trip. It might be practical to book a more cheap car rental, and then overpack the vehicle for the short trip to your accommodation, or arrange a taxi to drop-off one person and the luggage, and help you save money by not renting that more expensive larger vehicle.
HILO INFORMATION
Hilo Farmers Market is one of the best Hawaiian open markets
Orchid capital of the world
Boiling Pots in Hilo is named from the many "boiling pots" eroded into rocks by the water.
Home to the Merrie Monarch Festival
THINGS TO DO IN HILO
Chocolate, Coffee, Tea, and Vanilla Farms abound
With tours lasting between 1 – 2 hours each. Get in touch with the local farming community and discover what this area is known for.
Coconut Island
Accessible from downtown Hilo by foot, with small beaches, a grassy area and picnic tables to enjoy your lunch, which you can grab from the Hilo Farmers Market. A 20 foot tower makes a great place for the young and young at heart to jump into the water. The water is mostly sheltered and calm, with several tide pools to explore.
Hamakua Coast Scenic Drive
A 40 mile scenic stretch of land between Hilo and Waipi'o Valley, hosting spectacular waterfalls, canyons lines by lush rainforests. Take your camera as you will want to stop lots.
Car Rentals in Hilo FAQs
Why should I book by Hilo rental car through Discount Hawaii Car Rental?
We have very competitive rates with the major car rental companies that have Hilo Intl Airport locations, and car rental locations within the town of Hilo itself. We offer benefits that can include free additional drivers, and reduced young driver rates with some car companies. We have great staff available to answer your questions, and help you pick out the right Hilo rental car for your needs.
Should I book my Hilo rental car before arriving?
The best car rental deals in Hilo are often found farther out from your pick up date. It is always a great idea to book your car rental in Hilo as soon as your flights have been confirmed. There are no cancellation fees, and rebooking is always free - so you can book early, and hold that rate. If you check in on rates closer to your trip and see they have gone down, you can easily rebook on our website, and cancel the existing reservation. If rates go up, you already have the best rate locked in, and if they do come down, you can take advantage of rebooking at a lower rate with no penalties.
What is the most popular rental car in Hilo?
Most renters prefer to spend less on their Hilo Hawaii car rental and use that money for visiting the sights, and eating in nice restaurants! If this is you, just book the car type that best suits the needs of your passengers. A 4WD vehicle or pickup truck is not required as all vehicles can traverse all roads a rental car in Hilo is allowed to travel. If you want to experience an open-air drive along the coast, a convertible car will fit the bill - it is easy to put the top up or down in case of weather changes, or too much sun, whereas the wrangler is a fun to driver vehicle, but most likely has a T-Top which will mean stopping and pulling over to put the top back on.
Is driving in Hilo easy?
Yes, it is very easy to drive around Hilo and the surrounding areas. Take a map with you and you should have smooth sailing all over the island. Respect the rules of the road, watch out for wildlife, and carefully follow the instructions to find all of the hidden gems on this beautiful side of the island.