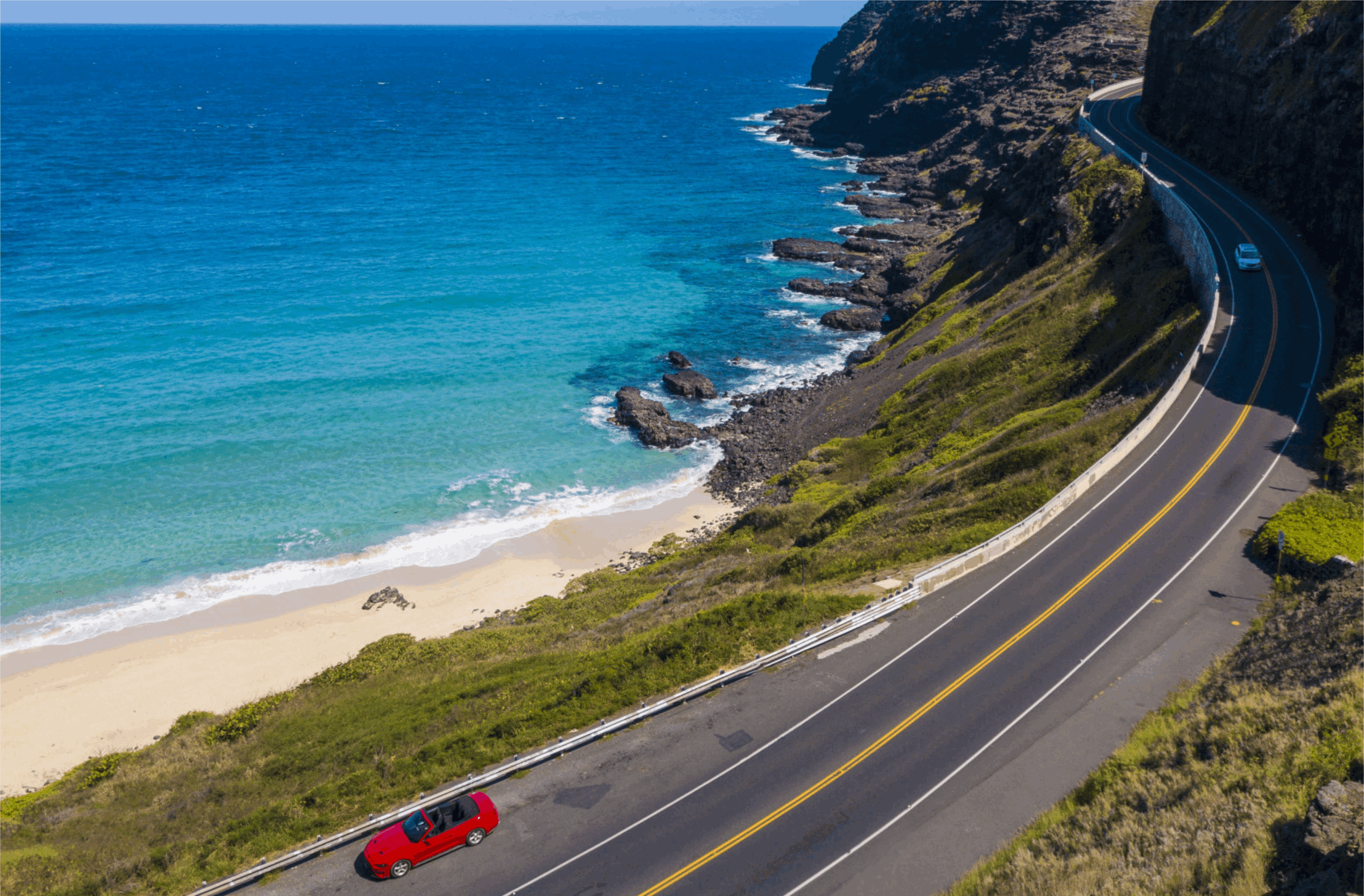 Choosing the Right Vehicle for Your Hawaiian Adventure
Ensuring Canadian travellers choose the right vehicle before they arrive is the goal. Consider the size of your party, and the amount of luggage they will bring. Some families also need to bring car seats, strollers, etc., and will need space to accommodate all of their belongings. Choosing a vehicle that is priced well but is too small could end up costing you a lot more money than you originally planned, as you will be facing an upgrade at the counter, without discounts or any other benefits. You will be at the mercy of the car rental counter.
Visitors from Canada should consider which activities they wish to participate in, and how they will get there; to ensure they choose the best car rental for their needs. If you are a small group of people or a couple, you may wish to consider a small vehicle that is easiest to park in tight parking areas. Or you may wish to experience a total top down convertible, knowing you can put the top up with the push of a button if the weather changes, or you have had enough sun. Large groups may want to travel together in one vehicle so they can enjoy each other while they travel – a larger 12 or 15 passenger van may be ideal.
Comfort, budget and parking are all considerations you will want to accommodate as you go about choosing the right vehicle for your trip. Our agents are here to help – we have many suggestions that would help you decide what option will best suit your needs. All you need to do is ask – we are happy to suggest options, and give you travel tips that can make your experience more enjoyable.
Hawaii Rental Car Types
Electric (EV)
EVs come in different forms such as all-electric, plug-in hybrid electric, and hybrid electric vehicles. All-electric vehicles are powered entirely by electricity and have a range of around 100-300 miles on a single charge, depending on the model. Plug-in hybrid electric vehicles have a smaller battery and can run on gasoline or electricity, while hybrid electric vehicles have a smaller battery and rely mainly on gasoline but also use electricity to improve efficiency.
Book Now
Rental Providers in Hawaii
Book Your Hawaii Rentals with Us
Welcome to Discount Hawaii Car Rental. We have very experienced agents ready to talk to you and help you with your car rental questions and decisions. We have reduced rates for Canadians with each of the major car rental companies, making our rates very competitive in the Hawaii Car Rental market. Many of the car rentals also include perks such as free additional drivers and reduced young driver fees, which can save significant money on your car rental.
Our customer service staff are second to none – we are so proud of the many compliments and testimonials we have received over the last 20+ years, proving we are doing something right. We always put the customer first, and your needs are the only thing that matters when you contact us.
We have partnered with the major car rental companies in Hawaii, developing great relationships with the staff and managers at each location, with the benefit of making our customers' experiences as smooth and issue free as possible. If you do encounter an issue or a problem, we are here to help. We are a phone call or email away.