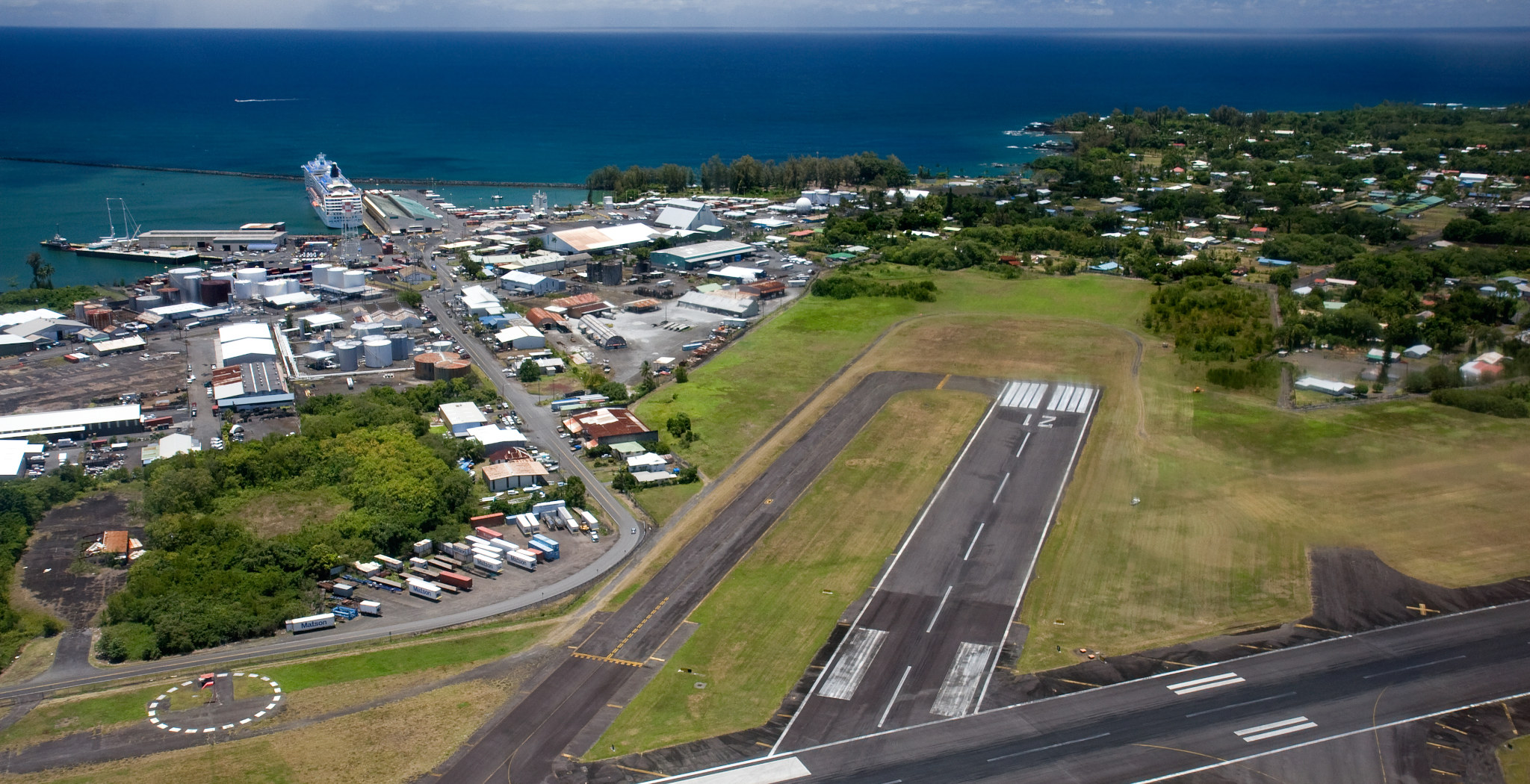 Car Rentals at Hilo Airport
HILO Airport (ITO) Car Rentals
Hilo International Airport (ITO), formerly known as General Lyman Field, is located about 2 miles east of Hilo on the eastern side of the island, and is mostly an interisland airport with general aviation operations. Many flights to Hilo are connector flights from the International Airport on Oahu, although Hilo is also able to handle overseas flights.
The passenger terminal complex consists of three interconnected buildings, with a total of about 220,000 square feet, and services two runways. Hilo Airport is the smallest of the 5 major airports in Hawaii, in terms of passenger arrivals and departures.
The Hilo Car Rental facilities are located right outside the terminal on ground level, and quick walk across the street for Canadian passengers. Most flights to Hilo originate from Honolulu International Airport. With the airport encompassing over 1,000 acres, this is the smaller of the two airports on the Big Island of Hawaii.
What's available at Hilo International Airport (ITO)?
Hilo International Airport handles Canadian passengers travelling in East Hawaii, including Hilo and Puna. Like most airports in the United States, a variety of shopping and dining options are available with hours based on flight schedules. After leaving the baggage claim, you can even pick up a lei right at the airport from the local Lai Stand! There is free WiFi Service available, as well at the airport, and you can enjoy a meal or snack at the restaurant, pick up a gift to take home from the gift shop, and maybe a snack and a good book for the flight back to Canada from the Newstand.
Like other Hawaiian airport locations, persons with disabilities are well-considered here, with accessibility to help with wheelchairs, washrooms, and porter services. Besides the men's and women's washrooms, Hilo Airport also has two accessible family restrooms. For the deaf and hard of hearing, there are a few Text Telephones.
Car Rentals in Hilo are an easy option with the rental locations situated across the street from the main terminal – a quick walk. Renting a car on the Big Island is pretty much a necessity to be able travel around the island and explore its many sights.
WHICH CANADIAN AIRPORTS HAVE DIRECT FLIGHTS TO HILO INTERNATIONAL AIRPORT (ITO)?
There are very few direct flights to Hilo, although you may be able to get a direct flight to one of the other Islands, or into Kona from a Canadian city, then transfer to an inter-island flight.
Vancouver International Airport (YVR)
Has many direct flights to the Islands, and you may be able to get a great deal on an inter-island flight into Hilo.
Toronto Pearson International Airport (YYZ)
You may have to choose a direct flight to another island, or to another city in order to get a connecting flight into Hilo.
Montreal Pierre Elliott Trudeau International Airport (YUL)
You are best to choose a flight to a different Island, then connect to Hilo via an inter-Island flight. Or choose to fly into a city in the US that has a direct connection to Hilo.
Ottawa McDonald-Cartier International Airport (YOW)
Ottawa has few choices for flights, so you are best to choose a flight to a city that has a connection to Hilo.
Calgary International Airport (YYC)
You can choose various flights from Calgary to any Island, and then connect via an inter-island flight when going to Hilo.
COVID-19 INFORMATION FOR CANADIANS TRAVELLING TO HILO
Although there are fewer restrictions on an ongoing basis, it is always advisable to check the local Hawaiian guidelines for travelling. The link below is a great choice for finding out about current restrictions when travelling to Hawaii from Canada.
Hilo International Airport Information
Hilo Airport (ITO) Rental Car Providers







CAR RENTALS IN HILO AIRPORT (ITO) FAQs
What do Canadians need to know before renting a car at Honolulu Airport?
Canadians will need to bring their current Canadian Driver's Licence from their Province, along with their passport when renting a car. All charges will be in USD, so be prepared to see these charges being translated into Canadian Dollars on your credit or debit card.
Make sure you check with your Canadian car insurance provider before you travel to find out how much insurance coverage you already have for car rentals. You also may have some coverage on your credit card. This is important information so you can make an educated decision at the counter about what you may need to purchase, and you are not buying products you do not need.
Always check the details on the screen when you are signing the screen for your rental car in Hilo, and make sure there are no unexpected charges. Once you sign, you are responsible for any charges you sign for.
What do I need to provide at the rental counter when I arrive to rent a car at Hilo Airport?
As a renter, bring your confirmation # and possibly the entire email with you during your pick-up time - all instructions for picking up your vehicle are included. Your driver's licence is always a necessity. An International Driver's Permit may be needed as an additional document if your driver's licence is not in English. A credit card matching the name of the main driver, or a debit card may be accepted if it has a Visa or MasterCard Logo, and passes a credit check where required. You will need to bring the additional drivers, their driver's licence and credit card to the car rental counter as well.
Can I rent a 4WD vehicle at Hilo Airport?
Jeep Wranglers are usually all 4WD. Some car companies do have the odd 4WD vehicle on their lots and some AWD vehicles as well, although there is no guarantee you will get a 4WD car type unless you book a wrangler.
Can I get a deal on a rental car at Hilo Airport terminal, Hawaii?
Yes, if you are a price watcher you're more likely to get a cheap car rental. It is always best to book way ahead of time - as soon as you have confirmed your travel dates and times. That way you have a confirmed rental of the exact type of vehicle you desire, such as an economy car, minivan or an SUV. You can recheck our website for lower prices offered by the car rental companies in Hawaii up until the time you depart. If you find a lower rate, book it and cancel the rental you already have.
Rentals by Island
Rentals by Island
Looking for an alternate way to find your perfect car?
Try searching by island instead.
Rentals by Island