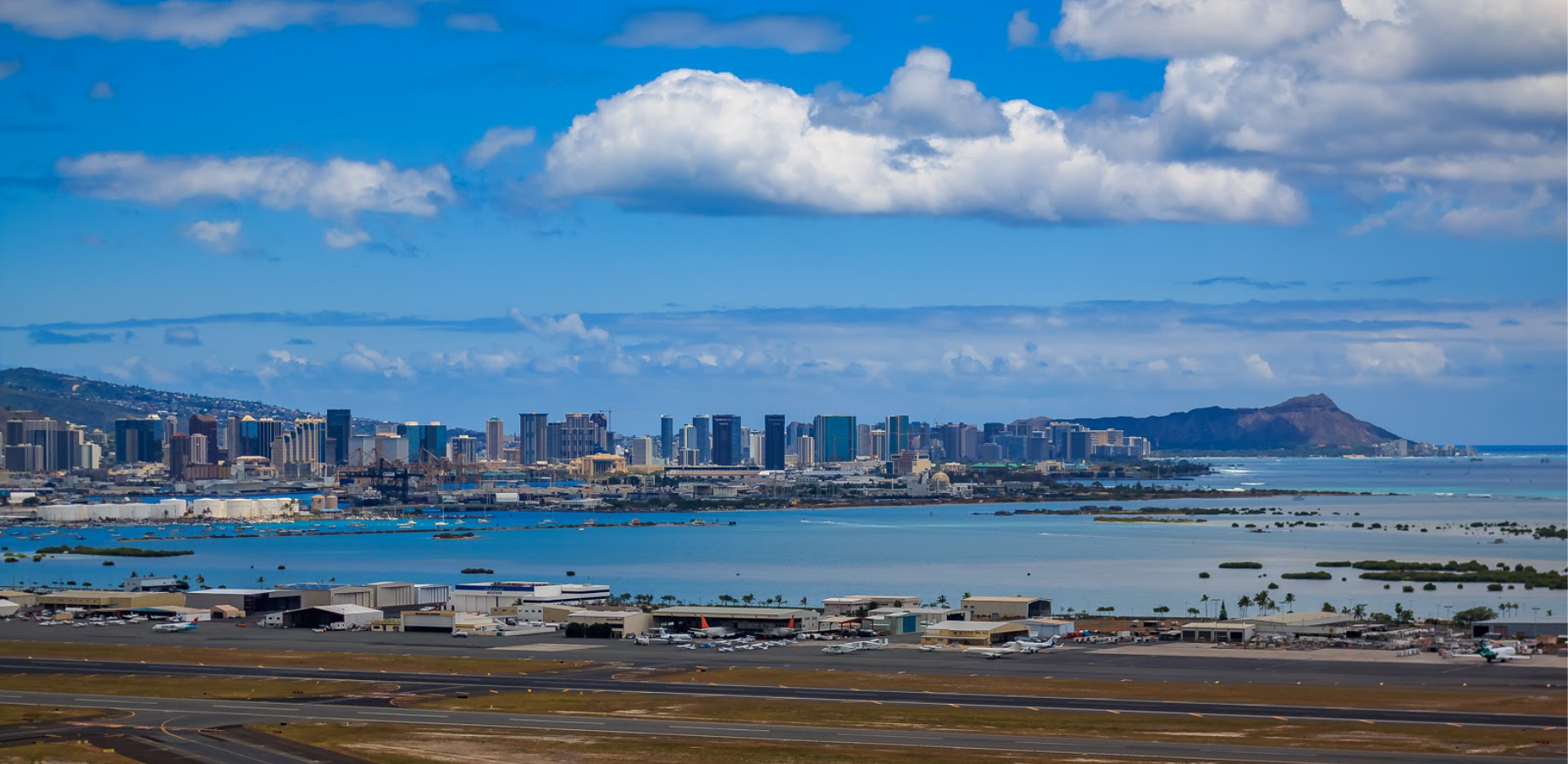 Car Rentals at Honolulu Airport
Honolulu Airport (HNL) Car Rentals
Daniel K. Inouye International Airport (HNL), was formerly known as Honolulu International Airport and is often still called by that name for simplicity. The largest airport in the state of Hawaii handles flights from many countries around the world and consists of three terminals, all inter-connected by a regular "Wiki-Wiki" bus service. There are four active runways, including one of the world's first major runways built entirely offshore – Reef Runway, which is 12,000 feet long.
More than 20 million visitors a year arrive at and depart from this airport, which is served by domestic and international carriers, as well as interisland airlines and commuter flights.
There are many opportunities for Canadian guests to enjoy Hawaiian culture right on the Airport Grounds, or in the terminal itself. Artwork is displayed around the terminals ranging from free-standing sculptures to murals, all commissioned by the State Foundation on Culture and the Arts. Made up of over 8,000 unique images, a giant mural commemorating the 50th anniversary of Hawaii's statehood can be found on the Diamond Head Breezeway, of Concourse E. in Terminal 2. This mural features the work of students nationwide, and is well worth a visit.
A vacation on Oahu starts at the Honolulu Airport. After arriving from your flight and collecting your luggage, you are ready to explore everything this island has to offer. A lot of Canadian passengers ask the question "Do you need a car rental in Honolulu? And that answer is different for everyone. If you are staying in Waikiki, and you just want to park yourself at the beach, a Honolulu Airport car rental may not be necessary. You may be able to rent a car in Waikiki at one of the nearby Honolulu car rental locations for a day when needed. If you are planning on touring the island, or staying on the North Shore, you will most likely need to rent a car in Honolulu to get around.
Pick up your HNL Airport car rental and start enjoying paradise!
What's available at Honolulu International Airport (HNL)?
Besides picking up and dropping off rental cars at Honolulu Hawaii Airport, Daniel K Inouye International Airport offers several garden sites right on airport grounds. Chinese, Hawaiian and Japanese Gardens were all designed back in 1962 when the Airport was built on this site. These Gardens surround the Ticketing Lobby, and E Gates of the airport. The C.B Lansing Garden is located at ground level of Terminal 1. Visitors may also be able to enjoy free Hawaiian entertainment in the Lobby.
Free Wi-Fi is available, as well as a baggage storage facility for those passengers needing to leave their bags for long and short term storage periods. Computer terminals are also available at The Business Centre, and throughout the airport that can be accessed for a small fee.
Fresh floral greetings are popular, as welcoming visitors with a Lei is an important tradition here. You can pre-arrange your Lei greeting prior to arrival, with the actual greeting happening in the baggage claim area. Lei stands are located on airport grounds and Lei are also available from Florist shops and carts within the terminals, coming in many varieties of popular Hawaiian flowers.
Canadian Persons with Disabilities will find this airport accessible for wheelchairs, with assistance available upon request from the Porter Services. Skycap (porter) Services are trained to assist travellers with disabilities. Text telephones are available for the deaf and hard of hearing.
A 24 hour medical clinic is located in the main terminal on the ground level in the garden court area. VIP Staff are located at booths throughout the airport to assist travellers and provide information. Automated External Defibrillators are located about every 90 seconds walking distance through the public areas of the airport.
Restaurants, and snack bars are available alongside higher end boutique, and Duty Free shops. A large variety of shopping opportunities are available while you wait for your connecting flight to visit another Island, or your return flight home.
A brand new Honolulu Airport car rental structure has just been completed with funding coming entirely from the daily customer facility charge of $4.50/day charged for all rental cars. The new CONRAC Consolidated Car Rental Facility , built with energy efficiency in the forefront, has it all, and all of the major car rental companies are now located at this new facility. Honolulu Airport car rentals have become easier and more efficient, making your car rental in Honolulu an experience you can actually enjoy.
WHICH CANADIAN AIRPORTS HAVE DIRECT FLIGHTS TO HONOLULU INTERNATIONAL AIRPORT (HNL)
There are direct flights from some Canadian airports to Honolulu at different times of the year. Winter is the most popular season for Canadians to leave the cold behind, and explore the warm sunny island of Oahu.
Vancouver International Airport (YVR)
Has the most direct flights to Honolulu, and the shortest flight times.
Toronto Pearson International Airport (YYZ)
A direct flight from Toronto to Honolulu can take over 10 hours, and there are not a lot of options for direct flights, as many have a stopover enroute. There are more direct flights during the high season for Canadians.
Montreal Pierre Elliott Trudeau International Airport (YUL)
There are no ongoing direct flights, but there are some very popular routes with one connecting flight along the way. Air Canada has been known to add direct flights in high season, so it is good to watch for these.
Ottawa McDonald-Cartier International Airport (YOW)
Ottawa direct flights to Honolulu are non-existent, so it is best to look for the best one-stop option, with perhaps a stop in another city along the way. Be prepared for a long flight.
Calgary International Airport (YYC)
Calgary does have some direct flights to Honolulu, as this is also not as long a flight as those from Eastern Canada.
Honolulu Airport (HNL) Location Information and Map
Honolulu Airport Car Rental Companies






All of the car rental companies in Honolulu Airport are now located at the new 11-acre, 1.8 million foot Consolidated Rent-A-Car (Conrac) Facility. Access to this facility is easy – you can stroll over from Terminal 2, or take the consolidated shuttle from Terminal 1. Some of the Honolulu Airport car rental companies that were previously located off-airport have now moved to this new location, so almost all suppliers are now located in the new facility. Which Honolulu car rental companies are now located at the new Conrac Facility? You will find Alamo Rent a Car, Avis Car Rental, Budget Rent A Car, Dollar Rent A Car, Enterprise Rent-A-Car, Hertz, Payless Car Rental, and Thrifty Car Rental. Each car company will have it's own Honolulu Airport Car Rental hours, which will be the hours of operation, and our system will only allow you to book your best car rental for Honolulu Airport when they are open.
TIPS FOR CANADIANS RENTING A CAR AT HONOLULU AIRPORT
Make sure you have all of your documents ready when you disembark, so you know which Honolulu car rental company you will be looking for. This will include your car rental confirmation number and/or email with the details about your Honolulu airport rental car.
Check prices with us from time to time – as HNL Airport car companies can change their rates depending on availability. Sometimes a rental car shows up at a lower rate than expected, and it could be a larger or sportier model, and less expensive than the one already booked. Book it, and once you have it confirmed, cancel the original booking, freeing that car up for someone else to book.
Car Rental prices at Honolulu Airport are often less than car rental prices in Waikiki. Waikiki is a resort town, and they are known to charge higher rates more often. If you are looking to save money, choose a HNL airport car rental location.
If your driver(s) are between the ages of 20-24 we have certain car companies that have lower young driver rates. Young drivers get an additional daily charge added at the counter – that fee does not show up when you book the car, but will register at the counter when you show your driver's licence. Make sure you read the fine details to make sure the type of vehicle you want to book qualifies for young drivers as some HNL Airport car rental companies do not rent some specialty vehicles or larger vehicles to young drivers, and some do not allow young drivers to use debit cards. This is all detailed in the fine print. If you need help with this, please call us and we can go over all of the details with you to make sure you qualify for the car you book, and avoid added expenses and disappointment at the car rental counter at Honolulu Airport.
CAR RENTALS IN HONOLULU AIRPORT (HNL) FAQs
What do Canadians need to know before renting a car at Honolulu Airport?
Canadian travellers will need to bring their up to date Canadian passport and Driver's Licence with them to the counter. It is always a good idea to check with your car insurance company to see if your current insurance covers you for car rentals, and how much coverage your policy provides. You will always be asked about insurance at the counter, and it can be expensive to purchase the various policies provided, so it is wise to already know what you are covered for, and what you might need to purchase. The contracts will be in USD, so be prepared for the conversions to Canadian dollars on your Credit or Debit card. A credit card is the best option for car rentals, as it opens the door to the most possibilities. Some Debit cards are acceptable, but they often have restrictions to certain car types, ages of drivers, etc. It is always a good idea to read the small print when booking to make sure you qualify. And if you have any questions, we are always happy to help - just give us a call or send us an email.
Should I book a rental car before arriving at Honolulu Airport?
It is always a good idea to book your HNL airport rental car in advance, so it is ready for pick up when you arrive. Honolulu rental car costs can be higher at the airport when you arrive, as you are now subject to whatever is available at the rates being offered. Sometimes rental cars are sold out, and you could find yourself spending way more time than you want just procuring a vehicle that will suit your family. When you book your flight, secure your Honolulu cheap car rental car as soon as possible. You can always search our website again later, and if prices do go down, you can rebook at a lower rate, but if prices rise, which they often do closer to your departure date, you know you have the best price available and a guaranteed vehicle.
What do I need to provide at the Honolulu car rental counter when arriving?
As a renter, bring your confirmation # with you to your pick up location. At this time you'll be given all of the rental information including rental policies and drop off information. Your driver's licence is always a necessity. An International Driver's Permit may be needed as an additional document if your driver's licence is not in English. A credit card matching the name of the main driver, or a debit card may be accepted if it has a Visa or MasterCard Logo, and passes a credit check where required. There are some cars that are not able to be rented with a debit card, so read the fine car company details when booking if you plan on using your debit card. You will need to bring the additional drivers, their driver's licence and credit card to the car rental counter as well.The decision is always up to you and what matters most, whether it is to spend the least amount of money, and still get around, or spend a little more and allow the driving to enhance your total experience as you feel the sun on your face, and the wind in your hair.
How can I get the best car rental deals at Honolulu International Airport (HNL)?
After booking with Discount Hawaii Rental Car, be sure to frequently check back. If you visit our website at a later date and see that prices have gone down, you can rebook at a lower rate, but if prices rise, which they often do closer to your departure date, you know you already have the best price available and a guaranteed vehicle. Prices can get very high closer to holidays and high seasons, so booking your Honolulu car rental in advance can assist you in avoiding this rise in rates as well.
What types of cars are available if I rent a car at Honolulu Hawaii Airport? Or What is the Best Type of Car to Rent in Honolulu?
You can rent most varieties of cars at Honolulu Airport. You won't need a specialty 4WD to visit any spot on the Island that rental cars are allowed to travel. Your choice of vehicle will depend on what type of experience you desire, whether it is a "top down, open air feeling" from a convertible, a "sporty ride" in a Wrangler or SUV, or a larger minivan or smaller economy class to accommodate your family and luggage. The best car for oahu is the one that works best for you and your family, and is the least expensive option you can find. Sometimes that means it is not the least expensive car, as you have to look at how many passengers, how much luggage, etc. you will need to fit in your vehicle. If you are not so worried about price, but are looking to celebrate a special occasion, there are HNL airport convertible options as well as Wranglers for that sporty Oahui car driving experience.
Rentals by Island
Rentals by Island
Looking for an alternate way to find your perfect car?
Try searching by island instead.
Rentals by Island