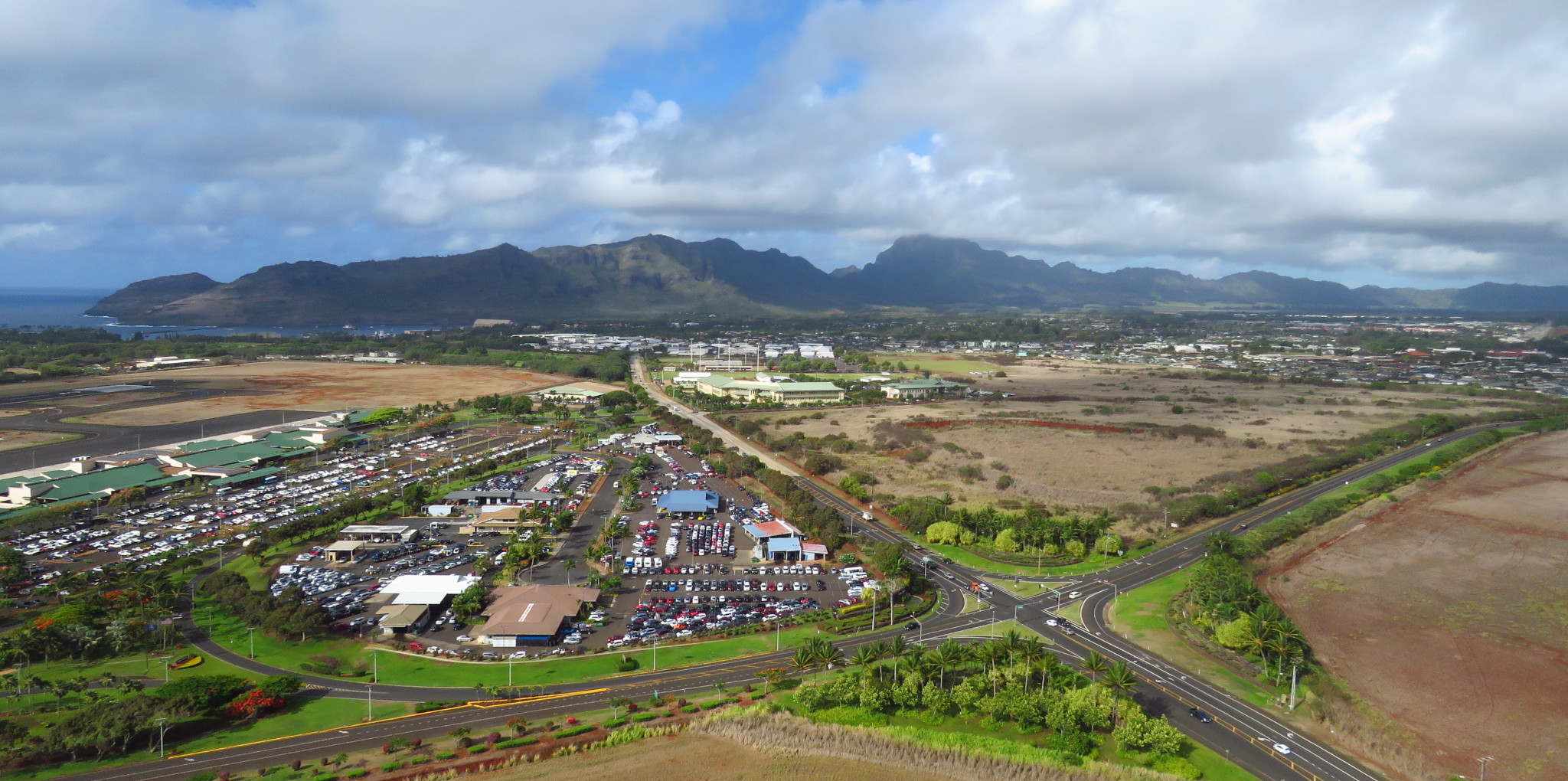 CAR RENTALS IN LIHUE
If you are looking for a car rental for Lihue Hawaii, the best place to start that search is at the Kauai Airport. All of the major car rental agencies have pick up locations right at the airport, and lots of choices to get you on the road to explore Lihue.
The best car rental deals in Lihue will depend on your own personal needs and requirements. A large family with activities in mind will have very different needs than a couple wanting to settle in near a beach. Make sure you choose a car type that will fit your needs, or you may find yourself at the car rental counter realizing you may have to go for an expensive upgrade to fit your large group and luggage.
There is no need to rent a 4WD vehicle, as all cars will travel well on the paved roads where rental cars are allowed to travel. A Jeep Wrangler is a fun vehicle, but keep in mind, this is a wet climate, and you may find yourself pulling over to put the top on in the pouring rain. If you love the open air experience, a convertible may be a better option, as the top is controlled by the push of a button. Keep in mind, the back seat is very small and may not be a great fit for adults or older children, with little to no leg room. Most car rental companies have various options available including small economy sized cars, SUVs, and even minivans.
EXPLORING LIHUE, HAWAII
Lihue is best known as the transportation, industrial and public sector hub of Kauai. Lihue Airport is your first introduction to the Island of Kauai, and is located in this charming historical town. Located on the eastern shore of the Garden Isle, Lihue has been around for over 200 years, starting with dirt roads that needed paving to accommodate the sugar cane harvest in the early 1900's. Rice Street is the main drag in Lihue, where you will encounter most of the local businesses, such as Kauai Beer Company, Ha Coffee and Kauai Museum.
The Capital of Kauai, Lihue is a cultural and historical spot, and the most traveled town on Kauai. Nawiliwili Harbor is the island's major commercial shipping center as well as cruise ship port.
Resorts near Kalapaki Beach provide opportunities for bodysurfing, swimming and sunbathing on the beach. Alekoko Fishpond in Nawiliwili was built over 1,000 years ago, with Ingenious ponds built to catch fish and one of the finest examples of ancient Hawaiian aquaculture. Located near the Huleia National Wildlife Refuge, and boasts a 900 foot long, five foot high lava rock wall, assembled meticulously to separate the pond from the Huleia Stream. A kayak tour can allow you to explore the fishpond.
From Lihue you can explore the South Shore, including Koloa, Poipu and Lawai – this being one of the most popular areas to explore and stay. Second in popularity would be the North Shore with Princeville, Hanalei and Kilauea – all accessible as a day trip, or as home base. The East Coast takes you to Kapaa and Wailua, and the West Side includes the towns of Waimea and Hanapepe. All the more reason to secure a Lihue car rental and explore.
Map of Lihue, Hawaii, USA
LIHUE INFORMATION
Lihue means Cold Chill – hinting at the cold wind that blows across the land
Population of about 6,500 on 19.3 square miles
Daily temperature averages 71.6 degrees in February and 79.7 degrees in August
Normal annual rainfall is 37 inches
Kauai is the oldest Island and 4th largest
THINGS TO DO IN LIHUE
Kilohana Plantation Estate – 104 acres in size, this is a great way to discover the best of Kauai's past and present. With a Plantation Railway, Gaylord's Restaurant, Luau Kalamaku, the Koloa Rum Company and more, this is a destination worth a visit.
Wailua Falls – a double tiered waterfall awaits your visit. Catapulted into the spotlight in the 1970's with the well-known television series, Fantasy Island, the main reason to visit is it's beauty, and if you are lucky and catch a glimpse while the sun is just right, you will see a beautiful rainbow extending out of the base of the falls in the mist.
Kalapaki Beach – if you want to learn to surf, boogie board or stand up paddle board, Kalapaki Bay is partially protected from the open ocean by a large break wall, giving you a safer place to learn. Pick up a picnic lunch, park in the upper parking lot of the Marriott Hotel, and relax and watch the outrigger canoes and visit cruise ships.
Car Rentals in Lihue FAQs
Is a Lihue car rental necessary?
The island of Kauai is spread out and a car is needed to travel between the various areas. There is a local bus service, but it does not cater to tourists. Taxis get expensive for longer day trips or multiple excursions.
Should I book my car rental in Lihue, Hawaii before arriving?
Yes! To get the best car rental deals in Lihue we always suggest booking your rental vehicle as soon as you have your flight plans finalized. You can then check our website periodically for lower rates. If you see a lower rate, book it and cancel your existing reservation - there is no charge to book or cancel.
How long does it take to get around Lihue in a car?
Lihue is a small town - you can actually travel around most of the island in a single day, or at least head in any one direction and spend a day exploring that area of the island. Getting around Lihue takes very little time as opposed to a whole day - you could see most of Lihue in a few hours, including stopping to eat and shop.