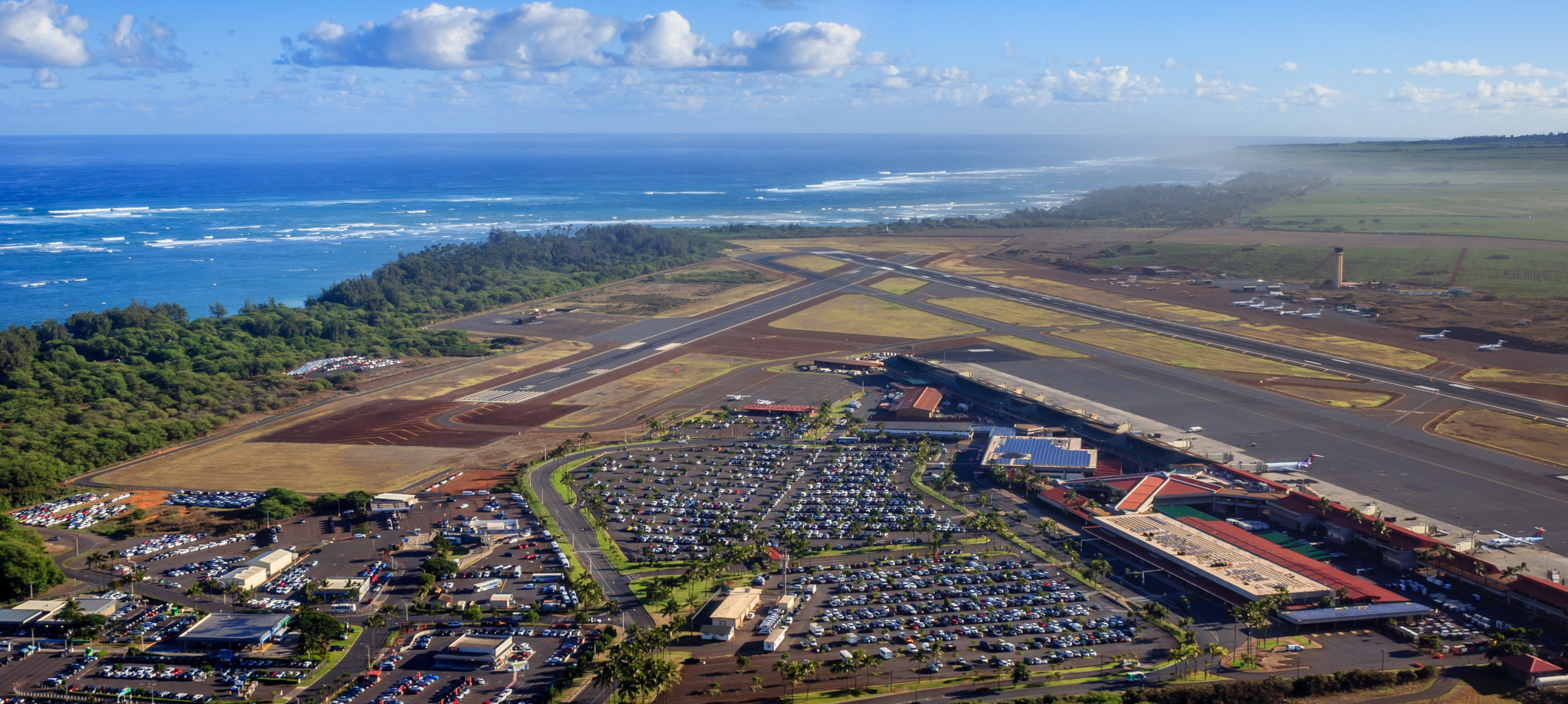 Car Rentals at Maui Airport
Rent a Car at Maui Airport (OGG)
Kahului (OGG) is the primary airport for the Island of Maui. Flights from overseas as well as most inter-island airlines arrive at this location. This is the second busiest airport in Hawaii, with the newest terminal facilities, and sits on over 1300 acres 3 miles east of Kahului. Getting a car rental in the Maui, Hawaii airport is easy and recommended!
The facility for car rentals at OGG in Hawaii is newly constructed, and is accessible from the airport. After picking up your luggage, board the tram, arrive at the Conrac facility and look for the car company you are booked with.
Mid December to March, and during summer are the busiest seasons for car rentals, and availability is more limited. It is always best to book your car rental in Maui as soon as you have your flight confirmed. We don't advise waiting until the last minute to arrange your Maui car rental – the most popular choices may be sold out.
What's available at Maui Kahului Airport (OGG)?
In addition to the OGG car rental companies, the airport is well equipped with facilities to assist arriving and departing guests. Duty Free shops, restaurants, banking services, and specialty shopping are all available at this airport. Special information desks, airline lounges, and lost and found are all available to help with your immediate needs. You can also arrange a lei greeting when you arrive at Kahului Airport.
Any passengers with special needs can receive assistance from the porter service, where wheelchairs and other needs can be handled. All restrooms, parking lots, etc. are equipped for passengers with special needs.
Most of the Maui car rental companies are located right at the Conrac facility on airport grounds. This facility is accessed by a tram. You can pick up your luggage and then board the tram, or if your passengers do not need to sign on as extra drivers, you can go pick up the vehicle while your passengers wait for the luggage. If you have any disabilities and will need specialized equipment for your car rental in Maui, please let us know well in advance so we can have it installed and ready when you arrive. Some car companies carry more specialized equipment and we are able to make those arrangements for you.
Kahului Airport Information
Kahului Airport Car Rental Providers







CAR RENTALS IN MAUI KAHULUI AIRPORT (OGG) FAQs
Why should I book a rental car before arriving at Maui Airport (OGG)?
Cars can sell out, especially the most popular rental car types at OGG. It is always a better plan to book your best car rental for Maui OGG as far in advance as possible so you know you have locked in a rate. Renting a vehicle in Maui with our company always allows you to cancel free of charge, and if the rates the rental cars companies provide go down at any time, you can check our website, and rebook, then cancel your previous reservation. This way, you will always be on top of the best rental car rates for Maui.
What do I need to provide at the rental counter when I arrive to rent a car in Maui Airport?
You should bring your confirmation # and possibly the entire email with you - all of the instructions needed to pick up the vehicle are included. You must have your driver's license with you always. An International Driver's Permit will only be needed as an additional document if your driver's license is not in English. A credit card in the same name as the driver is also required. A debit card may be accepted if it has a Visa or Mastercard Logo, and passes a credit check where required. If you are planning on adding extra drivers to your rental, you will need to bring that person, their driver's license and credit card to the car rental counter as well.
Can I rent a 4WD vehicle at Maui Airport (OGG)?
Jeep Wranglers are usually all 4WD. Some car companies do have the odd 4WD vehicle on their lots, and some AWD vehicles as well, although there is no guarantee you will get a 4WD unless you book a wrangler.
Rentals by Island
Rentals by Island
Looking for an alternate way to find your perfect car?
Try searching by island instead.
Rentals by Island