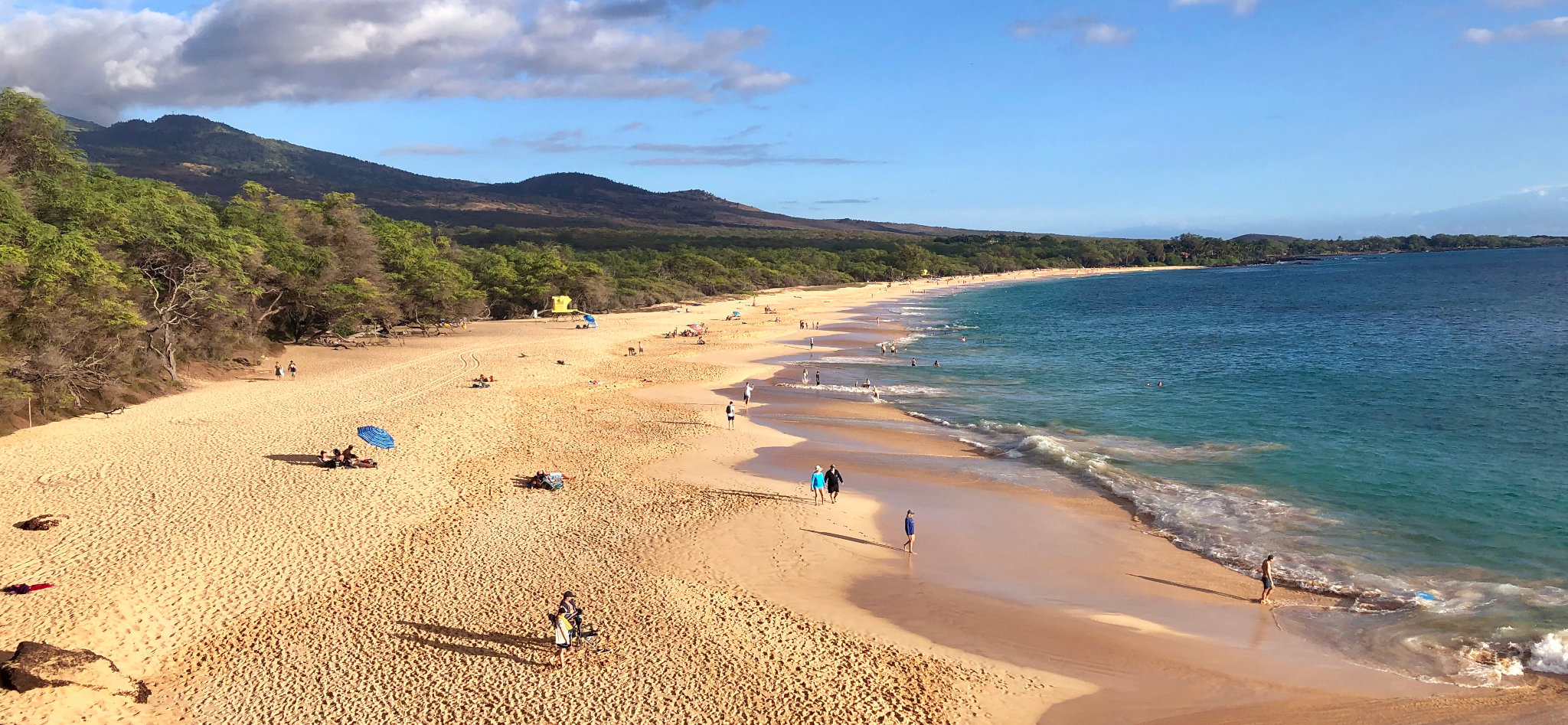 Renting a Car in Maui, Hawaii
The second largest of the Hawaiian Islands, Maui is a great location for Canadian travellers looking for adventure and/or a place to just relax. Many Canadian, American and international visitors believe this is the only island to visit and return year after year to enjoy their own small piece of Paradise.
Popular with honeymooners, Maui offers a bit of everything from golfing, hiking for all experience levels, biking down Haleakala, and superb dining— including farm to table cuisine.
Snorkeling and scuba cruises are popular, as are the sunset dinner cruises. You can take a tour to Molokini, a crater off of Maui that is world-renowned for snorkeling.
A car rental in Maui Airport is important, as there are no major buses to take you around the island, and various areas are quite spread apart. May people ask "Do I need a rental car in Maui?" and we almost always say yes for this reason. If you take a shuttle or taxi to and from your accommodation to the airport, you will still be spending significant money, and you will be stuck in your general area, not able to tour the island. Maui cheap car rentals are available in some of the resort areas for rental for a day, or a few days if you wish to avoid a rental for your entire trip.
Choosing a Rental Car on Maui
Once Canadian visitors arrive in Maui (most likely at Kahului Airport (OGG)) the island can best be seen by renting a car. Other than taking a scheduled tour, there really is no other way to get around and enjoy what Maui has to offer. Our company has the ability to offer visitors from Canada great deals on the price of their rental, as well as added benefits that are not always available when you book directly with the car companies in Maui. These benefits include free extra drivers and reduced young driver rates.
Car rentals on Maui will allow you to get to places that are not accessible by transit, or can be very expensive if traveling by taxi.
Travelling with one other person, and spending most of your time relaxing on the beach or in the neighbourhood will make your car rental needs very different from a large group planning on exploring every aspect of the Island. Choose carefully – your Maui car rental is a big part of your trip planning.
Talk with your travel companions and get a good idea of what you will be using your rental car for. Maui rental cars must be large enough to include both passengers and luggage to and from Maui airport, as well as people and their gear for exploration and adventures. Discount Hawaii Car Rental offers many types of car types, including SUVs, minivans, economy cars and more.
The smallest vehicles will most likely only hold 2 passengers and their luggage comfortably. Consider the size of your travel group, and their luggage sizes when making a decision on your car rental in Maui. Our customer service agents are very experienced with questions regarding both the size and type of vehicle you may need.
The Island of Maui
The Island of Maui
Hawaii, USA
Things to Do in Maui
Hop in your Maui rental car and visit the Maui Ocean Center and aquarium. It is a wonderful place for Canadian visitors to see and learn about Hawaiian marine life, complete with a gift store for local souvenirs. They also offer great whale watching tours, teaching about the life and migration of the whales and providing opportunities to practice your photographic skills as the whales breach.
Maui's towns are both rustic and vibrant. Take your Maui rental car to the artist town of Paia, for some of the best natural food establishments on the island. Nearby is Hookipa, the best surfing location for both participating in and watching the giant surf breaks.
A visit to the historic town of Lahaina and its bustling Front Street, filled with restaurants, shopping and art galleries, will take you to the famous Banyan tree. Planted in 1873, and hosting 16 individual yet connected trunks; this is one of the biggest Banyan trees in the entire world and a great backdrop for photos. Visit the art market under the shade of the tree in Lahaina's Banyan Court Park, and inside the old courthouse.
After picking up your Maui rental car, take the road to Hana, where you will see picturesque waterfalls and lush rainforests. The beauty along this drive will amaze you, with more green foliage than you can imagine. As you continue your drive towards Hana, make sure to stop at mile marker 7, and take in the rainbow eucalyptus trees.
There are more beaches to discover on Maui than you can find time to explore – 120 miles of coastline with over 80 accessible beaches, some being the best beaches in Maui for snorkeling.
Not everyone thinks about camping in Maui, but that is a whole other experience to be explored. There are different Maui campgrounds available in various parts of the island, allowing you to spend more time in nature, and building new memories.
Maui golf courses are some of the best, and if you like to golf, you won't be disappointed.
Whether you're on a sunset cruise, enjoying Kahului or Kihei, or taking in the world famous beaches of Kaanapali or Makena, there is no sunset like a Maui sunset.
It's time to plan your Maui road trip, and include as many activities as you can possibly handle
Popular Maui Activities
Haleakala – a sunrise or sunset trip to the top of Haleakala
Maui has a huge shield volcano that covers most of the island. Getting to the top and experiencing a sunrise or sunset is unbelievable. Hike, ride a bike or plan a trip down into the crater.
Driving the Road to Hana
65 miles of the most incredible scenery you can imagine, from rainbow colored eucalyptus trees to blowholes, waterfalls, and the lushest greenery imaginable along this long and winding road.
Ocean Activities
Ocean tours including Maui fishing, whale watching, parasailing and sunset dinner cruises are popular options. The ocean around Maui has so much to offer including finding and exploring the many beaches.
Car Rentals in Maui FAQs
What documents do Canadians need to book a car rental on Maui?
Canadians will need to bring their current drivers license as well as their passport. If you are going to use your own car insurance policy instead of adding insurance at the counter, it is recommended that you bring copies of the insurance papers as well - you may be asked about insurance at the counter. If you feel you are adequately covered, you can decline insurance. If you have extra drivers, they will need to accompany you to the counter with their own drivers license and passport as well. Also bring a copy of your confirmation email - it has everything you will need as far as information for picking up your rental car. Make sure you check everything over carefully before you sign, so the final balance matches what you are expecting to pay. If you disagree - challenge the charges before you sign. And don't forget to bring your major credit card, or a debit card with a visa or mastercard logo with enough funds to cover the rental and any extra charges such as deposits, insurance, young driver fees, etc.
Can I get a month long Maui cheap car rental?
Yes, longer term car rentals are popular with renters that are staying for extended periods of time, and allow some days where you are only paying the taxes on the rental. Some car rental companies will break up longer term rentals of over 60 days at the counter and may require you to drop off and exchange a car if it is a much longer rental so the car can get serviced.
Is a car rental necessary on Maui?
In most cases, yes, as the island is spread out and a car is needed to travel between areas. There is a bus service, but it is not necessarily great for touring, and may not get you where you want to go. Taxis can get expensive for longer day trips.
Do I need a 4wd vehicle anywhere on Maui?
No - any rental car will get you where you need to go, as long as you stay on the paved roads. There are some road restrictions on Maui where rental cars are not allowed, and you would need to check at the counter when you pick up your Maui car rental.
What is the most popular rental car in Maui?
Maui car rental popularity depends on the needs of the client. Jeep Wranglers are very popular, and often sell out fast because many people like to rent these sport vehicles to take the road to Hana, or the driver up to Haleakala. But this is not necessary - smaller vehicles will also get you there. Minivans sell out fast, as many families need a vehicle that will hold all of their passengers and possibly strollers, etc., so if you need a larger vehicle, book early.
The larger SUV's will also hold 7 passengers, and are a great option. And there is the convertible, with the roof that comes down at the push of a button, and can be put back up very quickly if the weather shifts, or if you are getting too much sun. For the average person who just needs a car, and wants to save money - the compact and midsize are also most popular, and can sell out fast, as they are rented so often by the cost-conscious. They are also easiest to park.
How much does it cost for Canadians to rent a car in Maui?
Maui cheap rental cars can be found, but you have to be willing to take some time. We always recommend you come onto our website as soon as you have locked in your flight details and know your arrival and departure dates and times. Look for the best car for your needs, and book it. At least then you know you have a car. Prices can fluctuate, so you can always come back and search again, booking lower rates as they come available. But often, the rates go up closer to your departure date, so you can rest assured you booked early and got the best rate.
Prices can also differ by season, and cars can be quite pricey during the higher seasons, which is why many savvy travelers tend to travel in the off-season, as there really is no off-season in Hawaii, just less visitors at certains times of the year.
What fuel options are available in Maui?
Maui gas stations will all have the fuel options that you will need for your Maui rental car. Even the Costco store has a gas station available. Just remember, when you are returning your vehicle, fill it up within 5 miles of the car rental facility so you don't get charged a fee for gas.
Maui Island Information
2nd Largest of the Hawaiian Islands
No one can legally own a beach on Maui
Home of Haleakala, the largest dormant volcano in the world
Maui has 81 accessible beaches
Voted "best Island in the world" over 16 times by Conde Nast Magazine
Happy face spiders are only found in Hawaii
If you're looking to explore the island consider renting a Jeep in Maui.