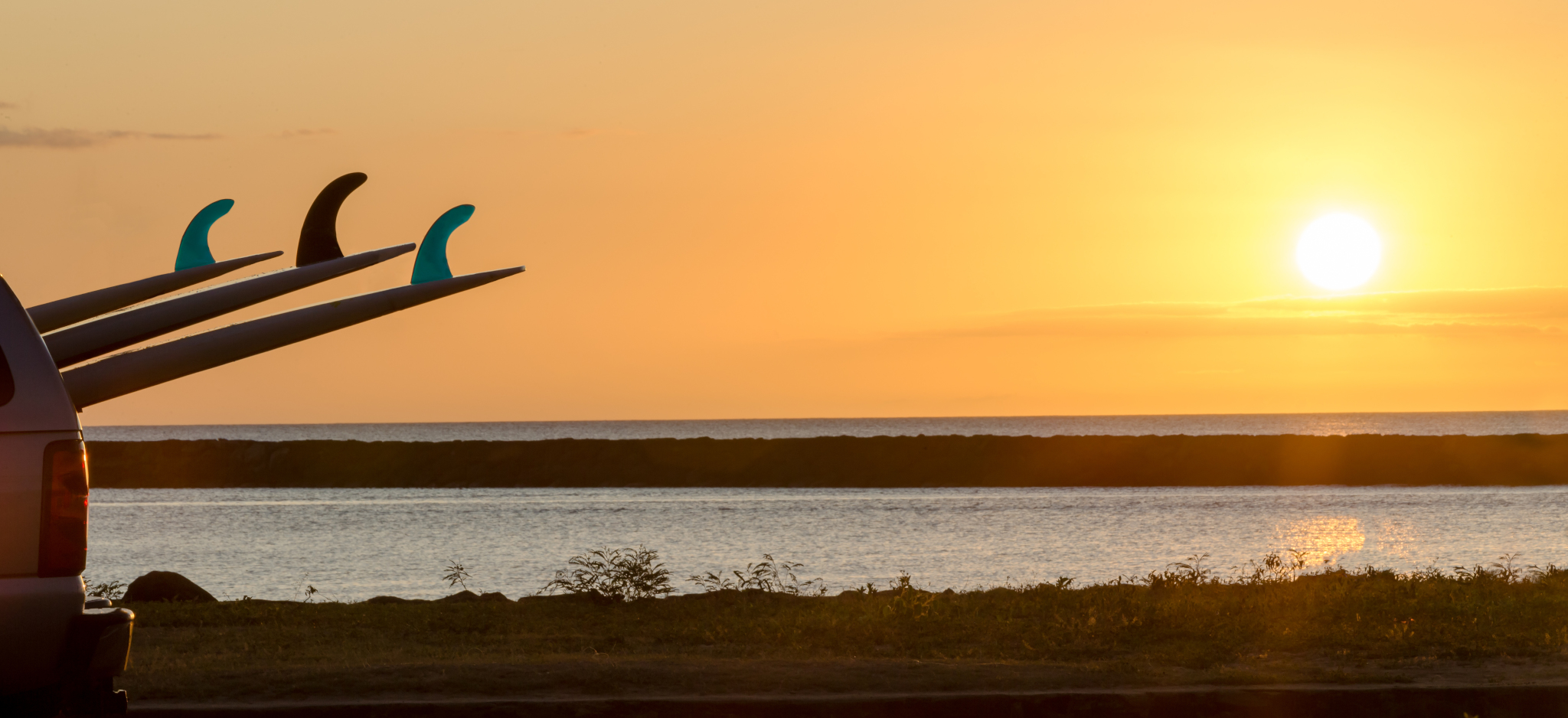 KAUNAKAKAI: THE RESTING PLACE ON THE BEACH
Kaunakakai is the largest town on Molokai , located near the south shore, but is not directly on the waterfront. It is approximately a 15 minute drive from the island's airport MKK. It is near the island's harbor, which boasts the same name. Kaunakakai harbor has the longest pier in Hawaii. It is a gateway for essentials needed by the local residents. This quaint town of Kaunakakai hasn't changed much since the early 1900's, giving it the true feeling of old Hawaii.
This 3 blocks long town has Ala Malama Avenue as the main drag. It contains shops and restaurants, as well, it has the only library on the island, which the building dates back to 1937. A popular eatery in Kaunakakai is Kanemitsu's Bakery. Late evening and early morning, the loaves of fresh bread are sold from the bakery's back alley. Customers line up to get this delicious bread, the flavors include cheese and onion or cinnamon. Others like the sweet loaf, then cover it with butter, jelly and even cream cheese. A must do event when visiting Kaunakakai.
Kaunakakai's population is just over 3700, which makes up half the population of Molokai. The locals are wonderful people, who love the tranquility of this relaxed paced paradise. An outdoor market on Saturdays, visitors can purchase local vegetables, fruit and locally made crafts like jewelry. Near town is a street known as Church Row, which has 7 churches. These missionary style churches date back to the 19th century.
There are a few hotels and condo resorts near Kaunakakai. The Hotel Molokai is well known for its tiki hut style buildings, with stunning oceanfront views that take you back to 'The Real Hawaii'.
CHOOSING A CAR RENTAL FOR KAUNAKAKAI
Renting a car for Kaunakakai is a must. Molokai or Kaunakakai have no public transportation and the taxi's are very limited. There is Uber and Lyft on the island, but having your own rental gives you freedom to explore at your own pace. It can take 60 to 90 minutes to drive around Molokai, that is with a few stops along the way. This island is steeped in beauty and history and is worth exploring.
Most rent their car when they arrive at Molokai MKK airport . There is only one major car company at that airport, therefore, during high season or when island events are happening, these cars can sell out very quickly. It is recommended that you book your vehicle as soon as you book your flight, that way you ensure you have a rental upon arrival.
Some visitors to Kaunakakai arrive by a passenger ferry from Maui. Once at Kaunakakai pier, they will then have to taxi, Uber or Lyft up to the airport (approximately 15 mins away) to get a car rental. Once you have your rental, you can go explore this island.
To choose your car rental in Kaunakakai, take into consideration the following; How many are in your party? Is it a day trip or will you all have luggage? 4wd is not needed on Molokai. It is encouraged to rent your vehicle at the same time you book your flights / ferry or even before. You don't want to get there and all car rentals are sold out.
KAUNAKAKAI INFORMATION
Road distance from Kaunakakai to Molokai airport is 8 miles
Kaunakakai pier is the longest pier in Hawaii
Makahiki festival in January has ancient Hawaiian games, music & hula
Summer home to King Kamehameha V in the mid 1800's
Inspiration to the 1930s song 'The Cockeyed Mayor of Kaunakakai'
THINGS TO DO IN KAUNAKAKAI
Kanemitsu's Bakery
has been baking up the sweetest hot bread on the islands since 1922. This night time hot bread tradition is legendary and something that all visitors should take part in.
Kaunakakai BallPark
is a perfect place to take in one of America's favorite pastimes. The afternoon and early evening ball games are a great way to unwind and meet locals.
Molokai Plumeria
is a gem of a farm containing the most fragrant of all Hawaiian flowers, the Plumeria. There you can learn how to pick the flowers and make your own lei necklace.
Car Rentals in Kaunakakai FAQs
What is the cheapest way to rent a car in Kaunakakai?
The best rates are often found farther out from your arrival date. Book your car rental for Kaunakakai as soon as your flights have been confirmed. Canceling and rebooking is always free. If rates go lower, you can easily rebook on our website, and cancel the existing reservation. If rates go up, you already have the best rate locked in, but if they do come down, you can take advantage of the new lower rate with no penalties.
Should I book my Kaunakakai rental car before arriving?
Some travel sites say, book the car rental after you book your flight, but with Molokai, it is smart to book the car rental first. You are then guaranteed a vehicle upon arrival. If you book early you secure a rate, then monitor rates until your travel date and re-book if the rental rates go lower, no penalty to cancel.
Why should I book my Kaunakakai car rental through Discount Hawaii Car Rental?
We have very competitive rental rates with a major car rental company located at the Molokai Airport. We offer benefits that can include a free extra driver. Our great staff are available to answer your questions, and help you pick out the right car for your needs.