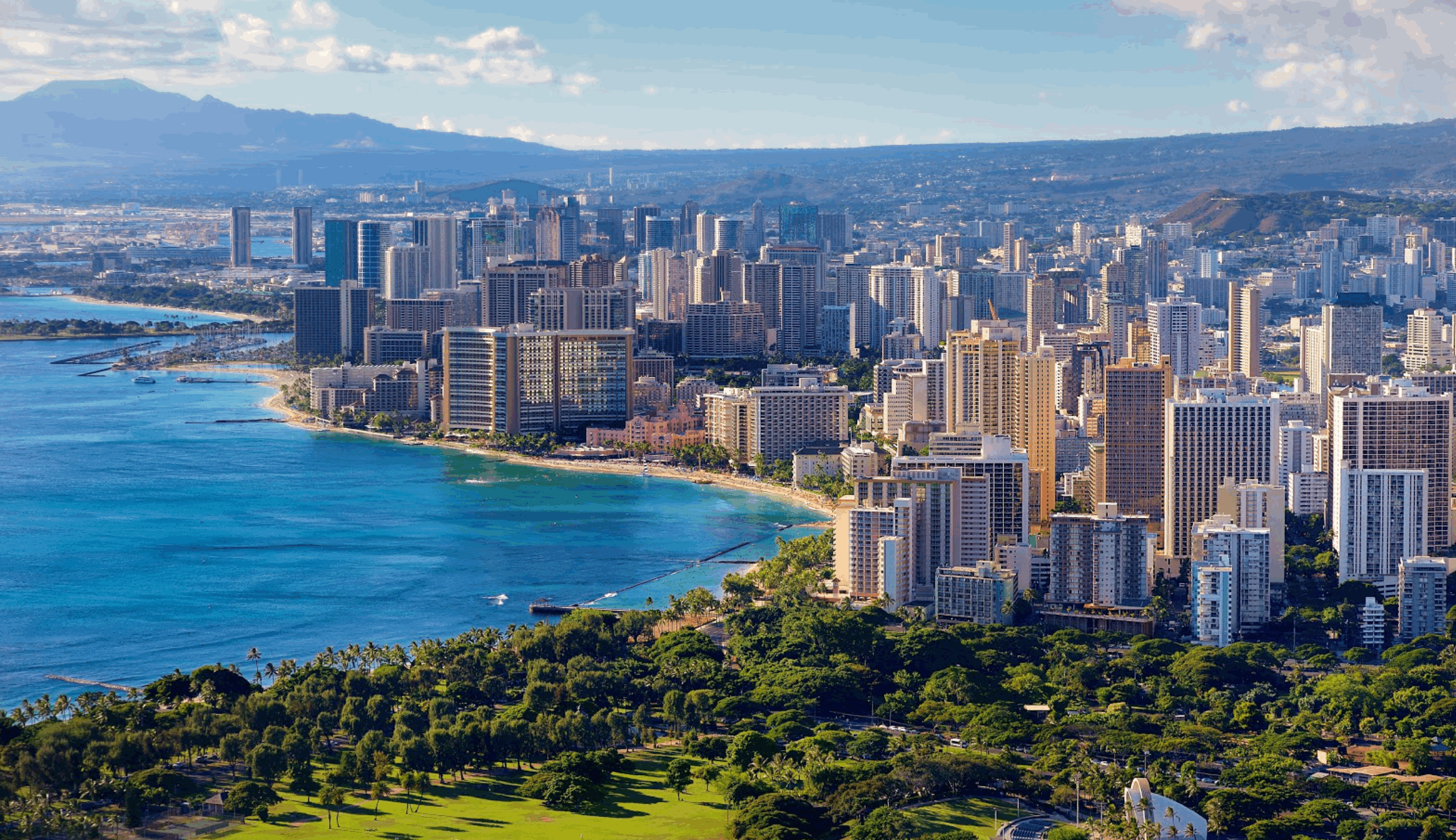 CAR RENTALS IN HONOLULU
If you wish to explore more than city life, a car rental in Honolulu Hawaii is a must. The freedom you will feel as you choose where to go, how long to stop, and what you wish to bring along, are all reasons to choose a Honolulu car rental for your vacation.
Consider exploring the approximately 96 mile circular (oval) shaped drive around most of the Island. There is so much to discover, depending on your desires: waterfalls, beaches, food trucks with the best shrimp, vantage points to stop and photograph the landscape, walking trails, and of course, the Diamond Head Crater and Hanauma Bay for a snorkel. If you are considering a Jeep rental, Honolulu is a great place to explore in a jeep, and you will feel very sporty as you tour around the island.
You will definitely need a rental car in Honolulu to even begin to explore this drive, as you discover the Windward Coast, where you can watch the sunrise, go kitesurfing, or just explore the coastline between Koko Head and Waimanalo Bay. If you are traveling between December and March – this is a great place to watch for humpback whales. An economy car rental in Honolulu might suit your needs, as it is easier on gas and can fit into most parking spaces. Or perhaps you have strollers or beach gear, so an SUV rental in Honolulu, Hawaii might be a better choice.
Further down the road, you can take a hike to the lighthouse at Makapuu Point, or drop in to Sea Life Park Hawaii and swim with the dolphins.
This trip alone is worth the price of a cheap car rental in Honolulu, and may take you more than one or two days to complete, as each area is worth spending time and exploring its options.
ABOUT HONOLULU, HAWAII
Honolulu is the most populous city in the State of Hawaii, and the most remote city of its size in the world. Home to a diverse variety of east-west and Pacific culture, cuisine and traditions. Ranked high on livability standards around the world, and ranks near the top of all US cities as one of the safest.
Honolulu as a city, has its own residential areas, and cultural activities separate from and in addition to those located in the Waikiki area of Honolulu. Natural Museums, Performing Arts Facilities as well as Visual Arts are all accessible in Honolulu. Hawaii's culture is preserved in Honolulu – in its churches, monuments and the Iolani Palace, the only royal palace in the United States.
Waikiki is considered part of Honolulu, and with its own character, is considered the hot spot for tourism.
There are nearly 600 surfing spots, including the famous Banzai Pipeline. The North Shore, a short drive north of Honolulu hosts some of the biggest surfing and bodyboarding events in the world.
With its own performing arts scene, Honolulu is home to the Diamond Head Theater, which has been staging Broadway shows, revivals, and musicals for over 80 years as well as other theaters within the performing arts community. The Bishop Museum and Planetarium is home to over 20 million artifacts from Hawaiian and Polynesian history, considered to be the world's largest collection.
The most visited sites are the USS Arizona Memorial and Visitors Center in Pearl Harbor, and the Punchbowl Crater, home of the National Memorial Cemetery.
As Honolulu and its Districts compose the Island of Oahu, there is much to discover on this tropical paradise.
HONOLULU INFORMATION
Population of almost 400,000 within city limits
597 Square Miles – 44 Miles long by 30 miles Wide
Pidgin, a simplified form of English is still used, to communicate – is considered local slang
Captain Cook was the first known Westerner to sight the island of Oahu on January 18, 1778
Hawaii ranks first in the US in life expectancy at 76 years for men and 81 years for women
THINGS TO DO IN HONOLULU
Pearl Harbour National Memorial – a 184 foot memorial honoring the 2,388 Americans who died during the Japanese attack on Pearl Harbor. This place is full of history, as it unravels one of the most important battles in the Pacific history of America.
Chinatown – Honolulu's Chinatown is one of the largest and most authentic Oriental Districts in the entire United States, complete with markets full of sights, sounds and smells from enticing eateries, complete with menus of Peking duck, stir fries, and soy-sauteed meats.
Hanauma Bay Nature Reserve – Swim with the fishes, snorkel in the turquoise hues and blooming underwater coral gardens. The shores are sent in the depth of an extinct volcanic crater, and are known for their marine biodiversity, with everything from sea turtles to colorful parrot fish
Car Rentals in Honolulu FAQs
Do you need a rental car in Honolulu?
Although a rental car for Honolulu is not necessary if you are planning on spending your time at the beach and staying within the confines of the Waikiki area, many visitors like to take a couple of day trips to explore some of the areas outside of Waikiki, or may be staying in other resort areas, and prefer to have transportation available to travel around the island as they wish.
Should I book my Honolulu rental car before arriving?
If you already have your plans arranged, and wish to have access to a cheap rental car in Honolulu for the entire trip, it is wise to rent in advance. Usually when you arrange your flights, your next step would be to arrange your Honolulu car rental. This gives you the added benefit of taking advantage of lower rates that often show up months before you travel. Last minute bookings often cost more, as the car companies anticipate these last minute bookings, and can charge accordingly.
What is the most popular rental car in Honolulu?
Parking in Waikiki and some areas around Honolulu can be a bit challenging - and therefore if you can fit into a smaller vehicle, this would be the best option. Some people prefer the open air experience and claim the convertible is most suited to Waikiki and the entire City of Honolulu as you can drive around with the top down and view the tall buildings, the ocean, and everything happening around you so much easier.
What fuel options are available in Honolulu?
There are lots of gas stations in Honolulu where you can find all of the normal gas options, including diesel. Although all rental vehicles run on gasoline, there are also some electric and hybrid options available, and you may need to find a charging station.
How much does it cost to rent a car in Honolulu?
Costs for renting a vehicle in Honolulu will vary, depending on the type and size of vehicle, as well as the season you are traveling. You can sometimes find great deals, especially if you start searching for your Hawaii rental car as soon as you have purchased your airline ticket. Book the best option at that time, and then keep on coming back to the website and checking, as you will often find specials that show up randomly. Also, the car companies watch each other, and you can take advantage of that option when they are all lowering rates. But, if you have a car locked in right away, you are guaranteed to have a vehicle, and the prices could also rise, so you will be happy you booked right away.