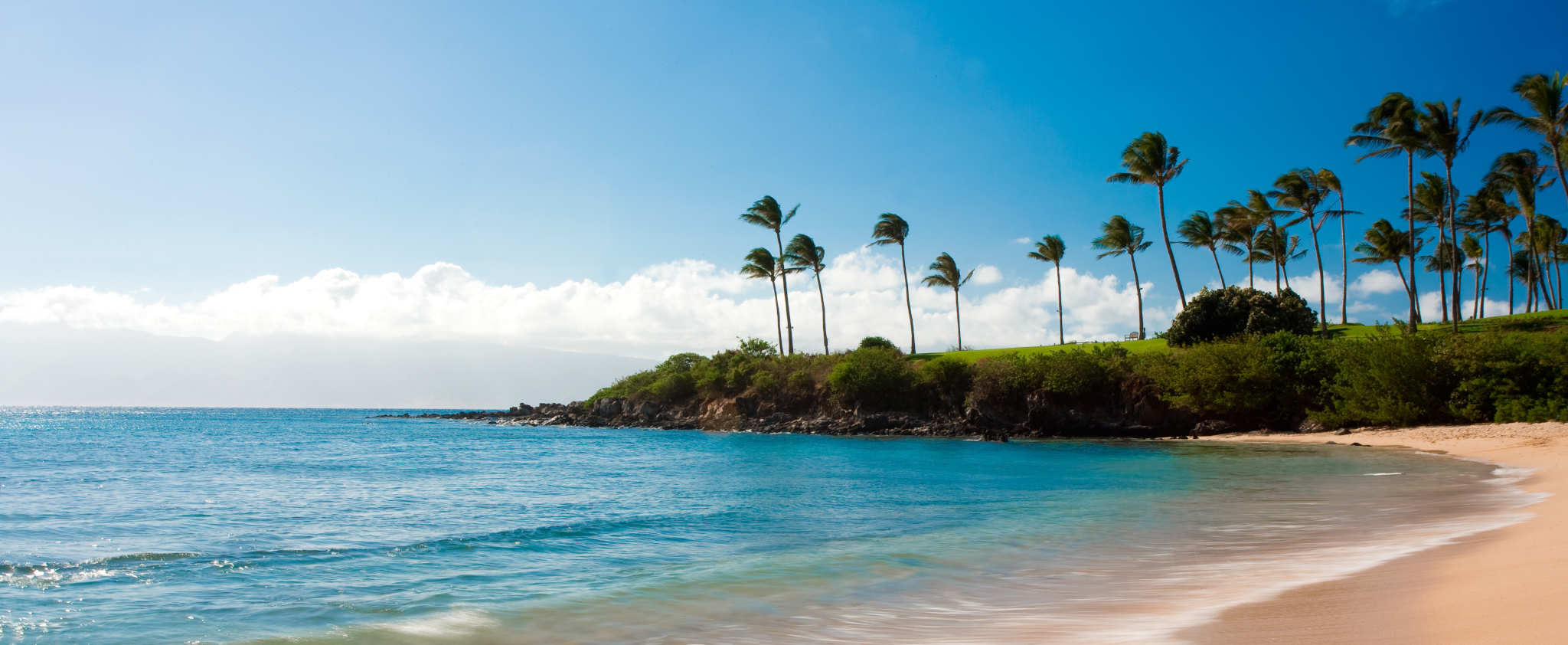 Car Rentals at Kapalua Airport
Kapalua (JHM) Airport Car Rentals
A trip to the West Side of Maui may mean a flight into the Kapalua Airport, located a short distance from the resort destinations of Kapalua, Kaanapali and Lahaina. This airport is served by commuter planes from other airports in Hawaii and commuter/air taxi aircraft. This airport was acquired by the State of Hawaii in 1993, starting its journey as a private facility. Located about 3.5 miles north from Kaanapali, this small airport works for those traveling between the islands, and planning a stay on the West Side of Maui.
Kapalua Airport is also known as the Kapalua-West Maui Airport, named for the Kapalua Resort, located a few miles to the north. This newer airport replaced the Kaanapali Airport, which had a very short runway in 1987 – freeing that land for development. This airport consists of one single runway, and a terminal. Operations at this airport are limited to daytime hours only. There are no flights from the Mainland directly to Kapalua Airport. There are no Kapalua car rental facilities on airport grounds, but there are a few West Maui car rental locations nearby that provide shuttle services to the airport during their open hours.
What's available at Kapalua Airport (JHM)?
Kapalua Airport is a small terminal, consisting of ticket counters, baggage claim facilities and security. This is a wheelchair accessible facility, and upon request, airlines can provide assistance to any passengers with special needs. There is an Automated External Defibrillator (AED) located in the terminal. There are various vending machines available for snacks and beverages.
Kapalua Airport does not have an on site Visitor Information Program. There are signs indicating availability of information by phone.
Car rentals in Kapalua can be handled from a telephone within the airport, calling the West Maui car rental facility you are booked with. They will send a shuttle to pick you up at the airport and take you back to their location to pick up your JHM car rental.
Some travelers arrive at the Kahului airport, but travel to West Maui, and rent their car there, as often there are savings to be had, because the taxes are lower at off-airport locations.
Kapalua Airport (JHM) Information
Lahaina, HI 96729, United States
(808) 665-6108
Kapalua Airport Rental Car Providers




Common questions about renting a car at Kapalua - West Maui Airport (JHM)
Is a car rental at Kapalua Airport necessary?
Booking a Kapalua JHM airport car rental is a necessity if you wish to see more of Maui than your resort, as there are only a few other options such as taxi, shuttle, or booking a tour, and that could be a costly method of touring the island. If you want to experience Maui to its full potential, you will want to do your own driving and keep to your own personal timetable.
Should I book a rental car before arriving at Kapalua (JHM) Airport?
It is always a good idea to pre-book your West Maui rental car as soon as you have finalized your flight details to ensure you have a guaranteed JHM airport car rental when you arrive. Booking a car rental for Kapalua Hawaii Airport can be difficult once you arrive, as there are no West Maui car rental companies located at the airport, and the Kaanapali rental cars sell out on most holidays, during peak seasons, and at the time of major events on the Island. Showing up at the counter without a car rental reservation could cost you more money as well.
How can I rent a car at Kapalua (JHM) Airport?
As soon as you have confirmed your flight to West Maui - you should start planning your car rental for Kapalua and the surrounding area. On our website, you will find a display of the available vehicles for rent in West Maui. Not all car sizes may be available, as the popular Kapalua airport - JHM car rentals do sell out quickly.
Choose the vehicle that best suits your needs, book it, then relax and know you won't have to be concerned about not being able to travel around this beautiful Island.
What should I provide at the rental counter for the best car rental at Kapalua Airport?
Bring your confirmation # - this information is located on the rental car contract we emailed to you with all of the details. A valid driver's license in the name of the main driver is a necessity. If you arrive from a country that does not have alphabetical driver's licenses, you must also bring an International Driver's Permit to accompany your driver's license.
A credit or debit card in the name of the main driver is also required - most car companies will accept a debit card with a Visa or Mastercard logo, but may require further documentation as well. This information will all be located on the confirmation email we sent you, under "see details". If you are adding any extra drivers, you must also bring them to the counter with their driver's license as well so they can be added to your contract.