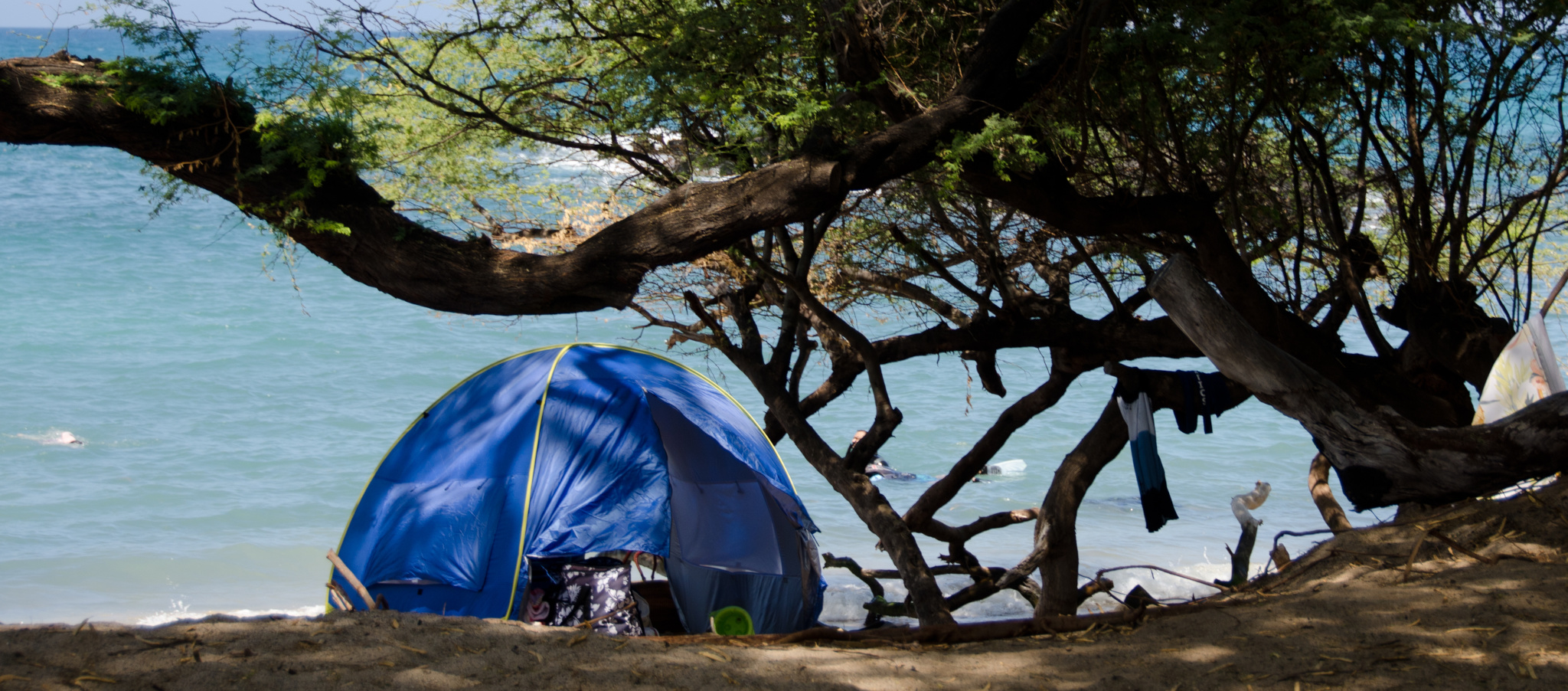 Camping on the Big Island
The Big Island of Hawaii is named exactly that, Hawaii. The largest island in the Hawaiian chain of islands, it is larger than all the other islands put together. With that being said, there is a lot of land to explore when you are camping in Big Island Hawaii. With 11 of the world's 14 climate zones, Big Island has a variety of campgrounds at different elevations. No matter where you camp on Hawaii you will love this magical island.
There are 10 County parks located on the Big Island, mostly near the nicest beaches this island has to offer. These campgrounds do not offer vehicle camping but all have picnic tables, bathrooms and outdoor showers.
Big Island County campgrounds are listed below:
Kohanaiki Beach Park – has an early gate closure, a sandy and rocky shoreline
Kapa'a Beach Park – has a rocky shoreline and no potable water
Laupahoehoe Beach Park – Northwest of Hilo, has a rocky shoreline
Isaac Hale beach park – closed due to lava eruption
Milolii Beach park – has a rocky shoreline, no water, little privacy and is the home of a historical Hawaiian fishing village
Whittington Beach Park – has a rocky shore and no drinking water
Mahukona Beach Park – has a rocky shoreline, portable toilets and no potable water
Punalu'u Beach Park – has a rocky shore but near sandy beach of Punalu'u Bay
Spencer Beach Park – has early gate closures and no alcohol
There are 4 State Park campgrounds, but only 2 of them allow camping right now:
Kalopa state rec park – 40 mile Northwest of Hilo at a 2000 ft elevation and can be damp and cold. A great site for lush forest hiking where you can see some very rare plants. This site also has 7 cabins for rent.

Kiholo State Park – a stark lava terrain, with a narrow gravel road in. No potable water and only camping allowed on weekends.

These 2 State campsites have cabin rentals:

Hapuna Beach State Park – has a sandy beach with A-frame cabins. Cabins must be booked 7 days in advance and only persons of the same household are allowed.

Manuka State Wayside – located in south Kona. This 13 acre park is heavily forested with trails to see many native plants. Park may be affected by recent lava flows.
Private campgrounds include:
Arnott's Lodge – simple campsites right in Hilo, with access to bathrooms, showers, and kitchen facilities.

Ho'okena Beach Park – located in the South Kona area, it is a beautiful beach park with a protected bay and a chance of snorkeling with dolphins.

Mauna Kea Recreational Area – which is for larger groups, is located at 6,500 ft above sea level. There you can rent a larger bunkhouse and cabin rentals to approved groups.
Start planning your Big Island Hawaii camping trip today. Whether you camp near an active volcano or near the beachfront, with the sounds of waves breaking, we here at Discount Hawaii Car Rental can help you find the correct vehicle for your Big Island adventure. Camping brings you closer to nature and sleeping outdoors is just good for the soul.
Big Island Camping - What Do I Need?
There is no free camping on Big Island, as all permits require a fee. County parks can be reserved online up to one year in advance. Most County and State campsites only allow a minimum of 3 nights to a maximum of 5 nights per booking and tents need to be dismantled by noon. Hawaii camping permits must be printed, signed and in your possession while camping. Most campsites do not allow car camping, but they will allow you to use the parking lot, just not right at your site.
The two campsites within the Hawaii Volcanoes National Park are on a first come basis and you only have to pay the park entry fee. If you want to camp on top of an active volcano, you must remember that these sites are at a higher elevation than most, and require proper equipment and warmer clothing.
Private land camping does not require any permits. Some safe and beautiful private camping and/or glamping spots can be attained through sites like Hipcamp, which is like an Airbnb for camping.
For your Hawaii camping equipment, you can bring most of your gear from home and pick up some of the larger items once you arrive. Gas cooking canisters, tents, lawn chairs and coolers are available at the local stores in Kailua-Kona and in Hilo. Whatever camping gear you are bringing, make sure you are familiar with and know how to use it.
Other camping equipment you will need include:
Sleeping bags & matts
Cooking and eating utensils
Lantern and flashlight
Clothing that includes warmer and easy dry layers
Rain poncho
Hats and swimming gear
Footwear for all land and water activities
Reef friendly sunscreen and bug repellent
Toilet paper
Reading material and small games
Big Island Hawaii Camping Tips
Try to arrive at your destination in the daylight, some campgrounds may have gates closed already, but it is not fun setting up a tent in the dark. Never leave food out unattended in Hawaii, some critters may eat your dinner. When you go for hikes, try not to go alone and leave a note behind at your site or in your car as to which way you went.
Crime is quite low and most Big Island camping sites have security, but some do not. You will need to research each site as to when security is available and when they close and lock the gates each night. You don't want to miss an excursion or flight due to not being able to leave the campground.
If you are first timer camper, and have never pitched a tent before, these pointers below will help:
Find a flat spot that has some shelter from the sun and wind if possible.
Try and find a spot that won't get flooded with rain or even a high tide.
Remove all rocks and twigs from the ground before you set up.
If you can't park at your site, try to find a parking spot where you can watch your car.
Try to find a spot near the water supply.
Find a spot close, but not too close, to the bathroom facilities.
When setting up your site, try to organize your cooking area out of the wind and away from trees and bushes.
Getting to your Big Island campsite may be a challenge. Make sure you know the condition of these roads and that they are not affected by any recent lava flows. All campgrounds have quiet times and they will be enforced. As well, no drones are allowed in any Hawaiian Parks. Always check with local websites for current conditions and any new rules you may need to be aware of.
Camping on the Big Island can be a real Hawaiian cultural experience, but all campers will look for tips for camping on Hawaii. The lower cost for this style of travel can bring you a bucket of wealth, of the Aloha spirit. Please respect all the local wildlife, in and out of the water. Hawaiians have a strong connection to the land and sea, so please keep beaches, the ocean and the land free of all trash and take out any litter you bring in.
For all you outdoorsy types, the rewards received from camping on Big Island Hawaii will stay with you for a lifetime.