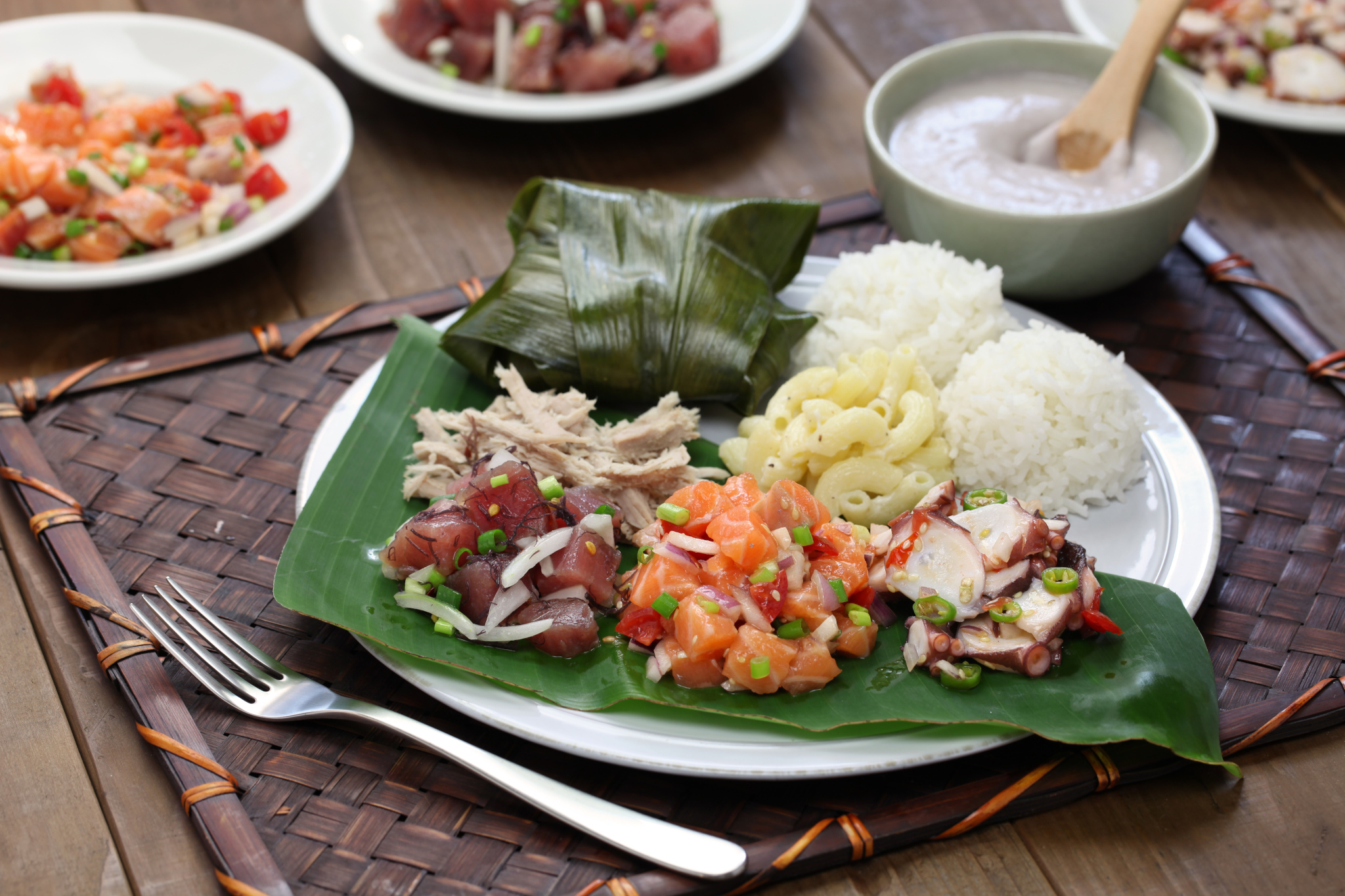 The Most Popular Food Found in Hawaii
The Most Popular Food Found in Hawaii
Aloha fellow foodies! If you're planning on visiting the glorious islands of Hawai'i, be prepared to do some extra exercises when you arrive back home. And you may also want to pack some stretchy shorts, because the cuisine is exceptional, making it difficult not to indulge!
In addition to Hawaii's beautiful and rugged landscape, warm breezes, and sandy beaches, it also boasts an incredibly unique and diverse dining scene. Hawaii really is a melting pot of different cuisines and cultures. In addition to delicious food that is native to Hawaii, you will also get to enjoy dishes from Asia, Europe and the mainland, but with a Hawaiian twist.
The food in Hawaii is unique for a number of reasons, one being that "Hawaiian cuisine" and "local cuisine" are entirely different things. Many of the "Hawaiian" foods that visitors mistakenly think are "Hawaiian" are actually "Local." People frequently combine the two into a single food category. When you understand the difference, you'll be able to fully appreciate all that Hawaii has to offer when it comes to food.
SO WHAT IS THE DIFFERENCE BETWEEN HAWAIIAN AND LOCAL FOOD?
When it comes to mainland stereotypes about cuisine in Hawaii, ask any local what causes them to shake their head. They'll say that most people don't understand the difference between Hawaiian and local food. Poke, for example, is a Hawaiian dish, and spam musubi is a Local dish. Very interesting.
Hawaiian cuisine is a distinct cuisine. Not all of the unique foods found in Hawaii are automatically considered Hawaiian cuisine.
Let's dive into this a little further.
Consider Hawaiian cuisine in the same way that you might consider Italian, Japanese, or Thai cuisine. It is the cuisine of a particular ethnic group and culture. Hawaiian cuisine or Hawaiian food is essentially the cuisine of the Hawaiian people.
What is Traditional Hawaiian Food?
Some examples of traditional Hawaiian food are Poi, Kulolo, Haupia, Luau Stew, Lau Lau, and Kalua Pig.
Poi, or Popoi (kalo in Hawaiian), is traditionally made with either starchy breadfruit (similar to Jackfruit, Taro, or plantains), and it's an integral part of all Hawaiians' diets. It's typically purple in color, kind of like a pudding or paste-like consistency that comes from cooking the taro root and then mashing it. It is definitely an acquired taste and texture. In Hawaii, most Poi is made with Taro, and is considered to be sacred. It's believed that the plant contains Haola's spirit, the child of two Hawaiian gods. When families and guests got together, if there were any disputes amongst them, serving Poi was the solution to end any and all feuds so as not to disrespect Haola's spirit. It is found everywhere on the Islands, and it's cheap.
Kulolo is a Hawaiian dessert. It's made with ground taro root, raw sugar and either freshly grated coconut or coconut milk. It's baked in a pan and then cut into squares. It's got a soft fudgy pudding-like texture.
Luau Stew – It's an authentic Hawaiian dish made by cooking fresh luau leaves (leaves from the taro plant). Enjoy it with poi or rice. Luau stew is either vegetarian (just the leaves) or can be prepared with squid, chicken, beef, or pork.
Kalua Pig (or Kalua pork) – A very popular traditional Hawaiian dish which can be found at all Hawaiian luaus. It's made by rubbing pork shoulder butt with salt, which is then wrapped and slowly cooked in ti leaves using liquid mesquite smoke.
Lau Lau – A steamed dish made with pork and butterfish that's wrapped in Lu'au and ti leaves.
What Foods are Native to Hawaii?
The term "local food" refers to a type of cuisine that is unique to Hawaii. Hawaiin cuisine is linked to a geographic location (Hawaii), not to native Hawaiians.
For example, Saimin is a very popular local fast food on the islands of Hawaii. It's actually considered the national dish of Hawaii. It is regarded as the ultimate comfort food dish, and can be had at any time of day. Hawaiian Saimin can be found in snack bars, cafes, and believe it or not, even on the menu at McDonald's. Saimin, like Japanese ramen, is essentially a cheap noodle and broth soup. Sounds delicious doesn't it?
Speaking of McDonalds, in Hawaii you will also find on their menu things like spam and eggs, a rice breakfast plate, and deep fried haupia pies. These pies are tropical Hawaii all the way! It's a coconut based pudding-like filling, all wrapped up in a flakey pie crust and then deep-fried. Just like the apple pies you are probably familiar with.
Other examples of local food in Hawaii are Loco Moco, Spam Musubi, Manapua, and Shave Ice
Loco Moco – A funny name really, because in Spanish it means crazy burger. There are many variations of loco moco in Hawaii but traditionally this local plate includes rice, and a bed of gravy that's topped with a hamburger patty, and a fried egg
Spam Musubi – Ahhhhh Spam – the iconic canned ham. Do you love it, or not so much? We've all heard of it, or have seen it, and some have tried it and loved every bit of it. Spam Musabi is essentially Spam sushi. It's a piece of fried Spam, placed on top of sticky rice and wrapped with a piece of nori.
Manapua – It's Hawaii's version of Chinese baos. It's a soft pillowy bun filled with a sweet and savory char siu (barbequed pork, Cantonese style), or Hawaii's kalua pork, or sweet potato.
Shave Ice – Ready for a coooool treat? And no, it's not a grammatical error. It really is "shave" ice, not "shaved" ice. It's very simple, but very tasty and refreshing. It's made of finely shaved ice that is then drizzled with your choice of sweet and vibrant colored syrups. This local delight has been enjoyed for years, and it is a must try!
Most Popular Food Found in Hawaii
The growing season in Hawaii is on-going, all year round, thanks to the perfect climate. A lot of fruits and vegetables grow in abundance throughout the year but some are at their peak in Spring, Summer, Fall and Winter.
Here's a little break down of what grows best and when, but there are so many more lovely fruits and vegetables found in Hawaii that aren't mentioned:
SPRING: avocados, chocolate sapote (from the persimmon family), citrus, lychee, mangosteen, star apple.
SUMMER: avocados, dragon fruit, egg fruit, jackfruit, lychee, mango, passionfruit, soursop.
FALL: breadfruit, citrus, dragon fruit, jackfruit, passionfruit (known as Lilikoi in Hawaii), starfruit.
WINTER: breadfruit, citrus, longan, mangosteen, rambutan.
And ALL YEAR-ROUND you can find apple bananas (tiny and super sweet), breadfruit, coconuts, noni, papaya, pineapple.
When you visit Hawaii, be sure to find a farmers market. The colors of the produce are so vibrant, and the sweet smells of Hawaii's tropical fruits are intoxicating.
Here's an interesting fact for you. Even though Hawaii is well known for its Pineapple, the fruit isn't native to Hawaii. The pineapple's origin stems back to South America actually.
Where to Find Traditional Hawaiian Food in Hawaii?
Where can you try all this scrumptious food? Well, the options on each island are endless. There are great food trucks (many are beachside), there are diners, cafes, and Michelin star fine dining restaurants. There are also many little hole-in-the-wall type places that are frequented by the locals, and they are true gems – they are where you will find authentic Hawaiian dishes at great prices. Whichever way you prefer to dine, be sure to have an open mind so you can truly enjoy all there is to offer. Try something new that you've never heard of or seen before. Guaranteed, you will leave wanting more. Another great place to enjoy a feast of both native Hawaiian food and local food is at a Luau.
So let's eat!! Time to get out there and enjoy all the amazing food Hawaii has to offer – your taste buds will thank you!