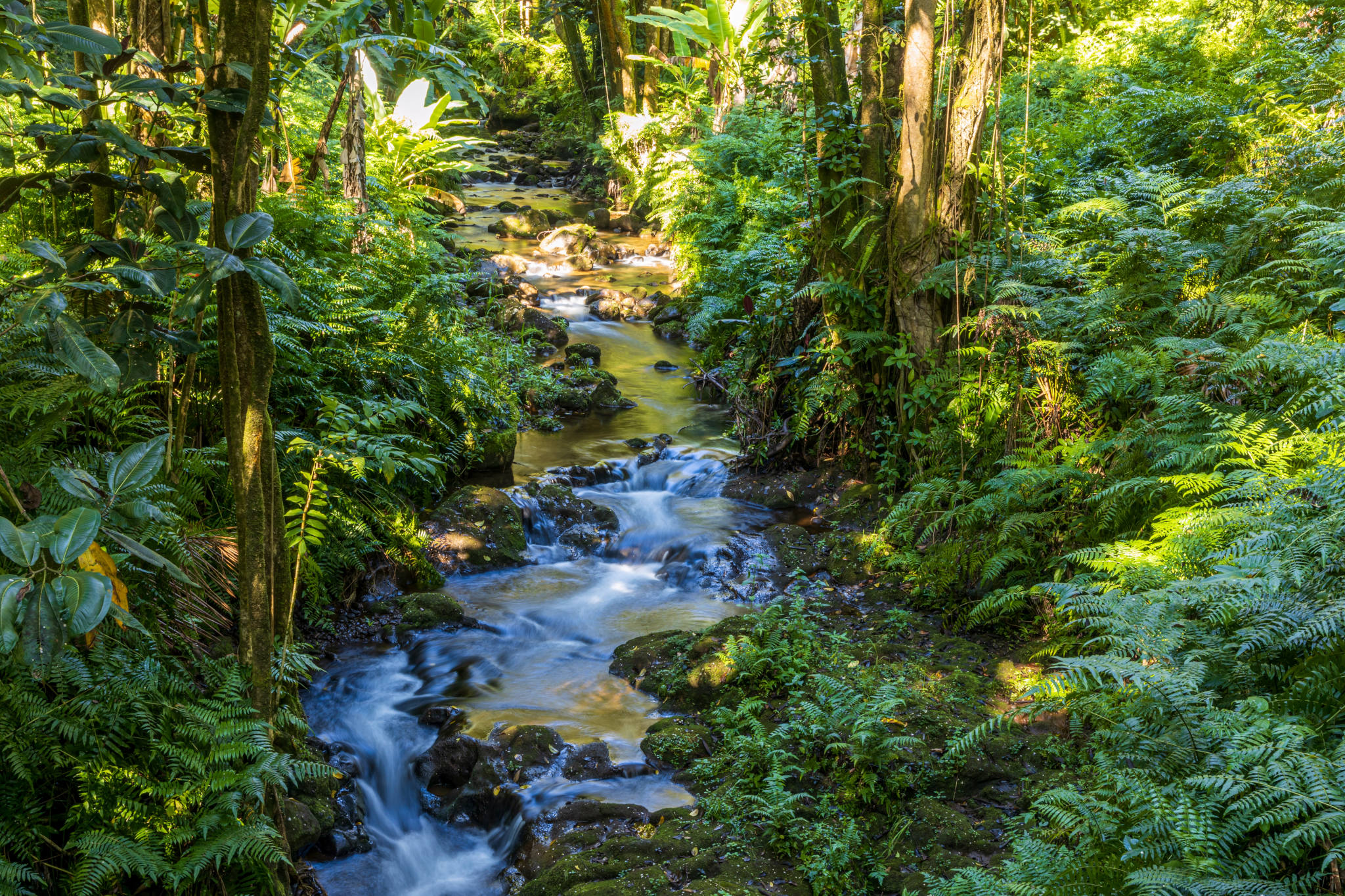 A Guide to Hilo's Pepeekeo Scenic Drive Road Trip
Hilo's Pepeekeo Scenic Drive Road Trip
When you think of the Islands of Hawaii, most think about basking in warm sunshine every day, golden sandy beaches, palm trees, coconuts, turquoise waters, majestic volcanos, tropical flowers and simply beautiful scenery no matter which way you look. And for the most part, you are right! But one of the things that makes these islands so scenic, rich and magical is all the rain some areas receive. It's what makes everything so lush, green, and fresh! Take Hilo for example, it's the largest city on Hawai'i (also known as the Big Island), located on the windward side of the Island, and it sees more than 137 inches of rain per year! But don't let this fact scare you away… there is lots to do, come rain or shine!
With its incredible tropical rainforests and stunning canopy views, it's no wonder so many visitors love this naturally stunning wonderland around Hilo. You may ask what to do in Hilo, Hawaii? Popular things to do are zip-lining, hiking, touring Volcanoes National Park, sunbathing, birdwatching, visiting museums, and so much more.
Making the Most Out of Your Hilo Road Trip
One of our favorite things to suggest to visitors is to hop in their car and do the 4 mile charming Pepeekeo Scenic Drive, also known as the Onomea Bay Scenic Drive, and the Old Mamalahoa Scenic Drive (So many names I know!). But believe me, you do NOT want to bypass this one! Ideally, we recommend this Pepeekoe, Hawaii drive on a sunny day but in case it rains, grab your raincoat if you brought one, and an umbrella if you must, or you could simply go without and simply enjoy the warm rain and Pepeekoe weather, and most importantly, don't forget to take your camera with you. It's a good idea to pack both sunscreen and insect repellant as well, especially if you choose to meander down one of the few trails along the way. This is Jungle territory aka mosquito territory!
This entirely paved, brief detour begins about 5 miles north of Hilo. You can enter it at mile marker 11 at Sugar Mill Road, or between mile markers 7 & 8 on Highway 19, north from Hilo. Watch for some signage that will say "Scenic Route". The entire route is only 4 miles long and loops you back on to Highway 19 at the end.
Road Trip Stop: Onomea Bay
As you start on the drive in the tiny town of Onomea, it quickly becomes evident why each of the many names for the drive include the word "scenic". This spectacular cruise takes you winding through a Hawaiian jungle filled with tropical plants, walls of green and even a few mossy bridges. It truly is a picturesque scene. Please take caution when on this road, as the drive gets narrow in spots and is quite curvy. Drive slow, watch for hidden driveways and soak in the surrounding beauty. Don't worry, it's not a scary drive at all. There are a couple of one lane bridges and several spots to pull over but no official parking spots. Be sure to take advantage of the dirt shoulder pull outs, walk around, gaze at the views and take some phenomenal photos.
Driving along, the trees will thin out and you will come to the beautiful Onomea Bay. Onomea was once famous for its unique sea arch which was carved into the surrounding rock wall by years of smashing waves. Hawaiian Legend claims that it was King Kamehameha who created the arch, by throwing his spear into the rock to create the huge tunnel. Sadly the arch was taken out by an earthquake in 1956, but you can still see the wide crevice in the cliff on the north side of the bay where it once stood.
Stunning Onomea bay is home to the Hawaii Tropical Botanical Garden. A worthy way to spend a few hours or an entire day. Hosting over 200 palms, 80+ varieties of bromeliads, giant bamboo, uncountable orchids, a three tiered waterfall known as Onomea Falls, giant Jackfruit tree and a raised wooden boardwalk that leads to the ocean. Definitely worth stopping and checking out.
Activities on the Old Mamalahoa Highway
If you choose to bike, after about 2 miles in, you can make a left on Old Onomea Rd, which will loop you back around to Mamalahoa Hwy. Another option, you can continue on Old Mamalahoa Hwy, which will eventually bring you further north to the small town of Pepeekeo. Pepe'ekeo once was a thriving sugar plantation but today is best known as a destination at the end of a beautiful scenic drive.
For the hikers out there, there is a trailhead by Onomea Bay lookout that leads to a short hike that follows the old government road into the Hawaii Tropical Botanical garden. Take a right turn toward the beach before entering the Botanical garden to access the Alakahi Trail, which follows the Alakahi stream to the ocean. The trails are free but if you wish to visit the grounds of the garden you will have to pay admission. If you stay on this trail and cross the Onomea Stream you will intersect another trail called "Donkey trail" which also leads you down to the ocean.
Past Onomea Bay, continuing on the drive the land opens up for a bit, but not long. Once you are under the tree cover again, the road will begin to twist and you will cross a bridge over a river. Just past this bridge is another great spot to pull over. We recommend taking one of the small trails down to the river. If you are thinking of stopping for a picnic, this is the perfect relaxing place to kick back for a snack before continuing back to the Highway.
On your way out, consider stopping at one of the local smoothie or coffee shops. Many of these cafes and roadside stands offer freshly picked locally grown fruit to eat fresh or prepared in a refreshing smoothie. Also the world famous Kona coffee is available at most places.