Best Kauai Beaches
Do you like to snorkel? Is your dream to do a little surfing? Or are you looking for a family-friendly beach to spend the day playing on the beach and dipping your feet into the soft sand as the gentle waves wash over? All of these are possibilities on the beaches of Kauai.
Weather varies across the island of Kauai, with Poipu being more sunny throughout the year, and the North Shore being somewhat variable especially in the winter months. You can find the days warmer here, and the nights becoming cooler during the months of November through February. An exploration of the Kauai Coast will allow you to discover various ecosystems, and some of the best sand and surf in Kauai.
Let's take a trip through some of the spectacular and best beaches in Kauai, discover some of the safest and most interesting snorkeling beaches in Kauai and find out what will suit your desires for the most perfect beach experiences this island has to offer.
Grab a map of Kauai Beaches, and start planning your trip. Keep in mind the wishes and abilities of your family and friends, so you can find the best Kauai snorkeling and sandy beaches for your trip.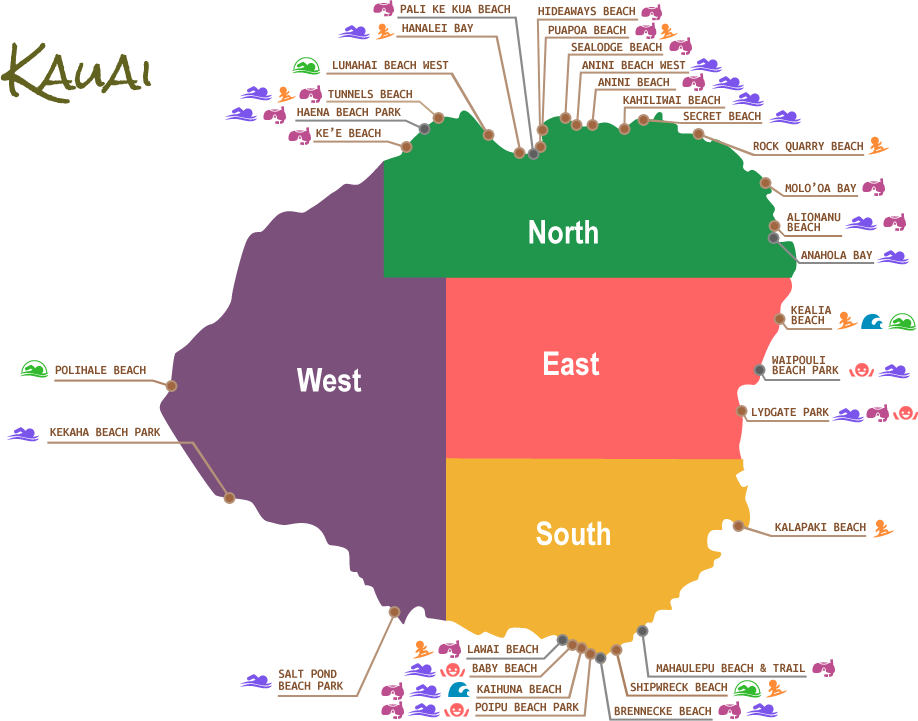 Makua Beach (Tunnels Beach)
Known as one of the best destinations on Kauai for snorkeling, Makua Beach, also known as Tunnels beach is two miles long, and runs from the Hanalei Colony Resort to Haena Beach Park. This North Shore Beach has a huge moon-shaped reef about ⅛ mile off shore, with deep water caverns located close to the shoreline, making this a great diving site as well. The shallower area close to shore is ideal for swimmers, and families with young children.
This beach is at its calmest during the summer months, and with a coral reef so large you can see it from space, Tunnels Beach snorkeling is very popular, and so is scuba diving for those wishing to explore the reef in depth.
Tunnels Beach is prone to strong currents which flow through the gap between the inner and outer reef. Beyond the outer reef is a surf break for advanced surfers. This beach has no amenities, however it is very close to Ha'ena County Park, which does have lifeguards and restrooms.
Makua Beach parking
The beach, located directly across the street from Mile Marker 8 on Highway 560 as you travel east from Hanalei towards Ha'ena does have places to park nearby, but do not park on the side of the road, or you will be ticketed. About 0.4 of a mile past Mile Marker 8 and 0.6 of a mile, are two roads where you can park along the side of the narrow road. Make sure you find the right roads, as there are some in the area that have no access to the beach.
Early in the day is best if you want to find prime parking, and if the above spots are all taken, there is another area on Alealea Street near mile marker 8 for Tunnels Beach parking, but it comes with a half-mile walk to the beach heading west.
Hanalei Bay
Hanalei Bay is the largest bay located on the north shore of Kauai with the town of Hanalei sitting at the midpoint of the bay. Hanalei Beach consists of about two miles of beach, and is surrounded by mountains.
The Hanalei Pier was built in 1892, and is a favorite gathering place for locals and tourists for fishing, swimming and meeting up with friends.
In the winter months, the surf is up at Hanalei Point, which is a great place for experienced surfers, while the surf closer to the pier is smaller and safer for those learning to surf. If in doubt about the best winter Hanalei Bay surf, ask a lifeguard, and they will direct you to the proper location. There are multiple lifeguard stations along the Bay.
Four different beaches make up the ring of Hanalei Bay and in the summer, when the Bay is more placid, this area becomes a playground for families.
"Black Pots" at the Hanalei Pier is where the Hanalei River empties out into the ocean. This area can be accessed from the eastern end of Weke Road. A great spot to practice photography, surf for beginners in the winter, launch a kayak and head upriver, or out into the bay on a flat day. You will find a lifeguard station, washrooms, beach showers, a pavilion and a great sunset.
Waikokos is a reef-protected beach that can be found between the 4 and 5 mile markers on Highway 560. This is the far side of Hanalei Bay, and is quite popular during moderate surf as the locals use this area. The water inside the reef is very shallow, and used as an access point for surfing. Look for the 15 mile per hour sign and you will see the path to the beach.
Hanalei Bay parking
Wai'oli Beach can be accessed from three different spots, all located off Weke Road. The most easterly entrance is called "Pine Trees", the next is called "Bathrooms" and the final entry is "Grandpa's". Pine Trees has a large lawn with picnic tables located in the shade. Bathrooms has a parking area next to the washroom, while Grandpa's is the last turn on the west end of Weke Road, and also has a nice lawn and shade.
Poipu Beach
This south shore beach has been named America's Best Beach by The Travel Channel. The beach is split in two by a sandbar, with the west side known as Baby Beach. The sandbar that separates the two sections is a popular napping spot for Hawaiian monk seals. To the east, you will find lots of opportunities for activities such as swimming, boogie boarding, snorkeling and even surfing.
Poipu Beach has restrooms and lifeguard stations and is fronted by Poipu Beach Park, considered one of the safest beaches in Hawaii.
Baby Beach is a small protected cove, perfect for very young children, with calm and shallow waters. Even small babies can splash in the ankle deep waters, Public beach access is located between the homes at #5142 and #5152.
Brennecke's Beach is located on the eastern end of the park, and is known for bodyboarding, body surfing waves, swimming and snorkeling.
Poipu Beach snorkeling is very popular, with the best spot being right off Nukumoi Point, or the rock jetty has a safe snorkeling area as well.
Poipu Beach parking
There are two free parking lots at Poipu Beach Park, and it is suggested you get there early, as they fill up fast, especially on weekends. If you want to get closer to the south end, you can look for street parking as another option.
Kiahuna Beach
On the south shore, this is one of the most popular beaches, being that it is ideal for swimming, boogie boarding, surfing for beginners and at times, snorkeling. This beach fronts the Kiahuna Plantation Resort, and is safe for swimming year round. Located between Poipu Beach and Lawai Beach, the outlying reef allows the water to stay relatively calm inside the reef.
If you are into surfing, the summer months are perfect for beginners, with more experienced surfers able to catch some bigger waves by venturing out a little farther past the reef. There is no shade at this beach, so pack in lots of sunscreen and hats, umbrellas and water. This beach does not have lifeguards, so use caution with younger children.
If you are staying at the Kiahuna Plantation Resort, Kauai, you may find yourself in an oceanfront condo, with a beautiful beach right outside your door.
Kiahuna Beach parking
Parking can be found, the best spot is located at the east end of the Sheraton, with washrooms and showers nearby.
Mahaulepu Beach
Mahaulepu Beach is about a two mile road trip from the end of Poipu Road. If you travel east on the dirt cane field road to the main cane haul road intersection, you will turn right. Check the security shack, as that is where the beach hours are posted, with beach access closing at 6pm.
Grove Farm Company opens a gate in the early morning and closes it in the evening so it is important that you follow their direction and only visit during opening hours.
Here you will find a remote, but gorgeous stretch of golden sand, making this popular with locals and visitors who like windsurfing, swimming, fishing, snorkeling or just sunbathing. This is a section of wild coastline, with geological and cultural sites, encompassing Maha'ulepu trails, places, plants as well as animal life. As a unique heritage site, it reveals over 5 million years of continuous history, and is sacred and legendary to native Hawaiians, who are ancestrally connected, and still use this area to fish and gather.
Due to its strong winds, kitesurfing and windsurfing are the most common activities found here.
Mahaulepu Beach parking
Keep in mind – you will cross private property to access the beach so please park your car in the lot provided, and hike in. There are no washroom facilities here.
Anini Beach
Although Anini Beach does not have a lifeguard station, it is considered one of the safer of Kauai's North Shore beaches during the summer months. The longest and widest fringing reef in all of the Hawaiian Islands can be found here, and because of the unique conditions, it has protected waters, and consistent conditions for water activities such as snorkeling. Outside of the reef, Anini Beach is known to have strong currents in the areas outside of the protected reef. It is always wise to use caution when venturing out, especially during high surf. Anini beach snorkeling is very popular, but be aware that the currents increase as you get closer to the outer reef.
Anini Beach Park is popular for camping, and the beach is usually less crowded than Hanalei or Poipu Beaches. With multiple campsites that you can access with a permit, there are shade trees, picnic tables, pavilions, a boat ramp, restrooms and showers available. If you like fishing, this is a good spot to fish from shore as well. Check out the stunning views where you can see the coast right out towards Kilauea lighthouse, where the picturesque blue of the ocean is reflected into the sky above.
Anini Beach parking
There is convenient parking on the roadside. You can find this beach between mile markers 24 and 25 on Kuhio Highway.
Polihale Beach
Polihale Beach and Polihale State Park offer the longest stretch of beach in the state of Hawaii. Located at the end of Highway 50, down an unpaved old cane haul road, this seventeen mile stretch of white sand beach comes with sand dunes for further exploration. Sitting on the edge of the Mana Plains, the beach is at the end of the NaPali Coast, offering a vast stretch of wilderness including 100 foot sand dunes complete with desert cactus, and presenting stunning sunsets over the Forbidden Island of Niihau.
Polihale Beach is hot, and there is no shade near the water, so umbrellas and drinking water are highly recommended. There are some facilities and camping by permit, but there are strong currents and no lifeguard, so consider this beach dangerous for swimming. You will find the beach a perfect spot for beachcombing, long beach walks and spectacular views of the sunset. Facilities include restrooms, showers and picnic tables.
This is a great spot for a day trip, as the beach seems to go on forever, with its length of 7 miles and width of over 100 yards in spots, providing plenty of opportunity for photographers to capture those unique and treasured Hawaiian landscapes and beach shots. Explore the desert-like conditions of the sand dunes, and discover vegetation suitable for this climate.
Locals love this beach, so weekends could be busy, but this is a very large beach, with plenty of space and weekdays are a little quieter. If you plan to camp, make sure you pick up your Polihale camping permit before you head out.
Driving to Polihale Beach
Access is down Highway 50, past mile marker 32 where the road ends, turn right inland, and then the first road to your left to enter Polihale State Park, and the large beach. The drive is long on a bumpy, sandy road. A little over 3 miles in, there is a large tree, with queen's pond to the left, continue to the right for the campground and picnic areas. At the end of the road the cliffs of Na Pali Coast meet the Polihale Beach.
Be careful driving, take your time on the washboard road, and if you encounter sand drifting across the road, proceed cautiously, and keep steering straight, as stopping or turning around could get you stuck in soft sand.
Anahola Beach
Anahola Beach Kauai is a beautiful sandy bay with Anahola Beach Park located just south of Anahola Bay. This is a good swimming beach, and Anahol Bay snorkeling is decent most of the year. The park is manned by a lifeguard, and is easy to drive up to, making this a great spot to spend time, as you don't have to carry your beach gear very far. There is good shade here, as well as camping facilities and a nice sandy beach. This is a popular beach for the locals, and is crowded on weekends with families congregating to picnic and play in the water.
At the north end of the bay, the mouth of the Anahola River enters the ocean, and is a great spot for fishing from shore, and photography. Use caution, as there could be some strong currents, and there is no lifeguard station at the mouth of the river. To the far right of the beach park, the sand meets rocks, and provides an excellent area for children to play and swim in shallow water. This is one of the safest swimming spots on Kauai.
There are a few small beach stops along Aliomanu Road, with trees for shade. Keep in mind these areas are mostly used by locals, and have been for a very long time. Respect these areas, and do not frequent these smaller beach areas at night.
Driving to Anahola Beach
To access this beach and camping area, take Highway 59 north from Lihue and look for Mile Marker 13 – turn right about 0.6 miles from the Mile Marker. Here you will find a ½ mile long curve of white sand. There are a number of access points, the most common is at Anahola Beach Park, which is where the restrooms, lifeguard and campground are located.
To access the river mouth, at the north end, take Aliomanu Road. Here you will find a canoe club, and deep beach, extending back into the shade of the ironwood trees. Be careful swimming here, as there are rip currents. The river mouth, however, is a fun place for children to play, but keep your eye on them as there is no lifeguard.
Lydgate Beach
On the east side of Kauai is Wailua, and Lydgate Beach Park, adjacent to the Wailua River. There are two rock enclosed ponds that create a safe area from ocean waves, but allow small reef fish to enter through crevices. This makes for a great spot to view tropical fish and a chance to do some beginner Lydgate snorkeling.
Lydgate Beach Park is great for families with swimming, picnicking and snorkeling in the two protected lagoons.
A long time ago, ancient Hawaiians built their temple on this beach to honor the sun. Nearby was their Hauola City of Refuge – and both of these artifacts were discovered by Reverend John Ludgate in the early 1900's. Blue Hawaii, with Elvis Presley, was filmed here over 50 years ago.
This is one of the safest spots for swimming and snorkeling in Kauai. The smaller pool is perfect for kids. Both pools were built in 1964, and were restored in 2011 for future generations, as this is a place used for Kauai family celebrations and cultural activities.
There is a 2.5 mile bicycle/pedestrian path running through the park, and is in the process of being linked to the coastal Kauai Path that starts in Kapaa and ends at Donkey Beach. This park has 2 playgrounds, one at each end of the park, both designed with ocean-themed mosaic tables.
Driving to Lydgate Beach
This beach can be found ten minutes north of the Lihue Airport. With showers and restrooms located in 3 areas, this is a perfect spot for the whole family.