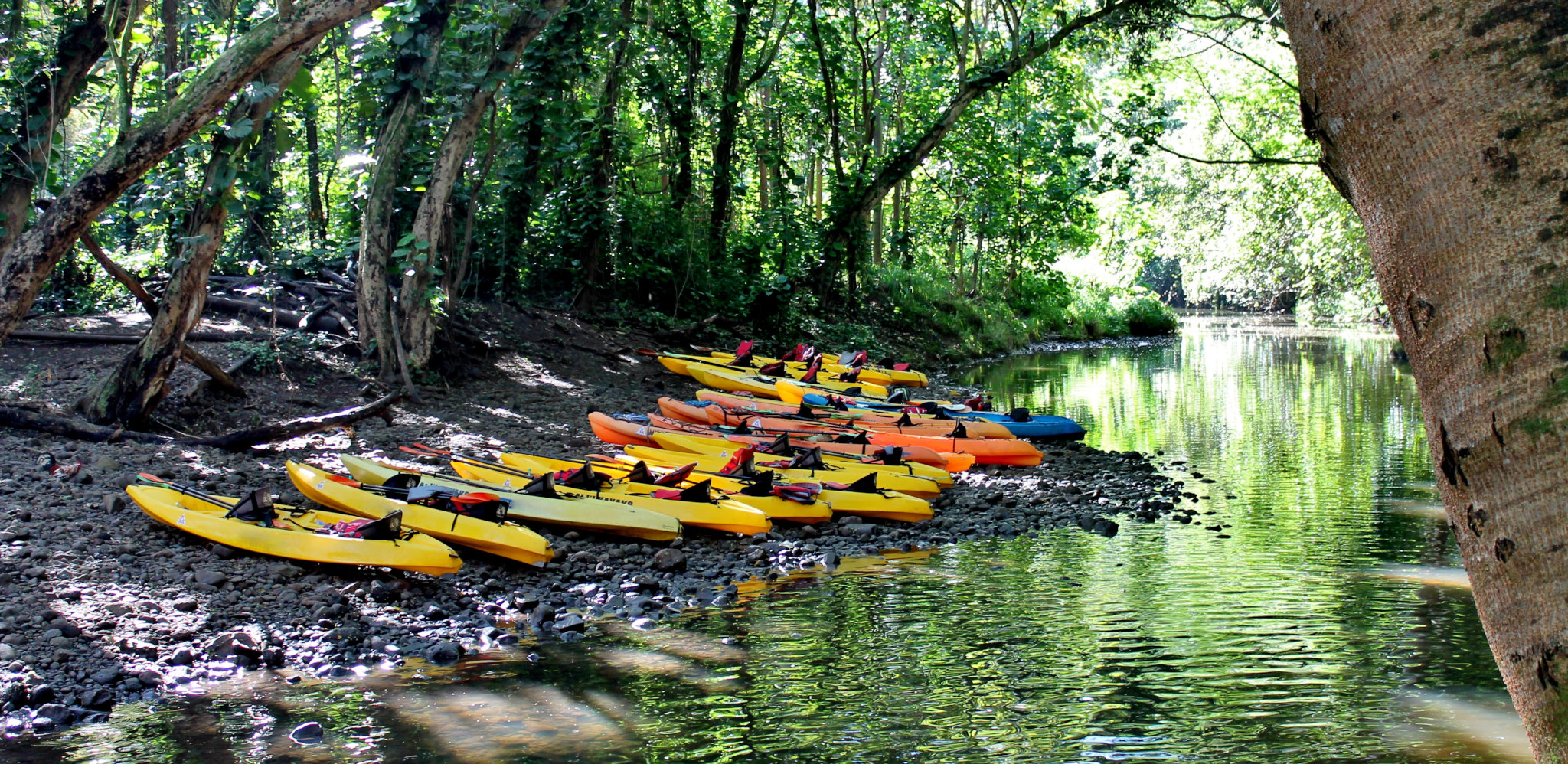 In Hawaii, the only navigable rivers are on the garden island of Kauai, making Kauai kayaking a very popular Kauai activity.
Relax and take in the stunning scenery as you paddle down the Wailua River. This river is very popular for kayaking and meanders through rich jungle landscapes. Other river routes include the Huleia River from Nawiliwili Harbor in Lihue, and the Hanalei River on the North Shore, which is the longest on the island.
Ocean kayaking is an option too, but it is seasonal. On the South Shore, you could try the Poipu to Port Allen path with a stop in beautiful Lawai Bay. When conditions are right, when it's calm, kayaking along the 17-mile Napali Coast is an adventure you will never forget. "National Geographic" considers kayaking along the Napali Coast the second best experience to be had in the country, and they are right! This can be a physically challenging activity and the seas can be quite unpredictable at times, so hiring a guide for this once-in-a-lifetime experience is highly recommended.
Let's talk about the Wailua River. This is Kauai's largest navigable river, located about 15 minutes drive north of Lihue, on the East side. This 20 mile long river once wove through seven different temples, and flows from Mount Waialeale in the center of the island. It became the center of activity for early Hawaiians and is known as one of Hawaii's two most sacred places. You can either rent a Kauai river kayak on your own to explore the river, or book a tour with one of the local companies. Wailua River Paddling is a perfect alternative for those who prefer to avoid the hiking challenge of the Sacred Falls tour, and have younger children or perhaps a more senior individual who would love a water adventure.
Some companies offer a five-hour guided tour to kayak Wailua River, Kauai, which is an incredible adventure for the entire family. Kauai kayak to waterfall tours can include paddling on the Wailua River and a hike to a remote waterfall. You can even swim in the pools or streams leading from the falls. Some say that when night falls, you can still hear primitive drums thunder in concert with the nearby surf. The trail leading to Kauai's sacred waterfall is beautiful. There's an abundance of tropical flowers, serene streams, and lush ferns.
Is Kayaking in Kauai Safe?
When considering beginner kayak tips, one would want to know "Is kayaking safe for beginners?" Because this is a small island, the rivers aren't long, and there are no rapids, which makes them generally safe for kayakers of all levels, even beginners, except when rivers are flowing fast from heavy rains.
Make sure to review sea kayaking safety tips before you start your adventure, and learn what you need to know about kayaking. Tour and kayak-rental reservations are recommended at least two weeks in advance during peak summer and holiday seasons. In general, tours and rentals are available year-round, Monday through Saturday. For more advanced paddlers, there aren't many places in the world more beautiful for sea kayaking than Napali Coast. If this is your draw to Kauai, plan your vacation for the summer months, when the seas are at their calmest.
What Should I Bring on My Kauai Kayaking Trip?
When considering equipment needed for kayaking, the first items to address are kayaking attire. Pack a swimsuit, sunscreen, a hat, bug repellent, water shoes (sport sandals, aqua socks, old tennis shoes), snacks and water. Kayak equipment is minimal, and a wise purchase is a drybag for all the things you want to take in the kayak with you such as wallet, cellphone, sunglasses when you are not wearing them and the keys to your Kauai rental car. You may wish to find one prior to leaving for your trip, as the choices will be greater. These bags seal tight and will keep the necessities nice and dry.
If you're a little more adventurous and plan on doing some ocean kayaking, then in addition to the above, think about bringing some motion sickness medication as the ocean can be pretty choppy.
It's incredibly important to think about kayak safety equipment. If you're heading out with a tour guide, they will go over many safety tips with you. Consider a helmet (especially if you're ocean kayaking), a spare paddle, and a whistle or signaling device of some sort.
Kauai kayaking is one of those activities that will build memories of your trip that are not accessible anywhere else.