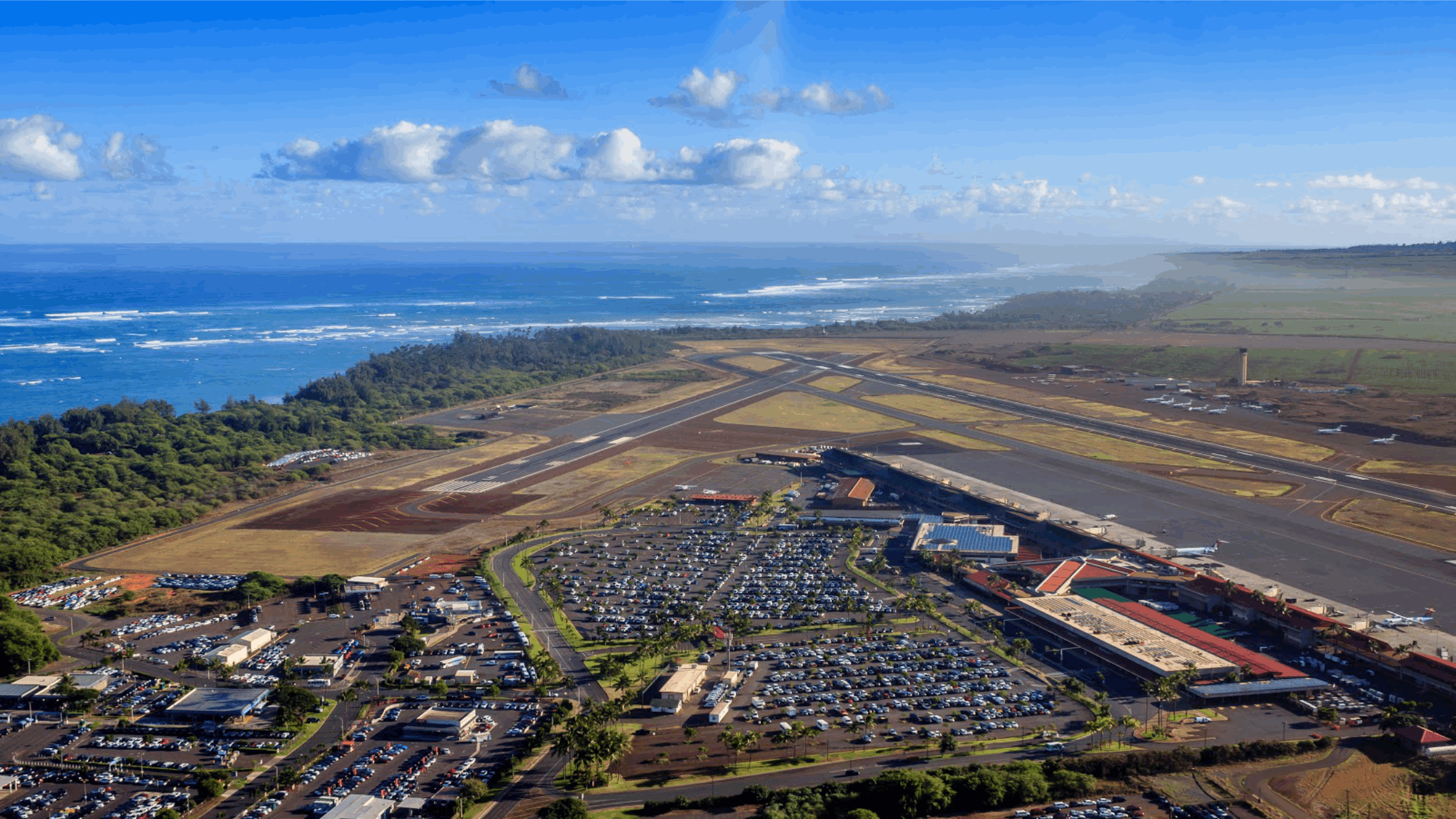 KAHULUI - THE MOST "URBAN" TOWN ON MAUI KNOWN AS "DREAM CITY"
Your first experience on Maui will most likely start in Kahului, when you land at the Kahului Airport. Located in the valley between the mountains of West Maui and the slopes of Haleakala to the South, Kahului is the "urban" center for the island, where locals from all over the area say they are "going to town". Most of Maui's residents live in the Kahului area and work nearby at the airport, sea port, and local stores and warehouses.
Kahului was born in the era of the sugarcane industry, and Maui's first railroad in the 1880's which hauled the sugar cane from the mill to the harbor. The town sprouted up, as a result of this industry, until 1900, when the bubonic plague wiped out the entire town. What was left of the town was burnt to the ground to rid Maui of the plague, and Kahului developed as a planned community by the sugar company in 1948.
Although Kahului is not considered a tourist destination, it is a stopping point for shopping, and dining, and is therefore a great spot to experience food and restaurants where the locals eat. It is also the place where tourists stock up on their essentials after arriving and picking up their Kahului car rental.
There are a few interesting beaches in the area, where windsurfers, paddle boarders and kite boarders entertain themselves, as well as fisherman fishing from the shallows. Sugar cane operations officially shut down in 2016, but the Alexander and Baldwin Sugar Museum is worth a visit.
CHOOSING A KAHULUI CAR RENTAL
Renting a car in Kahului is a must to see the beautiful island of Maui. Kahului is located right by the OGG airport, but is a drive to any of the resort areas on the island. Taking a taxi or a shuttle to and from the airport to your resort can cost quite a bit of your travelling dollars and can leave you without a vehicle to pick up supplies, or drive around to see the sights and participate in activities. A cheap Kahului car rental will give you the freedom to travel, pick up groceries, visit the various towns, and drive the Road to Hana.
The new Conrac Facility has made renting a car easy and convenient, as you take a tram from the airport over to the Conrac Car Rental Building, and just walk up to the Kahului car rental company you are booked with. No line ups at the airport to wait for the car company shuttle to pick you up – everyone boards the same tram.
A car rental in Kahului, Hawaii is the beginning of your Maui adventure – opening the door to all Maui has to offer from road trips, to surfing destinations, and a sunrise or sunset atop Haleakala.
KAHULUI INFORMATION
Population of over 30,000
Nicknamed "Dream City" by cane workers who prefered living here than in plantation camps
Normal annual rainfall is 17.83 inches spread over an average of 95 days
Kanaha Beach is next door to Kahului Airport
Home to 2nd largest Airport in Hawaii
THINGS TO DO IN KAHULUI
Kanaha Beach
Right next to Kahului Airport, with its white sand beaches is great for swimming, walking, kite-surfing or windsurfing. A great place to spend some time while waiting for your flight home.
Kanaha Pond State Wildlife Sanctuary
Located between downtown Kahului and the airport, was once a royal fishpond, dating back to the 1500's. Today it hosts over fifty species of waterfowl in its sanctuary including three endangered species.
Tasaka Guri-Guri
Here you will find a little shop in Kahului that specializes in a frozen dessert known as guri-guri – a cross between sherbet and ice cream. Typically made from guava juice, lime soda and condensed milk – the recipe is a family secret protected for decades.
Car Rentals in Kahului FAQs
Is it necessary to rent a car in Kahului?
Maui is very spread out, with Kahului being at the crossroads, and also the starting point for your visit to Maui. Renting a car at the Kahului Airport is an economical way of getting around, avoiding expensive taxis, shuttles and rideshare options. It is the very best option available for getting around, and enjoying the island on your own schedule.
Is driving in Kahului dangerous?
Kahului is small, and very easy to navigate, so driving is not dangerous as long as you follow the rules of the road, and know where you are traveling to. Keep a good map handy. A car rental will give you the most options for driving around Maui, and navigating your way through each town.
Should I book my Kahului car rental before arriving?
Often the best rates are offered further out from your pick up date. It is always a great idea to book your car rental in Kahului as soon as you have confirmed your flights. Cancelling and rebooking with Discount Hawaii Car Rental is always free - so renters can book early, and hold that rate. If rates do come down, you can easily rebook on our website, and cancel the existing reservation. This way if rates do go up, you already have the best rate locked in, and if they do come down, you can take advantage of rebooking at the lower rate with no penalties.