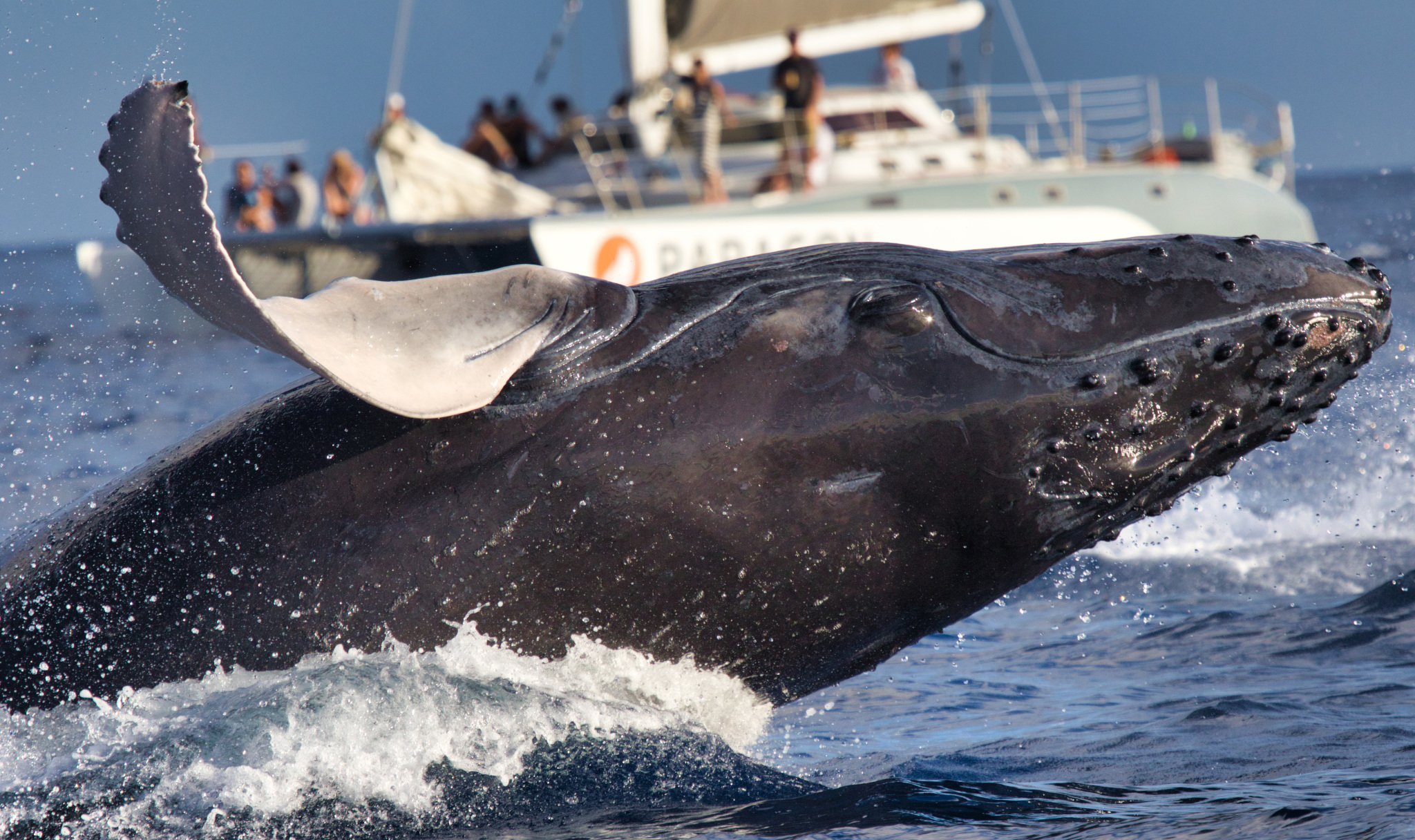 All You Need to Know About Whale Watching in Hawaii
Hawaii Whale Watching
The incredible crystal blue waters of Hawaii appeal to more than just sun seeking travelers. Eighteen different species of marine mammals call these stunning Hawaii waters their home, including the majestic Humpback Whale, which travels over 3000+ miles from the Gulf of Alaska to breed, birth and raise their young in Hawaii's waters.
You can see the Humpbacks start to arrive in mid November with the last stragglers departing for the North around mid April. The best time for whale watching in Hawaii is between the months of January and March. It's during these months that Hawaii is home to two-thirds of all Pacific Humpbacks, making it the world's most dense population of Humpbacks.
Best Whale Watching Times, Seasons and Weather
If you are traveling to Hawaii between March and October, you will, unfortunately, miss out on the Humpbacks as part of your whale watching Hawaii experience, but do not despair, as many other species of whale can be seen throughout the rest of the year, such as Melon Headed, Pilot Whales, False Killer Whales, Beaked Whales and even the occasional Sperm Whale, who makes their home in the deep offshore waters of the islands During a whale watching tour in Hawaii you may also be fortunate enough to see dolphins, turtles, seals or maybe even various shark species.
Weather does not really affect whale behavior, but it can affect whale watching activities, as it is harder to see whales in inclement weather. The water is glassy at times, and that may make it easier to see whales at a distance, such as from shore with your binoculars, but there is more surface activity when the weather isn't perfect, so slightly overcast skies may be better for viewing up close. Remember, those Humpbacks are used to cold weather in Alaska, it's the passengers of the boat that need to bundle up! Maui and Kauai are particularly popular whale watching destinations in Hawaii.
Best Islands For Whale Watching in Hawaii
Humpbacks can be seen from all the Hawaiian islands but many will agree that the best island for whale watching is the island of Maui. The Auau Channel between Maui, Molokai and Lanai is one of the best whale watching destinations in the world. The shallow waters make it the perfect tropical environment for Humpbacks to nurse and raise their young.
Other popular whale watching spots on Maui include the Maui Nui basin, Lahaina, Ma'alaea and Kihei, where you can experience sightings of solo whales, or mothers traveling with their young, and sometimes accompanied by a male escort, as well as competition pods, or groups of male humpback whales (bulls) competing for the attention of a female for mating. False Killer Whales and Pilot whales frequent the waters of Maui as well. Humpbacks can also be spotted along Oahu's southern shores particularly by the seaside overlooks near Diamond Head.
The Northwestern coast of the Big Island of Hawaii is a popular Big Island whale watching destination. These deep offshore waters are the only place the rarer species of whales, such as the beaked and melon head are spotted. False Killer whales have been seen hunting tuna in these waters, traversing all the way to Kauai. This area is referred to as the Kohala Coast, Kohola in Hawaiian means whale. Whales hold a special place in Hawaiian culture as they play an important role in the Hawaiian creation legend. A Whale represents the Hawaiian God Kanaloa, the god of all ocean life, so these great creatures of the ocean are treated with deep reverence and love.