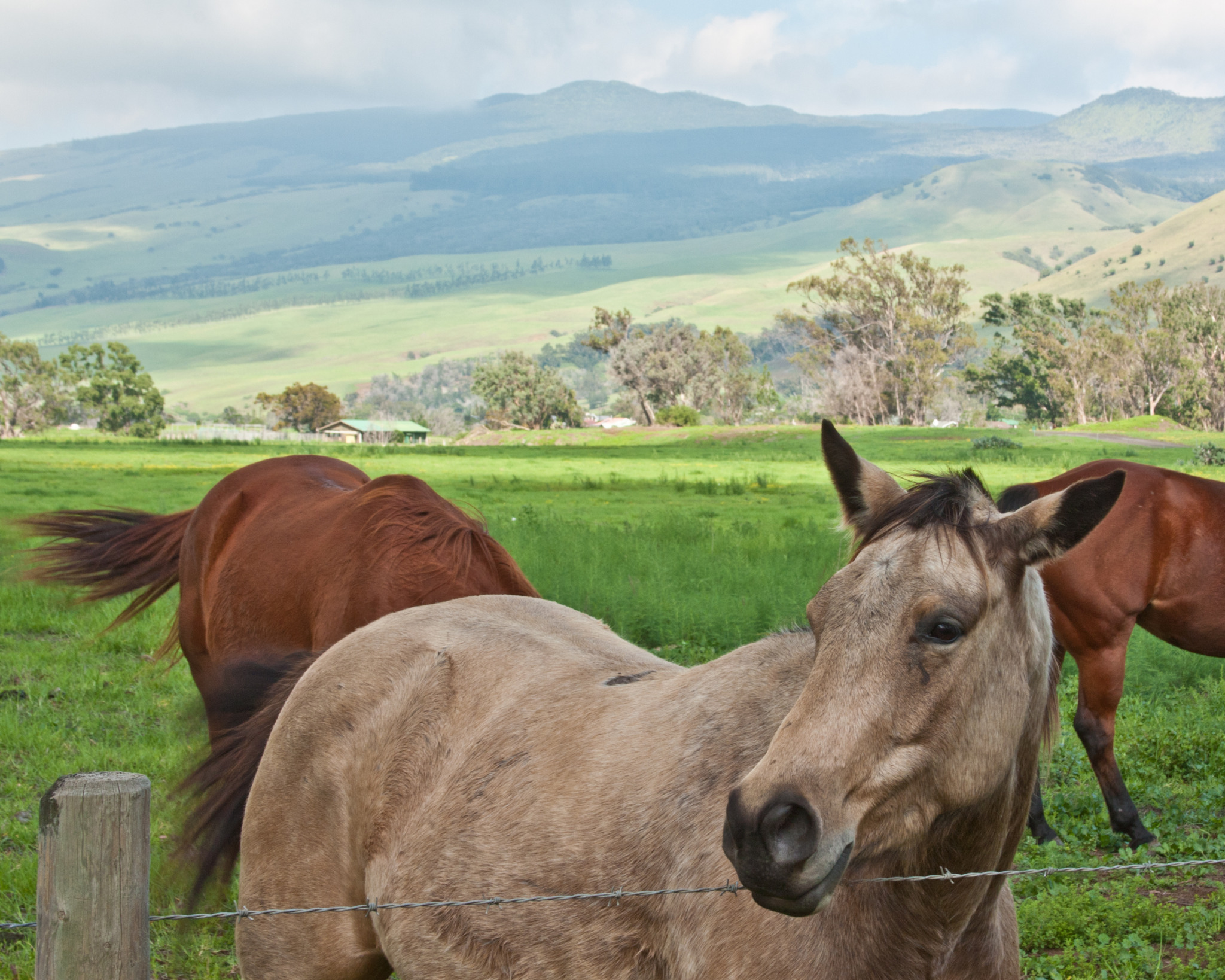 Horseback Riding on the Big Island
Calling all cowboys, cowgirls, city dwellers and anyone that's looking to experience the Big Island from a different perspective – giddy up!
In addition to the Big Island being a tropical paradise, there is a whole other side to the island that not everyone thinks about. Upcountry, there are a number of beautiful and expansive ranches, boasting more cattle and horses than any other Hawaiian Island. Whether you're a beginner, advanced level rider, or you've never ridden a horse before, you will have plenty of horseback riding options to choose from on the Big Island of Hawaii. Horseback riding on the Big Island of Hawaii is definitely one of the most popular activities to experience.
Ride through the expansive area of Waimea, the lush rainforest around Hilo, or explore the trails in and above spectacular Waipi'o Valley for incredible views and backcountry waterfalls.
Best Horseback Riding Destinations on the Big Island
Many ranches, with their colorful paniolos (cowboys), provide the opportunity to explore their expansive range as part of a guided horseback riding tour. Trails guide you through pastures with stunning views of the coastline and mountains. The vast majority of trail rides take place in the northern part of the island. The gorgeous Waipio Valley is a very popular place to saddle up and ride to places that no vehicle could take you, including taro fields, spectacular waterfalls, and valley floors as you ride along the edges of cliffs.
Now if you'd like to experience the range of a working cattle ranch, from a Hawaiian cowboy's perspective, then a ride in the area of Waimea or Kohala is a must.
There are many stables just south of Kona too. This area is the lush and plentiful heart of Kona coffee country. Here you can book guided tours that will take you down to Kealakekua Bay and to the Captain Cook monument. Here you can give the majestic horses a break, yourself as well, and enjoy an invigorating swim and perhaps a little picnic.
Then on the east side of the Big Island, near Hilo, you'll find very lush forests and an array of cascading waterfalls. There are a few stables where you can book a tour that combines horseback riding with camping and packing trips.
Horseback Riding Tips
What should you wear?
Here are a few horseback riding safety tips.
It's best to wear long pants, jeans are great, to help protect your legs from chafing against the saddle. Wear closed toe shoes, no flip flops or sandals, and bring a light sweater or jacket as well. Sandals could easily slip out of the stirrups, which would not be good. A little heel is best, which is why the paniolos wear the boots they do. Granted, not a lot of visitors will pack a pair of cowboy boots, so runners or a small hiking boot will work just fine. Try to wear simple clothing that you're not afraid to get a little dusty or dirty. Oh and don't forget to bring your bathing suit (wear it under your clothing) and a towel if your ride will take you somewhere you can swim, kayak, or paddleboard at the waterfalls! A hat is good to bring along, but not a loose hat because branches and the trail can snag it quickly. If you have long hair, it's best to tie it back.
What should you bring along for the ride?
What to bring really depends on what sort of tour/ride you are booking. Some are more remote than others, and the length of the rides vary as well. You may need to bring a light snack and drinks. Water is key. Some stables have a snack shop close by, should you forget to bring your own drinks or snacks, but others do not. Many guides do not allow you to bring backpacks, so bring only what you need. Most provide you with a small saddlebag, but there's not a lot of space. Bring your camera too as there will be plenty of opportunities to take some incredible photos – you will be creating some life-long memories.
Please note that the minimum age to ride at most ranches/stables is 8 years old. And many require those under the age of 13 to wear a helmet.