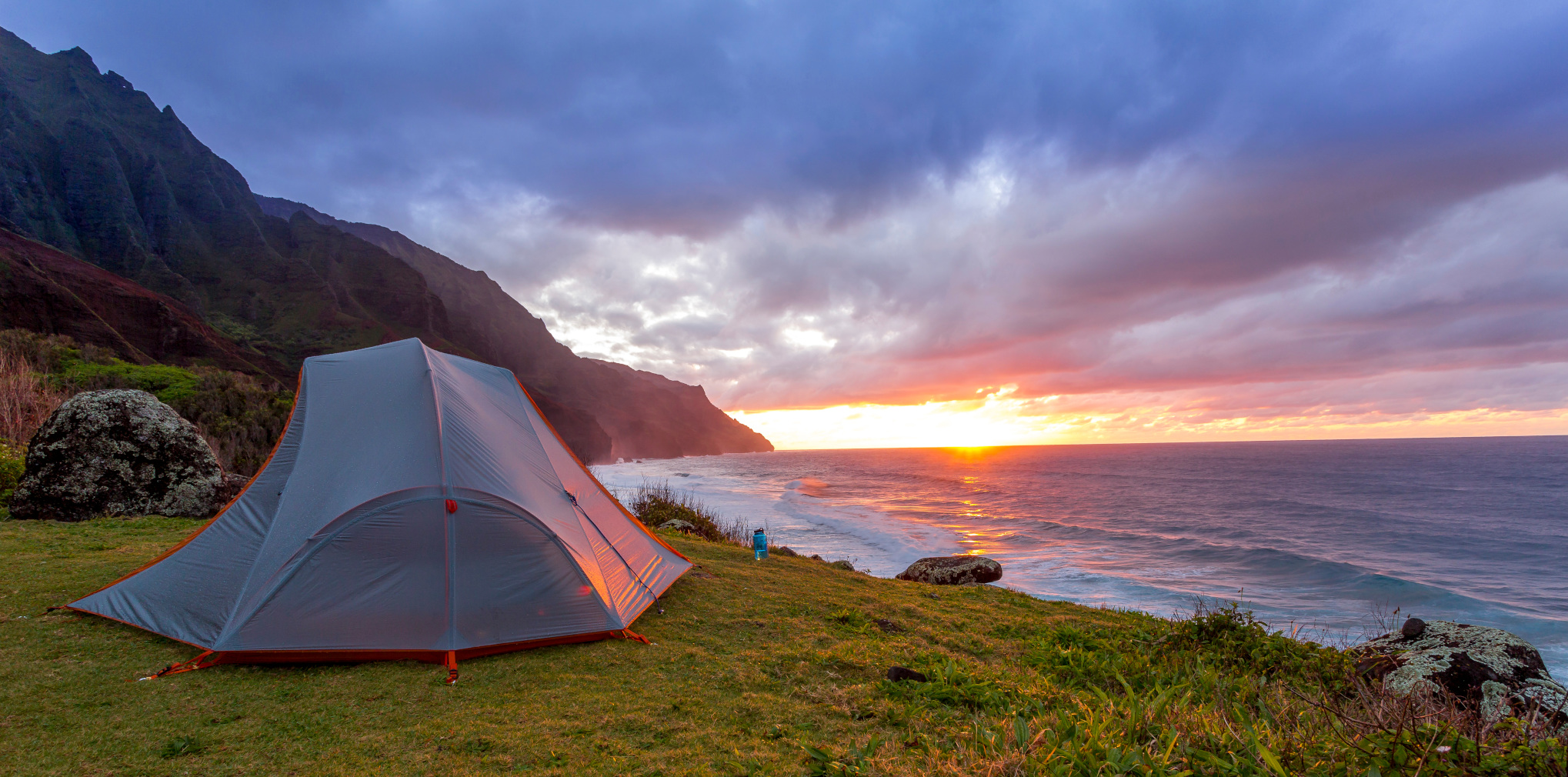 Yes, you definitely can go camping in Kauai, Hawaii and there is a variety of Kauai campgrounds to choose from. Kauai is also known as the Garden Isle, meaning its lush landscape brings beautiful sights and smells for you to enjoy. That being said, the island has extreme differences when it comes to climates, with its wet North coast and the dry South coast. The East coast is somewhere in between (a little wet and dry) and the West coast (the rugged Napali coast) can have both extreme and calm weather, but it's only accessible by boat, helicopter or hiking.
Of course when you camp on the island you will save money on resort costs and fees, but you will still need a rental car to get around Kauai. Let us at Discount Hawaii Car Rental help you get the best vehicle for your needs. Start early to get your Kauai camping planned, you need to research which parts of the island you really want to stay at, then you want to prepare for that location's climate. With the humid North you don't need too many layers, but bug spray, yes – you will need bug spray.
The great thing about camping on Kauai is the year round temperature stays between 70 to 80 degrees fahrenheit. Whether you like a rugged hike into your Kauai campground or easy access drive in sites, Kauai is the perfect place to trade in the comfy hotel bed for a tent and mattress.
Where Are the Best Campgrounds in Kauai?
For Kauai camping, you must get a permit and the system is not centralized, so you will need to learn how to book each site. On Kauai there are 6 State of Hawaii camping sites and 7 County of Kauai campgrounds. State sites permit applications require booking one month in advance and can be done online. Kauai County camping permit applications must be mailed in with your payment ahead of time. There are different rates for Hawaii residents and non residents, as well as maximum occupancy numbers for each campground site.
County campgrounds are free for Hawaiian residents and a minimum fee for non-residents. The fee for camping can start at $3/night per person up to $25/night per site, depending on the campground. The county permits can be obtained in person ahead of time or in person at the Lihue Civic Center, Monday through Fridays only. All Kauai campgrounds are closed for 1 or 2 days each week. Unlike other Hawaiian islands, these closed days are not the same for each site. Do your research to find out when the site you want is not available.
For backcountry campsites the permits can be obtained in person at the Forestry and Wildlife office in Lihue. There are backcountry campgrounds within Waimea Canyon and on the Napali Coast.
There are not many private campgrounds on Kauai, but the one that stands out is Kumu Camp at the Anahola Beach. There they have tent and car camping, as well as tentalows and yurts which are all set up for your use with queen or twin size beds. Located at Anahola Bay, this site is only steps to the beach and is still very close to shopping and dining options. This non-profit organization offers other amenities such as massages and surf board rentals. This campsite must be prepaid and booked online. Bring your group or family to the Kumu Camp, where you all will enjoy this Kauai glamping experience.
Campground Types
State campgrounds include:
Na Pali Coast Wilderness Park (this Park has four campsites; Hanakoa, Hanakapiai, Milolii and Kalalau). Hike in only campsites with very rugged terrain. No crowds, beautiful views and stargazing extraordinaire.
Kokee State Park – located at an elevation of 3200 feet above sea level, this campsite will be colder and wetter than most. Great site for hiking enthusiasts with over 19 trails nearby.
Polihale State Park – voted one of the best beach camping sites in Kauai, this campground has 15 miles of continuous beach and the rugged mountain range view of the Napali coast.
County campgrounds include:
Anahola Beach Park – is very popular with locals for family outings and swimming. The water there can get rough and is not great for swimming.
Anini Beach Park – a hidden gem for camping enthusiasts, this site is beachfront with very safe swimming waters. With the protected reef, it's a great place to snorkel.
Haena Beach Park – located at the end of Kuhio Hwy in the Northshore at the start of the Kalalau Trail.
Hanalei Black Pot Beach Park – close to the picturesque town of Hanalei, this campground has all the benefits of being near town for dining and entertainment. As well as a beautiful beach and bay to swim in.
Hanamaulu Beach Park – is located in the center of Kauai, near the hustle and bustle of Lihue, it is a great home base to explore the island. It has ocean views but not great swimming waters.
Lucy Wright Beach Park – located near Waimea, this historical campsite was where Captain Cook first stepped foot on the Hawaiian islands. This hot and dry side of Kauai is a great base to visit the Waimea Canyon.
Salt Pond Beach Park – located on the Southwest side of Kauai, this site has a reef protecting the beach. This campground is very family friendly with safe swimming waters and a great place to snorkel.
Some of these Kauai camping sites listed above may be closed due to maintenance or flooding damage. Always check with the County of Kauai and Hawaiian State websites, to see all the up-to-date information.
What Should I Pack for Kauai Camping?
So you have decided to go camping on Kauai, the next question is what to bring. There are a few local companies that offer camping equipment rentals. This will save you time and money when packing some larger items. The local department stores are another place to pick up things like chairs, coolers, tents and especially fuel canisters for cooking.
Some items that you can bring from home in your checked luggage include:
Small tent
Sleeping mats with air pump
Sleeping bags and small pillows
Flashlight
Quick dry towels
Cooking utensils, including wine and bottle openers
Reef safe sunscreen
Bug spray
Reading materials & card games
Reusable water bottle
Lighter
Other items you will need to pack for a Kauai camping trip include:
Waterproof phone case & phone charger
Rain ponchos or jacket
Rash guard
Dry bag
Water shoes
Hats
Flip Flops (or slippers as the Hawaiians say), great to have in public showers
Cloth and insulated grocery bags (plastic bags are banned on Kauai, bring your own)
H3: Is Camping in Kauai Safe?
When it comes to safety for Kauai camping, it really comes down to a 'campground to campground' basis. As the Kauai County sites are the least expensive, many homeless people do stay there instead of the Hawaii State campgrounds. Some tourists are afraid of the local homeless folks, but most are friendly and if you don't bother them, they won't bother you. Overall, camping is safe on Kauai.
Certain campgrounds like Anini Beach, Haena Park and Salt Pond are considered the safest of the bunch. Security does come through and their location away from the big city of Lihue makes it less desirable for the homeless crowd. The Hawaii State parks are usually more private than the Kauai County Parks, and with their spacious area, they do feel safer.
Online you can find locals who rent out tents and campers. They are a great reference as to what Kauai campgrounds will suit your needs. Having a local resident for guidance is a great asset.
With Kauai's spectacular mountains, beaches and rainforest, the biggest thing to prepare for is the elements. The Kauai climate is very diverse, from the humid and wet North/East side, to the dry and hot South/West side, you must be prepared for each set of conditions.
There is no real dangerous wildlife to deal with on land except maybe the giant stinging centipede and mosquitos, lots and lots of mosquitos. Oh, and there are the Kauai chickens, you will most likely be woken up by a wild rooster during your stay. Then there is the ocean, where safety is paramount! Know the waters before entering, rip tides and currents are extremely dangerous. Always respect the ocean and keep yourself and your family safe at all times.
The Garden Isle is awaiting your next camping adventure. It's time to pitch your tent on Kauai and really unwind from the rat race. Breathe in that fresh ocean air, with the sounds of waves crashing and at night enjoy a spectacular view of the galaxies far, far away.