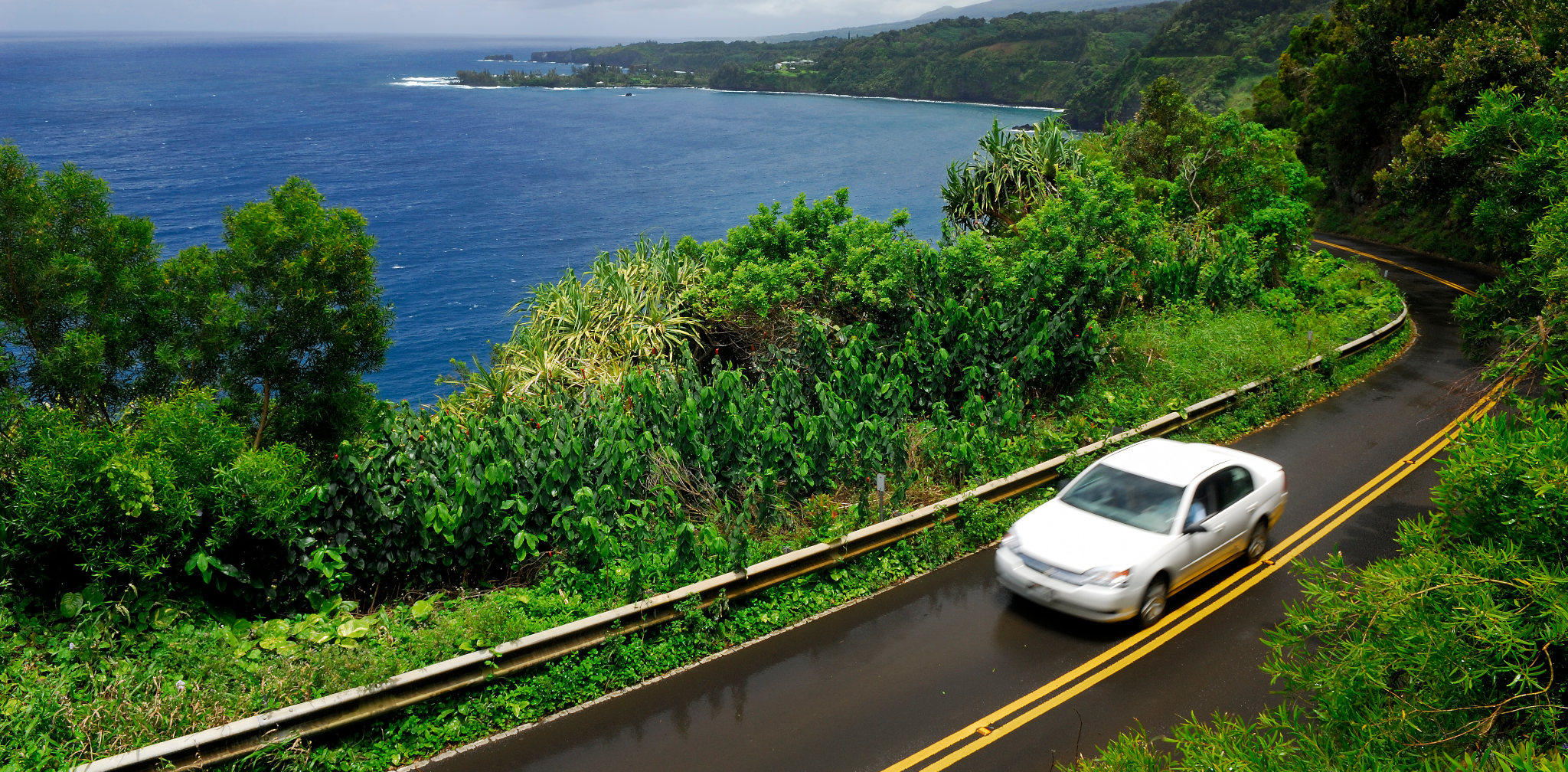 Driving in Maui - Road to Hana & The Most Scenic Maui Road Trips
Driving in Maui
The island of Maui (The Valley Isle) is the second largest Hawaiian island with 727 square miles.
Whether you are driving Mauka (towards the mountains) or Mauna (towards the ocean) you will be inspired to make your Maui road trip a journey of a lifetime.
Is driving on Maui safe?
Yes driving in Maui, Hawaii is safe, they have good signage which helps for navigation. Accidents do happen, the number one cause is visitors looking at the stunning scenery and not paying attention to the road.
Can you drive all the way around Maui?
Yes, it would take you up to 12 hours, but there is no need to do it all in one outing.
Are there roads I can't drive on?
Yes, there are restricted roads that all major car rental companies prohibit driving on. These unauthorized roads include: the backside of Hana Hwy and the Northern tip of the island above West Maui. These portions of road can be very narrow and steep, usually are gravel and are prone to rock slides.
Explore Road to Hana and other scenic drives in Maui
Driving the Road to Hana
The iconic Road to Hana is a bucket list drive for many visitors. With the road being completed in 1926, this route has over 600 hairpin turns and 56 one-way bridges. As it was built with mile markers, this can help with navigation, but can also get confusing. The Hana Highway consists of three highways: #36, #360 and #31. Mile markers start over each time you cross over onto the next highway. It is 64 miles from Kahului to Kalepa one way and paved all the way. There is another 44 miles for the back side of the Hana Hwy, where the road can be unpaved and rocky in places.
You want to get an early start for your Road to Hana adventure, as this helps avoid heavier traffic and makes getting the first parking spots more likely. As well, you don't want to be driving this road in the dark, so when returning from Hana, you must be on the road no later than 3pm to get back safely before sunset. To start, you should fuel up in Paia, as the next station is not until Hana where the price of gas is much higher.
You may also consider staying a night or two in Hana, this way you have lots of time to explore the area. Remember to let the locals go first, best to pull over and let them pass. If you are traveling with children or seniors, you may consider just going half way.
Whoever you go with, you will see more shades of green than you have ever seen before and be blown away by Maui's natural beauty.
Road to Hana stops and points of interest (mile markers included):
Rainbow Eucalyptus trees with not a great parking area. (Mile Marker #7)
Gardens of Eden does have a fee to enter. (Mile Marker #10.5)
Honomanu Bay Lookout has a large parking lot and is a great place to get a picture of the twisty Hana Hwy. (Mile Marker #14)
Ching's pond, a favorite swimming hole. (Mile Marker #16)
Waianapanapa State Park with its magical black sand beach. (Mile Marker #32)
Palapala Ho'omau Church is home to Lindbergh's grave. (Mile Marker #41)
Pools of Oheo in Kipahulu, also called the Seven Sacred Pools, just 15 mins past Hana. (Mile Marker #42)
Wailua Falls is one of Hawaii's prettiest waterfalls. (Mile Marker #45)
Hamoa Beach for experienced surfers, strong currents for swimmers. (Mile Marker #51)
Other scenic Maui drives
Since everything in Maui is pretty spectacular to view, any drive in Maui is a scenic drive. Some travelers like to plan their itinerary around a subject. You could create your own trail of that special item you miss from Maui. For instance, a ramen noodle trail, poke trail, best banana bread trail or even a shave ice trail. This kind of itinerary comes with a reward at each stop.
Another famous scenic Maui drive is the road up to Haleakala for the sunrise. Haleakala means 'The House of the Sun' and when you are at the 10,000 ft summit, you will be closer to the sun, but the air will be colder than at the beach. This Maui volcano drive can take approximately an hour and half from Wailea and two hours from Lahaina. Remember to dress warm and to even expect some altitude sickness. Highway #37 (also known as Haleakala Hwy) is steep and has some hairpin turns, so please use caution when driving it in the dark. At mile marker #10, you will find the entrance to the National Park. The drive down is equally fantastic, with its sweeping vista of other Hawaiian islands. The drive will take you past farmlands, coffee plantations and small historic towns like Kulu, Pukalani and Makawao. Lots of places to stop and pick up some local treasures.
Another route is to head to West Maui, where you will find resort towns like Ka'anapali and Kapalua, that have some of the best beaches in all of the USA. Just north on Highway 30 (also known as Honoapiilani Hwy.) is the beautifully protected marine preserve of Honolua Bay. With its calm, protected waters, snorkeling is a must! As well, the historic town of Lahaina is located in West Maui. This is home now to many restaurants, bars and shopping, where you can get a nice meal and pick up some souvenirs. Lahaina is also famous for being the home to one of the world's largest banyan trees, with its 16 trunks. A great place to sit and rest in the shade of this beautiful tree.
Be creative with your choices and directions you want to take when exploring Maui. If you are unsure about your route or destination, try purchasing a self guided driving tour app. They will guide you along your adventure and give you some Hawaiian history along the way.
Maui road trip and road safety tips:
Make sure you are well rested and alert, don't drive tired
Full tank of fuel
Check road closures before heading out; Maui county website
Check weather; Dec and Jan is peak rainy season, watch for flooding
Don't rely solely on GPS, have back up navigational tools
Cash for roadside vendors and parking
Charged phones and cameras
Leave valuables at your hotel and always lock the car when you go exploring
Small backpack to carry items when hiking
Stay hydrated and nourished, bring a cooler with ice, to keep drinks and snacks cold
Bug spray, sunscreen, bathing suits/towels, proper footwear and rain ponchos
Motion sickness meds, pineapple and ginger candy helps and paper bags just in case
Bring your own music device, no radio reception once you're away from town
Your itinerary is yours and yours alone, so feel free to change, skip or add stops along the way. You can't see everything, but preplanning the places you really want beforehand, helps when you are near your destination or mile marker. As well, plan bathroom breaks and a few stops just to stretch the legs and breath in that fragrant Maui air.
Finally, to achieve the true spirit of Aloha, travel with respect. Local residents are not there to sightsee, so pull over and let them pass. No rushing, let others go first. No littering, pack out what you packed in. Respect No Parking signs, even to get a quick photo.
Enjoy your Maui Road Trip, we know that you will.