Molokai Beaches
Traveling to Molokai provides an opportunity to experience a more true Hawaiian lifestyle. There are no large resorts with beach bars, and rows of beach chairs all lined up waiting for you. You may even discover you are the only one exploring a beach – a rarity in Hawaii, but something that happens often on Molokai.
Don't expect to find beaches full of amenities, or lifeguards, or surfing schools, paddle board rental booths, etc. Molokai is all about amazing unspoiled beauty and seclusion.
The best Molokai beaches are worth visiting, and have much to offer in a truly back to nature way. You can refer to a Molokai Beaches map to locate each beach you may want to visit.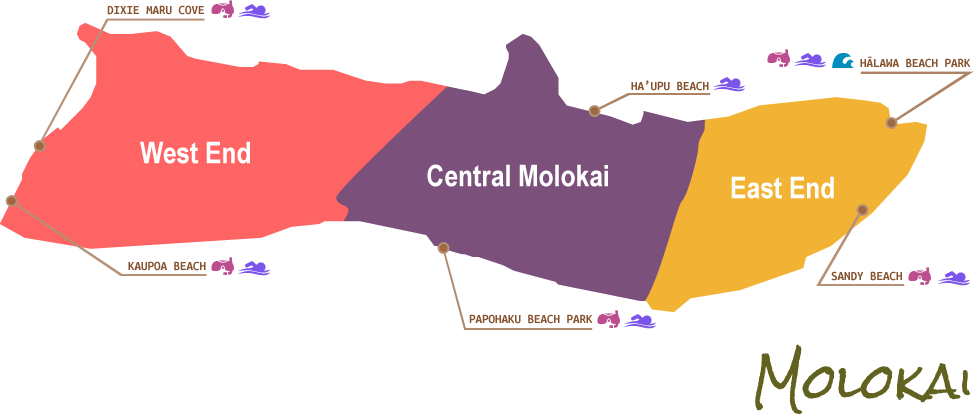 Papohaku Beach
This white-sand beach, also known as Three Mile Beach, is one of the largest in all of Hawaii, at 3 miles long, and 100 yards wide. Papohaku Beach Park has facilities such as restrooms, showers, picnic tables, and even some campsites. There are no lifeguards on the beach here.
Papohaku Beach is located on the west end of Molokai, and can be accessed by taking Kalua Koi Road from Maunaloa town to the western coast. This beach can be approached from Papohaku Beach Park, or a few other spots. One spot worth trying is Kaiaka – a half-hour drive west from Kaunakakai Town, where you will look for the first geographic marker of the beach, then take the grassland trail down to the shore. With 3 miles of uninterrupted and spectacular shoreline to explore, you won't be able to complain that there's nothing to do here . . .
This beach can vary depending on the season. And with its crashing waves, it is not a great swimming beach in the winter. The water is generally more swim-friendly in the summer season when the water is more calm.
This area has been the base for sand-mining since the early 1960's. Large quantities of sand are shipped through the Hale o Lono Harbor to Oahu for use in construction and to replenish the sand on the shrinking beaches of Waikiki.
Kepuhi Beach
Located on the west shore of Molokai, Kepuhi Beach is a long, sandy beach. At the southern end of the beach is Kaiaka Rock, where there was once a heiau, or Hawaiian temple. Although this is a very inviting beach, there is a strong, along shore current, making swimming possible on very calm days only. During the winter months, the surf is up, and the entire length of this beach gets pounded by high waves and dangerous shorebreaks. Very powerful rip currents are a threat to swimmers. Although the waves can be good for body surfing or surfing, this activity should be reserved for the experts here.
During heavy surf, the waves erode the beach, flushing the sand out to sea, and exposing large rocks on the beach. This beach has two distinct sections, separated by some large lava rocks along the shore. The northern part is the smaller beach and does not have exposed rocks, whereas the longer beach of the southern part does have exposed beach rocks. Watch out for falling coconuts as there are trees along the beach, and they are not always maintained. One of the most amazing things about this beach is the colors of the water, ranging from deep blue in the morning to turquoise in the afternoon.
Kepuhi Beach Resort is located here at Kepuhi Beach Molokai with resort style villas for vacationing. This resort area is located about a city block away from the actual beach.
Kaupoa Beach
Hawaii's Kaupoa Beach is located on the west coast of Molokai, with its perfect postcard beach, lined with palm trees and gentle breezes. The water is very blue, and clear, with summer being the best time for swimming and snorkeling when the water is calm. Look for lava rock tidepools to explore marine organisms, and watch marine life as it thrives in the local environment.
This is not a beach for swimming when there is high surf as the water conditions are very hazardous, and the ocean floor slopes quickly into deeper water. Beginners need to be very cautious and only choose the best conditions to explore the water itself. There are no lifeguards here, and no facilities. This area can be accessed from Kaupoa Beach Road on the west side of Molokai.
Dixie Maru Beach (or Kapukahehu Beach)
Kapukahehu Beach may just be the most stunning natural wonder found on Molokai. Also known as Dixie Maru Beach named after a Japanese fishing boat that wrecked off the shore in the 1920's, this small, crescent-shaped cove is located at the end of Pohakuloa Road, on the western shore of Molokai. As this beach is located in a cove, and fringed by reef, it usually features calmer waters, and is considered to be one of the best swimming beaches on the island, especially during the calmer summer months.
During the winter months, when the surf is higher, you can find seasoned surfers and bodyboarders frequenting this beach.
The road to this remote area is paved, allowing Molokai rental cars to experience this pristine and quiet beach, located on Pohakuloa Rd, in Maunaloa.
Murphy Beach (or Kumini Beach)
Murphy Beach on Molokai, also known as Kumimi Beach Park, George Murphy Beach Park, Twenty Mile Beach, or Mile Marker 20 Beach, is located on the southeast shore, and is a narrow white sand beach with a few palm trees for shade.
Due to the shallow murky bottom, most of the south shore beaches on Molokai are not great for swimming, but Murphy's Beach is clear, and when the ocean is calm, this is a great place to go for a refreshing dip. The ocean bottom near the shoreline is shallow and rocky, with a few sandy patches, making snorkeling a worthwhile activity as there is coral close to shore. Fishing from this beach is also popular, but please be careful if you venture too far from shore, as the currents outside the reef area can be very treacherous. There are no lifeguards here.
Because of its snorkeling and swimming, this area is more popular, and therefore you will see more people at this location.
Sandy Beach
Sandy Beach, on the Molokai east end, is one of the best swimming beaches on Molokai. With the ocean deeper near shore, you can enter the water without walking on reefs and rocks. The water is clear here, as opposed to some of the more murky waters of other beaches on Molokai. With a reef offshore, the beach is protected from stronger currents, although there is an occasional rip current along the south point of the beach.
Located near mile marker 22, Sandy Beach is the last sand beach before Halawa Beach Park, and the road is narrow with many blind curves. The beach is located right next to the road, so it is not hard to find.
If you are planning on snorkeling, it is better at high tide, so the waves aren't throwing you into coral. Fishing and spearfishing are also great activities at this beach.
Kawili Beach
Kawaili Beach is one of the two beaches that make up Halawa Beach Park. Located on a secluded bay, these beaches are good spots for swimming in the summer months, on a calm day. Picnicking is also a common occurrence here, as this location has picnic facilities and restrooms.
Kawaili Beach is on the right side facing the ocean, and Kamalaea in on the left along Halaway Bay, on the eastern shore. Kawili is a bit more exposed and rocky, while Kamalaea is a pleasant, curved beach with lots of fine white sand. Halawa in Hawaiian means "Curve", hence the curving beach that slopes gently into the ocean.
This beach area is typically uncrowded, with surfers and bodyboarders riding the waves here in the winter months. There is a stream, Halawa Stream, that flows out at Kawili Beach, making this area also good for fishing.
There is no lifeguard here, and the rip currents can be dangerous. Swimming is only recommended on calm days in the summer months. The park includes barbeque grills, picnic pavilions, but no potable water.
To access Halawa District Park, and this beach area, which is located in Kaunakakai Molokai, follow Kamehameha V Hwy (Hwy 450) to the end, where you will cross a bridge and continue along a rough road to the gravel parking area.
While traveling in this area, be sure to check out Moaula Falls, in the Halawa Valley as well. It can also be referred to as Mooula Falls, and is one of two major waterfalls in the Valley, on the eastern edge of Molokai. To see the falls, you will need to look for a guided hike, as the falls are on private property.
Molokai is not for everyone, but if you are looking for a different, quieter flavor of Hawaii, you will find it here.