Best Beaches in Oahu
Located amongst a chain of islands in the Pacific Ocean, Oahu is home to many beautiful and varied beaches. What one traveler may consider the perfect beach for surfing or other water sports, may not be the best beach for another visitor wishing to swim, explore with young children, or snorkel in calm waters.
Oahu beaches vary in their accessibility and characteristics, and there is a beach that will suit your vacation needs. Everyone has a different opinion on which beach to visit, depending on location, and personal desire, and the following suggestions are only a few of the many best beaches in Oahu.
You may want to find the best places to snorkel in Oahu, or Oahu's dog friendly beaches, so take out your map of Oahu beaches, and let us help you discover which ones to visit.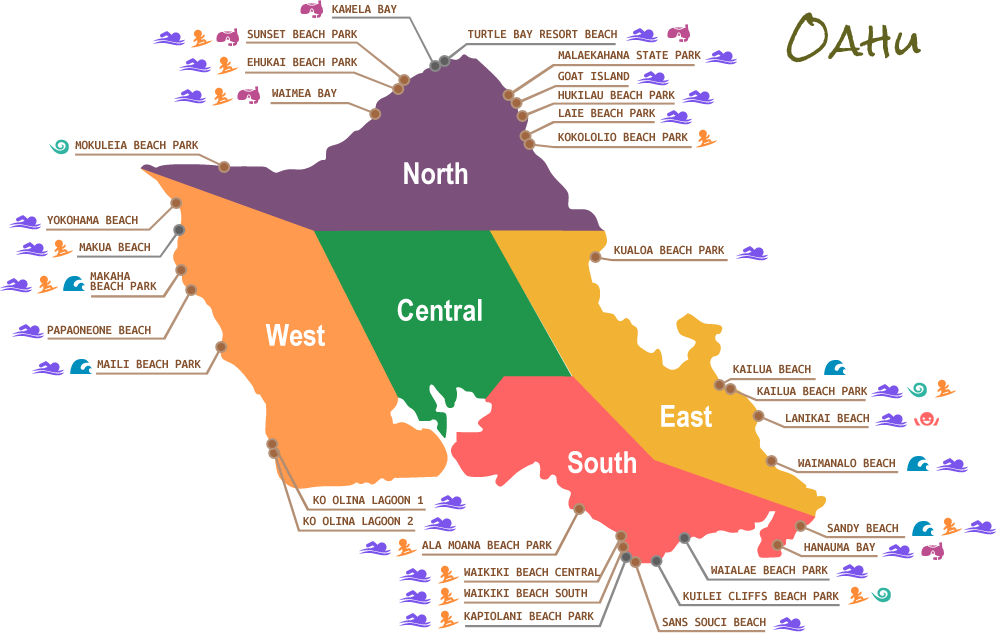 Lanikai Beach
On Oahu's windward side, nestled in the beach town of Kailua, Lanikai Beach is one of the most picturesque and famous beaches on Oahu. The water here stays calm year round due to an offshore reef, providing excellent swimming conditions.
Lanikai is known as a great place to watch the moonrise, and especially the full moon over the Mokuluas, and occasionally the Lanikai sunrise will appear directly between the Na Mokulua islands. These small islands, located about ¾ mile off the beach, are well-photographed and part of the Hawaii state Seabird Sanctuary, where activities and off-limit areas are regulated by law.
Snorkeling is also very popular here due to the clear blue waters. Sunbathers love the half mile long fine white sand beach. During the months of June through September primarily, watch out for the Portuguese Man-of-War (jellyfish) and stinging limu (seaweed).
Lanikai Beach, also known as "Ka'hao, the Heavenly Sea", has been ranked many times among the best beaches in the world!
Lanikai Beach parking
Parking at Lanikai Beach is limited, as this beach is nestled amongst residential areas. It is best to go early to find parking, as it can be very difficult, especially on weekends. Some beachgoers have parked at nearby beaches and then walked back to this beach because of its beauty. There are no washroom facilities, no lifeguard, or shower. The pedestrian access can be found between the residential homes – look for the word "Lanikai" written on a pillar entrance.
Kailua Beach
Approximately one mile up the road from Lanikai Beach, you will find Kailua Beach Park, which is often referred to as one of the best beaches in Hawaii. In 1998, Coastal expert Dr. Stephen Leatherman, AKA, Dr. Beach, named this "America's Best Beach". Nearly 3 miles of sandy light-colored beach, with clear water, invites beachgoers to spend the day. Kailua Beach Park is over 35 acres, with volleyball courts, picnic area, washrooms and lots of parking.
This beach is only five minutes from downtown Kailua, so you can stop for lunch, or dinner before or after your trip to the beach.
With beautiful calm waters for swimming, there are usually some small waves to play around in, and Kailua windsurfing, and kitesurfing can also be found here due to the winds that blow in this area. There is a natural rock sea wall called Flat Island, or Popoi's Island, stretching more than one hundred yards out into the ocean, and its rolling waves add character to the shoreline. This area is fun for kids and their boogie boards, or a little bodysurfing.
Kailua kayaking adventures are popular here as well, as many kayakers love to venture out to the Mokulua Islands, about 2 miles away. If this interests you, you can look for kayak rentals in downtown Kailua, and also along the roadside heading to the beach.
This beach is not an ideal snorkeling destination, although it is perfect for swimming, there is not a lot of marine environment here for tropical fish. You can explore some local tide pools along the road to Lanikai, or snorkel by the rocky jetty near the boat ramp.
For those visitors who are staying in the Kailua area, sunrise is a great time to take a long walk on the beach, or just enjoy your morning cup of coffee as you watch the early morning swimmers and kayakers start their day.
Although there are no concession stands at the park, you can pack in lunch, or walk across the road to Buzz's Steak House, which serves lunch and dinner.
This area is a favorite spot of Past President Obama, and is very family friendly as well.
Kailua Beach parking
With 3 parking lots, there is room for many visitors to enjoy the activities and beach areas. The first Kailua Beach parking lot is located behind the Kalapawai Market, and is used a lot for launching kite and windsurfing sports. The main beach spot has a parking lot located right after the Kawainui Canal, and the 3rd lot is located right before heading off to Lanikai, and this is considered a quieter area, and includes a boat ramp.
Waikiki Beach
Waikiki Beach is one of the most well-known and talked about beaches on the planet. With a 2 mile stretch of white sandy beach, stretching from the Hilton Hawaiian Village on the west to Kapi'olani Park on the east end, your adventure awaits, with all Waikiki has to offer.
Waikiki has been the playground for Hawaiian royalty, surfing on longboards since the 1800's when the area was still mostly swampland, and the water conditions made the area ideal. Small hotels started opening up even back in the late 1800's with the first large hotel being built in 1901. Today the area is packed with every kind of hotel, resort and accommodation possible, catering to tourists from all over the world.
Most resorts are just a few short steps away from the shore, while others are a few minutes walk, as the Waikiki neighborhood extends from the Ala Wai Canal to the north and Diamond Head to the east, but the actual beach area is fairly short, with areas marked off for Waikiki Beach surfing. There is a long, rolling break which makes this an ideal location for surfing or paddle board lessons.
The ocean is relatively calm year-round, and quite shallow, with numerous rocks. The beach has many lifeguards up and down the coast, but beginner swimmers must always be cautious of surfers, body-surfers and other swimmers, as the beach is often crowded.
There are actually 8 different beach sections on Waikiki Beach island of Oahu, making this area one of the busiest and most cosmopolitan spots.
Duke Kahanamoku Beach
Duke Kahanamoku Beach is the first beach, located near the Ala Moana channel and harbor. There is a man-made swimming lagoon right near the Ilikai Hotel, all part of the Hawaiian Hilton Village resort grounds. This is one of the most popular and busiest beaches with its calm swimming area and protected seawall. Parking is available at the back of the Ilikai Hotel.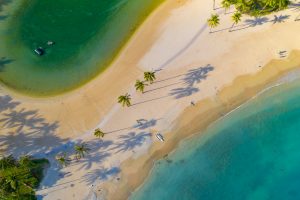 Fort DeRussy Beach Park
Fort DeRussy Beach Park has one of the nicest sections of sand, as well as beautiful grassy areas with palm trees for shade, and picnic tables. This beach is located between Duke Kahanamoku Beach and Gray's Beach, and has surfboard racks, beach volleyball nets and tennis courts.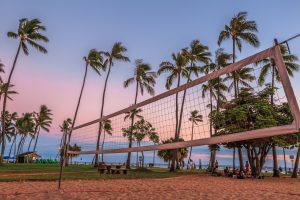 Gray's Beach Park
Gray's beach is known more as a point than a beach, as continuous erosion has taken away most of the sand. This is one of the oldest sections of Waikiki Beach, named after Gray's By the Sea Lodge, that once stood at this point. Not very much beach is left here.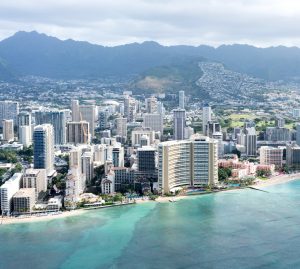 Royal Hawaiian Beach (Waikiki Beach Center)
Royal Hawaiian Beach is also known as Waikiki Beach Center, and is located on the other side of Gray's Beach. This is the area known as activity central, where you can find catamaran Waikiki tours, or head out on a Hawaiian outrigger canoe, and catch a Waikiki Beach sunset.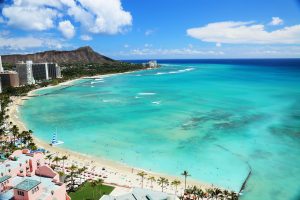 Prince Kuhio Beach
Prince Kuhio Beach is a nice contained swimming area, nicknamed "The Ponds" because of the two back-to-back concrete walls that reach out into the water about 40 yards. This has created an interesting calm salt water swimming pool right in the ocean, with a sandy sea floor. Great for families with young children.
Queen Kapiolani Beach (Queen's Beach)
Queen Kapiolani Beach, located just past the Kuhio Ponds, is also known as Queen's Beach. A good place to rent a boogie board and play around in the rolling waves. This beach is home to the first 1000 foot outdoor movie screen, used for special movie nights called "Sunset on the Beach". A large production with music, food stalls, comedy acts as well as other entertainment, all taking place before sunset when the feature film begins.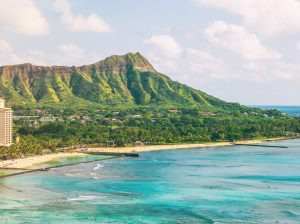 San Souci Beach
San Souci Beach is slightly off the main hotel strip, and has a lovely quiet park. This park is popular amongst the locals, and is one of the best spots for snorkeling in Waikiki. There is a nice flat bar reef with lots of marine life 50 yards into the ocean.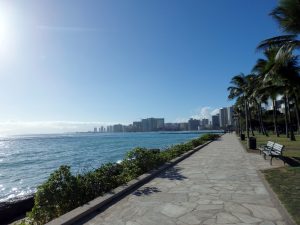 Outrigger Canoe Club Beach (Colony Beach)
Outrigger Canoe Club Beach, also known as Colony Beach, is very private and one of the last stretches of Waikiki Beach. It can be accessed from San Souci Beach to the east, where you will traverse over reefs and an old cement wall to stairs that take you to the beach. Reef shoes are recommended. Easier access would be to walk through the Lotus at the Diamond Head Hotel parking lot, and enter the small alleyway next to the Colony Surf Hotel - you will then find this little known beach.
There are beach showers located at all beach sections, with bathrooms located at Fort DeRussy, Kuhio, Queens and San Souci beaches. All beaches have LifeGuard Stations except for the Outrigger Canoe Club Beach and Grey's. Queens Beach has concession stands for food and drinks, although there are many food options available in the beach front hotels and side shops right near the beach. Street parking is available in front of Queens, San Souci and Outrigger beaches, with a parking garage at Fort DeRussy Beach Park.
Whether you are looking for adventure or just a little fun and relaxation on the beach, you are sure to find what you are looking for in Waikiki.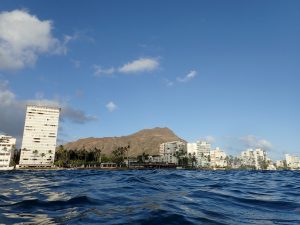 Sunset Beach Oahu
On the north shore of Oahu there is a beautiful, long stretch of beach that attracts both locals and tourists in droves. Welcome to Sunset Beach North Shore, with its calm and crystal clean blue waters. The summer is the perfect time to swim, snorkel and visit here with your family while the water is calmer and more family-friendly. As the winter months roll in, you will see the large waves appear, with conditions that are only suitable for the most experienced surfers.
Stand up paddle boarding, and activities that require calmer waters are best experienced at other beaches where there are less waves to contend with. Notorious for choppy waters, this beach has a lifeguard on duty during the day.
Check out the Sunset Beach surf report, and head to the east end of the beach for one of the world's most famous surfing spots. This beach is home to several internationally known surfing contests.
Sunset Beach is also known for its spectacular sunsets, making this a destination worthy of a visit for that once-in-a-lifetime photo opportunity.
Sunset Beach parking
Sunset Beach is outside of Haleiwa Town, past Waimea Bay, but before Turtle Bay Resort. Parking is available at Sunset Beach Support Park, which is right across the street from the beach, and much easier than trying to find parking on the side of the road near the beach. The park also has restrooms and showers.
Hanauma Bay
With "Hana" being the Hawaiian word for "Bay" and "uma" referring to the curves of the indigenous canoes that traversed the area or, the curve of the Bay itself, Hanauma Bay Nature Preserve got its name. Dr. Beaches named this beach the #1 Best Beach in the United States. Formed inside a volcanic cone, Hanauma Bay presents a protected marine life conservation area, with a pristine ecosystem, with its own set of rules of conduct to preserve and protect this valuable resource. For many years, Hanauma Bay was a destination for Hawaiian Royalty for fishing and recreational activities.
There is a snack bar on the upper level area, and a tram service between the upper and lower levels. If you need a beach wheelchair, look for a volunteer, who will be happy to assist you. Bring reef-safe sunscreen, a towel, swimsuit, and possibly a small cooler with refreshments. Beach chairs and umbrellas for shade are also worth packing in for the day.
Snorkeling Hanauma Bay is one of the most popular activities, and there is a rental booth at the park for snorkel gear rentals. Hanauma Bay fish are plentiful and varied, with more colors than you could possibly imagine. Visitors are required by law to refrain from mistreating marine animals, or touching, walking on or having any contact with coral heads, which look like large rocks on the ocean floor. Green sea turtles are in abundance here, and are also known as Honu.
Hanauma Bay turtles have been using this area as a nursery ground for their immature turtles. Everyone must do their part to protect the Hanauma Bay coral reef and its inhabitants, as the area has been overused in the past, and is just beginning to return to its former glory. Respect the area and the nature it provides.
Hanauma Bay parking
Accessing this beach is pretty easy - you can drive there and park, as it is only 10 miles from Waikiki, but be aware, get there early, as there are limited parking spots. Recently, there has been a reservation system set up to control the numbers of visitors and help protect the environment. The Bay is closed on Mondays and Tuesdays to allow undisturbed rest for the fish and the ecosystem. Please check before you go, as there could always be changes to opening days and times, and the cost to enter and park.
Waimea Bay
Waimea Bay Beach Park is a great spot to stop and spend the day. With its 30 foot waves in the winter months, Waimea Bay waves are famous for attracting the best surfers, making this one of the better spots to watch surfers in action. In the summer when the water is considerably calmer, Waimea Bay Oahu is suitable for swimming, snorkeling and diving.
If you drive northward from downtown Honolulu, you will find yourself in Waimea Bay in about an hour, ready to explore all it has to offer, including Waimea Bay cliff jumping, with high cliffs, calm ocean surfaces in the summer, and a brilliant opportunity to test your fear of heights. There is a "point of no return" in cliff diving here, once you set your feet on the cliff, there is only one way to return to the shore – jump!
Waimea Bay surf is about as good as it gets. This is a legendary surf spot, very hectic and dangerous in the winter months, with "The Bay" becoming a surf break known for its mammoth waves, and death-defying rides. The waves break in front of the Waimea Bay Beach Park, just 300 yards west of Kamehameha Highway. Waves as high as 20 feet plus attract locals, as well as traveling surfers looking to stamp their own personal mark on this surfing location. Paddling in or out can be challenging with the powerful rip currents, and require perfect timing between waves.
The Waimea River Wave is a man-made phenomenon that attracts thousands of non-surfer and tourists as well as surfers every year. There is a point in time every year when the Waimea River reaches its maximum capacity and breaks through the sandy beach, flowing out into the sea. Local surfers assist the process by using their hands and shovels to dig up the sand, and create one of the largest stationary waves in all of Hawaii. The waves can be ridden for several hours, and well worth the trip to watch or participate.
If you are here to observe, not surf, there are options to keep you busy. Park your car, enjoy a meal at the picnic tables, sit on the grassy lawn or under the shade trees. There are showers, restrooms and always a lifeguard. In the summer months, hook and line fishing, swimming, diving and snorkeling are all popular activities. And right across the road, you will find the Waimea Valley, a beautiful botanical garden with over 5,000 varieties of flora as well as sacred archaeological sites. You can also check out the magnificent Waimea Falls, and walk along its trail.
Be sure to check out the surfing calendar, and watch for the larger surfing events, as this is well worth the trip as a participant or a spectator. Some of the biggest surfing events happen here.
Waimanalo Beach
Not to be confused with Waimanalo Beach Park, this beach, along with Bellows Beach Park to the north, are some of the best hidden gems on Oahu, with over 3 miles of pristine beachfront. Located on the southeastern corner of Oahu, this area is known as the Paniolo (rancher/cowboy) countryside. This area is easily missed, but definitely worth a stop. To find this spot, slow down as you get close to the Polo Fields, and watch to the right, looking for an opening road path with a small Waimanalo Bay Recreation Area sign. There is lots of tall brush on the side of the road, and a forest – keep going, and enter either of the two parking lots. 100 yards through the trees to the beach, and you will be sinking your toes into the powdery sand. If you go during the week, you may not even see any other visitors.
There are some small waves here, ideal for body surfing or boogie boards, just watch out for the south easterly side flat when you check out the Oahu surf report. This is a great spot for beginners, kids and anyone just wanting a little friendly surf.
While you can not camp on the beach, you can camp in this forest, called Sherwood Forest, but you will need proper gear and a permit. You can check out the Honolulu Gov Camping website for further information if this peaks your interest.
You will find clean bathrooms with beach showers, bench tables, tree shade, and free Waimanalo Beach parking here. It is best to plan your visit early in the day, as the wind picks up in the afternoon. There are no concession areas, so pack in your own refreshments.
Yokohama Bay
Located on the most west northern tip of Oahu, known as Ka'ena Pt, Yokohama Bay is also known at Keawa'ula Beach, and resides in one of the most secluded areas on the island. This is not an area most tourists see, as the Westside is cut off with the road dead ending at Yokohama Bay, so most people take the more popular route and head up and around the North Shore, missing this gem.
Pristine, beautiful and untouched, you will often find this beach empty, with a large sandy beach to explore. This is about an hour and a half drive from Waikiki, past Waianae, through Makaha, to the end of the road. The waves tend to get big here, but there is an opportunity to swim in the summer months when the waves are not so big. This is a great spot for body surfing and surfers, often locals, who love this almost private beach. Be wary of the steep drop off, and the dangerous shore-breaking waves.
Yokohama Beach Oahu, and its name Keawa'ula Beach, translates to "red bay", a name given because of the large squid population that spawned in the area, turning the bay red during the process.
The only way to get here is by car, so plan this trip with your rental car, heading north on H-1 Highway, turning onto Farrington Hwy (Hwy 93), and follow the coast until the road ends. You will find parking, bathrooms, showers and a Lifeguard station, but no shade. Pack an umbrella, water, hats and lots of reef-friendly sunscreen. This area does get hot, so plan to arrive early, or later in the afternoon.
Enjoy your trip to this beautiful island, and make some unforgettable memories on some of the most stunning beaches on Oahu.