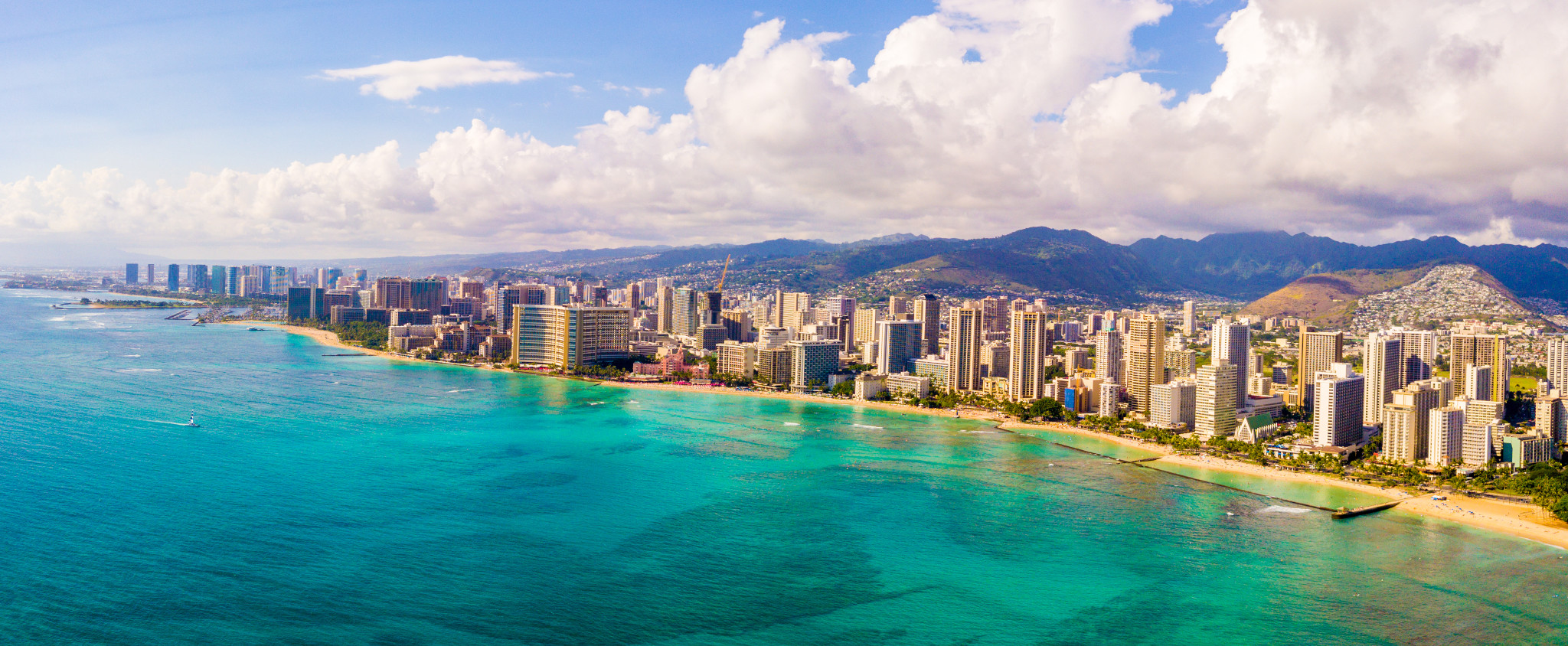 BEST CAR TYPES TO RENT IN WAIKIKI
Car Rentals in Waikiki, Hawaii are a popular way of exploring the Island of Oahu, discovering the sites around Honolulu and the rest of the Island. There are quite a few companies with car rental locations right in the area.
Whether you need a fullsize Jeep Wrangler to have fun traveling to the North Shore, or a small economy-sized vehicle to take advantage of smaller parking spaces, you will find lots of car type choices for your trip. Make your decision based on your needs – do you have children with strollers, or are you carrying surfboards or diving equipment? Midsize SUVs and minivans offer plenty of room for passengers and equipment.
Many renters book for one day only, pick-up the car early in the day, and drop-off later the same day to avoid additional fees for parking and paying for days you will not be using the car. This option works quite well for a trip to the North Shore for surfing, to catch a show at the Polynesian Cultural Center, travel to Waimea Bay, Diamond Head, Hanauma Bay, or a drive around the island exploring beaches, shrimp trucks and all of the out of the way locations only accessible by car.
Some travelers are looking for an exotic car rental Waikiki experience, and if that is your desire, please get in touch with us, Scott – can you add something to show our phone # when they click here? so we can find something that will work for you. Smart car rental in Waikiki also makes sense, and some car companies are now including some smart cars. Get in touch with us if you are interested – we can help.
Some Waikiki car rental companies have free shuttle service to and from your lodging. If you choose this option, you will need to phone the car company location to arrange the shuttle in advance. Book the shuttle the day before so you can be picked up early in the morning and make the most of your day. If you are close enough to walk, there are many pick-up locations along Kalakaua Avenue, within walking distance of many of the hotels.
Parking here can have its challenges, from high prices to lack of spaces to park overnight, making a one day rental a good choice if you do not have free parking at your accommodations.
WAIKIKI CAR RENTAL TIPS
It is always important to have all of your documents with you when you arrive at the Waikiki car rental counter to fill out your paperwork and pick up your Waikiki car rental. This will include your car rental confirmation number and/or email with the details of your rental and the price so you can compare notes at the counter. Your driver's license is a necessary part of this – always have it available – the name of the driver's license must match the name on the confirmation letter. If your driver's license is from another country, and not in English, an International Driving Permit may also be required along with your driver's license.
If you have the option of renting for one day, that might be your best option to avoid paying for parking in Waikiki, as that can be expensive overnight.
If the driver is between ages 20-24, you might want to consider calling us to get the best rates, as young drivers have an additional fee added at the counter – we have some good rates for young drivers. They also may be restricted to certain vehicles, so we want to make sure you book a vehicle you can actually drive, and not be turned away at the counter, or have to pay more to switch vehicles at the last moment.
Parking in Waikiki can be a bit challenging – and therefore if you can fit into a smaller vehicle, this would be the best option. Some travelers prefer the open air experience and claim the convertible car rental Waikiki is most suited to this destination as you can drive around with the top down and view the tall buildings, the ocean, and everything happening around you so much easier.
Some car companies in Waikiki have late night drop off so you can keep your Waikiki rental car past the closing time if you are planning a long day of exploration. Check in with us if you have questions about this option as we are always happy to help.
WAIKIKI: ALSO KNOWN AS "SPOUTING WATER"
Why is Waikiki Beach so famous? Hawaiian Royalty maintained beach houses along this narrow stretch of beachland in the days of the Hawaiian Monarchy. Much of the land was marsh and wetlands, with flooding during heavy rains. In the 1920's the Ala Wai Canal was dredged and the ponds, and marches were filled – allowing the Waikiki of today to develop.
This area is actually a peninsula jutting out from Kapiolani Park, enclosed by the Ala Wai Canal on the east and northwest and the Pacific Ocean on the south and southwest. Approximately 2 miles long, and just over a half mile at its widest point. Kalakaua Avenue runs the entire length of Waikiki, hosting most of the hotels, shopping centers and restaurants. This would be the road to drive if you wanted to head to the Royal Hawaiian Center for some shopping, or drive to the Honolulu Zoo.
Waikiki is full of amazing things to see and do – the beaches are some of the best, where you can explore water sports, go deep sea fishing, play in the surf, sunbathe, and people watch. People from the United States and all over the world fly to Honolulu Airport (HNL) to experience what Waikiki has to offer.
Some high end shopping at designer fashion stores can be found at the Royal Hawaiian Center, Waikiki Beach Walk and the International Market Place. Fine dining abounds, with some of the best and most romantic restaurants on Oahu.
Kapiolani Park was created in the 1870's, sitting on 500 acres, with trees dating back over 100 years of age. The site of Diamond Head, the 42 acres Honolulu Zoo and Waikiki Shell, for outdoor concerts and shows, The Honolulu Zoo is a great visit, complete with Komodo dragons. Weekends bring arts and craft shows as well as inexpensive Hawaiian gifts to the park, where you can also find tennis courts, soccer fields, archery and a 3 mile jogger's course. The Aquarium is another great option for discovering inhabitants of the local ocean.
SPENDING TIME AT WAIKIKI BEACH
Waikiki Beach is located on the south shore of Honolulu, and is the most visited beach in Hawaii. A popular destination waterfront neighborhood that attracts tourists from all over the world.
Where is Waikiki Beach? This 2 mile long stretch of beaches on the south shore is located next to Diamond Head, with the foothills of Diamond Head sitting on its east, and running along Kalakaua Avenue all the way to the west end where you will find the Duke Kahanamoku Lagoon, also known as Hilton Lagoon. You may ask about what to do in Waikiki Beach, and the options are endless, from watersports, swimming, and general sightseeing, to world-class shopping and dining. You can also pick up a car rental near Waikiki Beach to explore the rest of the Island of Oahu as well.
If you wish to explore the varying beaches located at Waikiki Beach, or if you are wondering what time does Waikiki beach close, we have a complete page of information on Waikiki Beach.
WAIKIKI INFORMATION
The Duke Kahanamoku Statue is an iconic symbol of the surf culture of Waikiki and Oahu
Attracts over 72,000 visitors per day
Waikiki's first hotel was erected in 1901 – Moana Surfrider – known as "The First Lady of Waikiki".
Beach erosion is an ongoing challenge with ongoing restoration work
Home to eight distinct beaches
THINGS TO DO IN WAIKIKI
A Hawaiian Luau
A traditional Hawaiian Luau at sunset is a must. Fresh seafood, kalua pork, and tropical fruit can all be enjoyed while watching the sunset amongs Hawaiian musicians, hula dancers, and fire twirlers.
Hiking at Diamond Head
One of the best-known hiking spots in Hawaii – where you can summit the crater, learn about its volcanic creation, and view the panoramic views and the turquoise waters.
A trip to Honolulu Zoo
A chance to visit the animal kingdom, from pink flamingos and Kermode Dragons to African Giraffes, there are more than 64 reptiles, 38 mammals and 160 species of birds within this 42 acre facility on Kalakaua Avenue near Diamond Head.
Car Rentals in Waikiki FAQs
How much does it cost to rent a car in Waikiki?
Renting a car in Waikiki can be a little more costly than renting at the airport, as this is a destination resort, with smaller car company locations that cater to the needs of visitors to Waikiki that may want to rent a car for only part of their trip to avoid parking costs. The prices will vary depending on the time of year, and the type of vehicle you wish to rent. The best option is to book the best Waikiki car rental option on the website as soon as you know when you will be needing your car rental. Then check back a few times, as car prices can vary depending on how many vehicles are available. If you see a lower rate, you can cancel your original rental and book the lower rate.
Do you need a rental car in Waikiki?
A rental car for Waikiki Beach is not necessary if you are planning on spending your time at the beach and staying within the confines of the area. Most travelers like to take a couple of day trips to explore outside of Waikiki, and rent their vehicle right in Waikiki for the days they wish to travel, heading back to the return location at the end of the day to save parking charges, then renting again when needed. This allows maximum flexibility for the days you wish to explore the island in more detail.
Should I book my Waikiki rental car before arriving?
If you already have your plans arranged, and wish to rent a car for the entire trip, it is wise to rent in advance, (usually when you arrange your flights) in order to get the best car rental deals. This gives you the added benefit of taking advantage of lower rental rates that often show up months before you travel. Last minute bookings while you are in Waikiki are practical when you are relying on weather conditions for traveling to other parts of the island, and give you the opportunity to take a last minute trip to the North Shore.