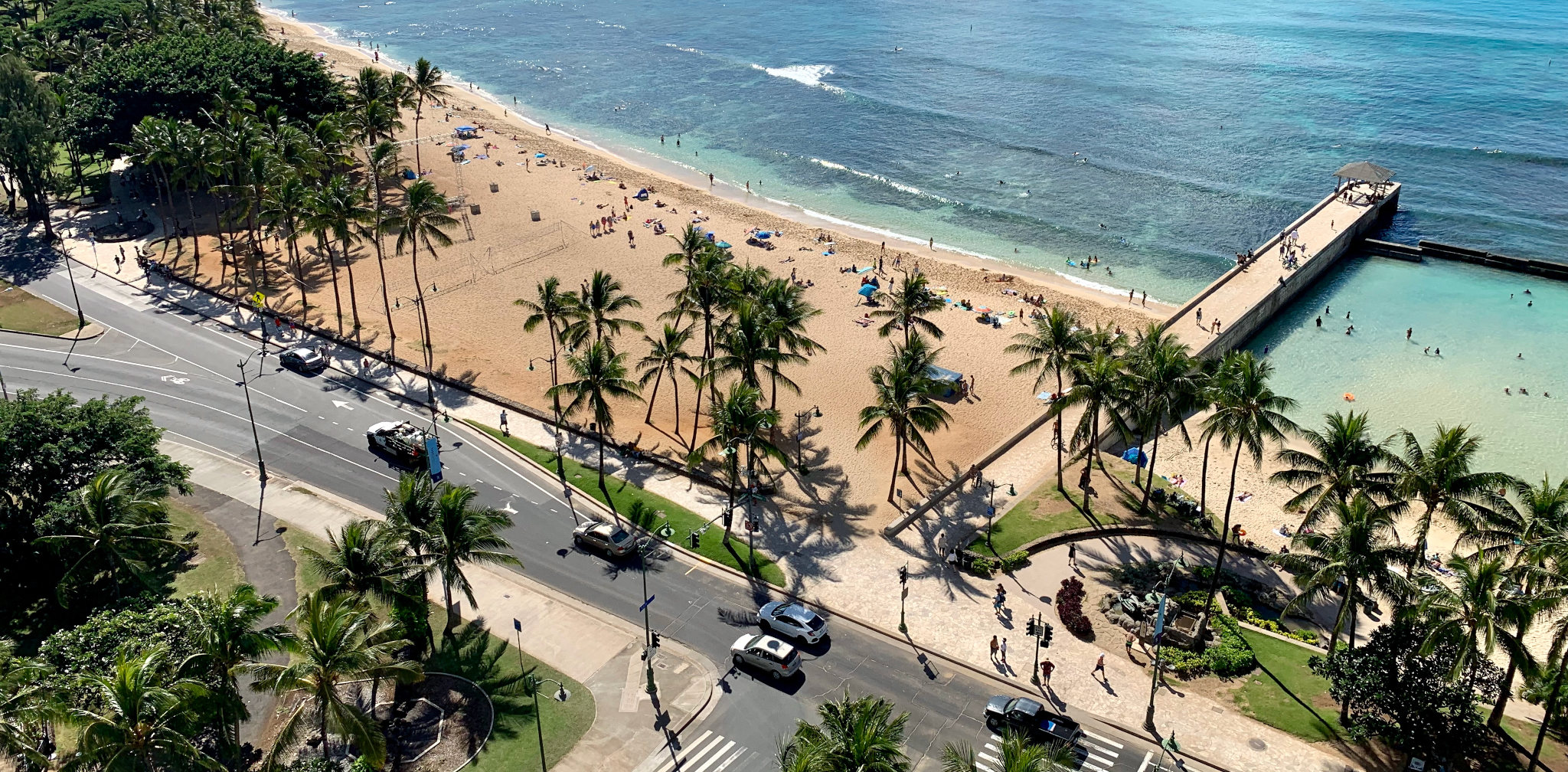 Hawaii's Top Streets To Visit
HAWAII'S TOP STREETS
Whether it's a Street, an Avenue or a Drive, it's the place to be!

What makes a street great ? It is usually the 'main drag' of any city or town that becomes the urban gathering place.
These streets that we describe below, all have some of the same characteristics, they all run parallel to the ocean and they all have great atmosphere, day or night.
With their good vibes, they are a great place to take in a beautiful sunset or just a lovely evening stroll. This is where everything happens, the place to see or be seen.
Kalakaua Avenue, Honolulu, Oahu Hawaii
Kalakaua Avenue is located alongside Waikiki beach with stunning views of Diamond Head. With it's overhead palm trees and location next to a world famous beach, it's no wonder it attracts approximately 85,000 visitors daily.
Established in the 1800's and first known as Waikiki Road, in 1908 it was renamed in honor of King Kalakaua, the last King of the Hawaiian kingdom. Long associated with Hawaiian Royalty and VIP visitors. Transportation was originally buggies and carriages, then horse-driven tramcar and eventually an electric trolley in 1901. Today boasts a rapid bus system, with some pretty heavy traffic at times. This is where all the parades happen, approximately 8 major ones per year, expect closures around all of these. Other events they close for include; Honolulu Marathon, Brunch on the Beach & Sunset on the Beach. It even has its own festival, loaded with food trucks, local woodworking and jewelry for sale.
Kalakaua Avenue is a shopping mecca, being the fifth most expensive retail market in the US, it has many luxury stores to browse. As well, there are over 30 ABC stores, a few on each block, perfect for a quick snack or souvenir purchase. The International Market first opened in 1956 and after extensive renovations it reopened in 2016. It contains over 70 shops and restaurants. There are 700 parking stalls and they even have valets. With low sales tax, the high end designer label stores, outlet stores and specialty shops are very popular. On an evening stroll, you will see street performers, street vendors and souvenir kiosks. Then end your day at one of their world-class restaurants. Kalakaua Avenue is an all around good time!
Front Street, Lahaina, Maui Hawaii
Front Street in Lahaina Maui is bustling with tourists day and night. It was created in the 1820 and was known as The Kings Road. Lahaina used to be the capital of the Kingdom of Hawaii from 1820-1845, it then moved the capital of Hawaii to Honolulu. Lahaina still remained a major player and destination for the whaling industry. This bustling oceanfront street is loaded with old buildings, some 70-100 years old and a few were old theatres converted now into shops and restaurants. The Baldwin House Museum is a great lesson on how the missionaries lived back in the day.
At one end of Front Street, is the block long banyan tree which takes up an entire acre of land. First planted in 1873 by the missionaries, it is a great place to take a break, sit in the shade or a great photo backdrop. Next to the banyan tree is the historic Pioneer Inn, built in 1901, with a real ambiance of plantation days. Some of its famous guests include; Frank Sinatra, Spencer Tracy, Katharine Hepburn and Mark Twain. If those walls could talk, they'd probably sing!
With a focus on activity, Front Street you will find many fun restaurants and bars to explore. Shopping includes high end stores to souvenir stores. There are over 40+ art galleries and on Friday nights 'Art Night', you can mingle with the actual artists themselves. Tours kiosks are abundant here if you want to take a water excursion, they'd be happy to book you. Then end your evening stroll, with a delicious shave ice treat.
Ali'i Drive, Kailua-Kona, Big Island Hawaii
Ali'i Drive is located on the western side of the island of Hawaii and runs along the bay of Kailua. It is 12.5 miles long with Keauhou shopping center at one end, with the Northern part being the busiest. It's name is a Polynesioan word, that means 'Chiefly Status', fitting as it is the location where King Kamehameha spent his retirement years.
The historic places there include; Hulihee Palace, where the Royal Family used as a vacation home and eventually turned into a museum and the Mokuaikaua church which was the first church in Hawaii. Today this drive boasts some beautiful resorts, great tasting restaurants and many souvenir shops. There is a farmers market and on the 3rd Sunday of every month is dedicated to local vendors, with their kiosks filling the Drive. A great event to enjoy local tasting and listen to live Hawaiian music.
Ali'i Drive is a laid back location where you can rent a kayak or paddle board or just stroll along the lava wall sidewalk. It's a great mixture of 60's surf culture and modern condos. The view of the Pacific Ocean is a perfect place to catch a famous Hawaiian sunset.
With all these main drags, one thing is for certain, you can feel safe when visiting them. With regards to parking, if you are patient you may find free parking near Front Street or Ali'i Drive, but there are plenty of parking lots nearby where you can park much longer. For Kalakaua Avenue parking is a challenge, find a lot back from the ocean for the best value. Each street closes down on Oct 31st and has quite the Halloween party each year, so bring your costume! As all of these roads are located oceanfront, there usually is a nice cool breeze on a hot Hawaiian day.
Go explore Hawaii's greatest streets!