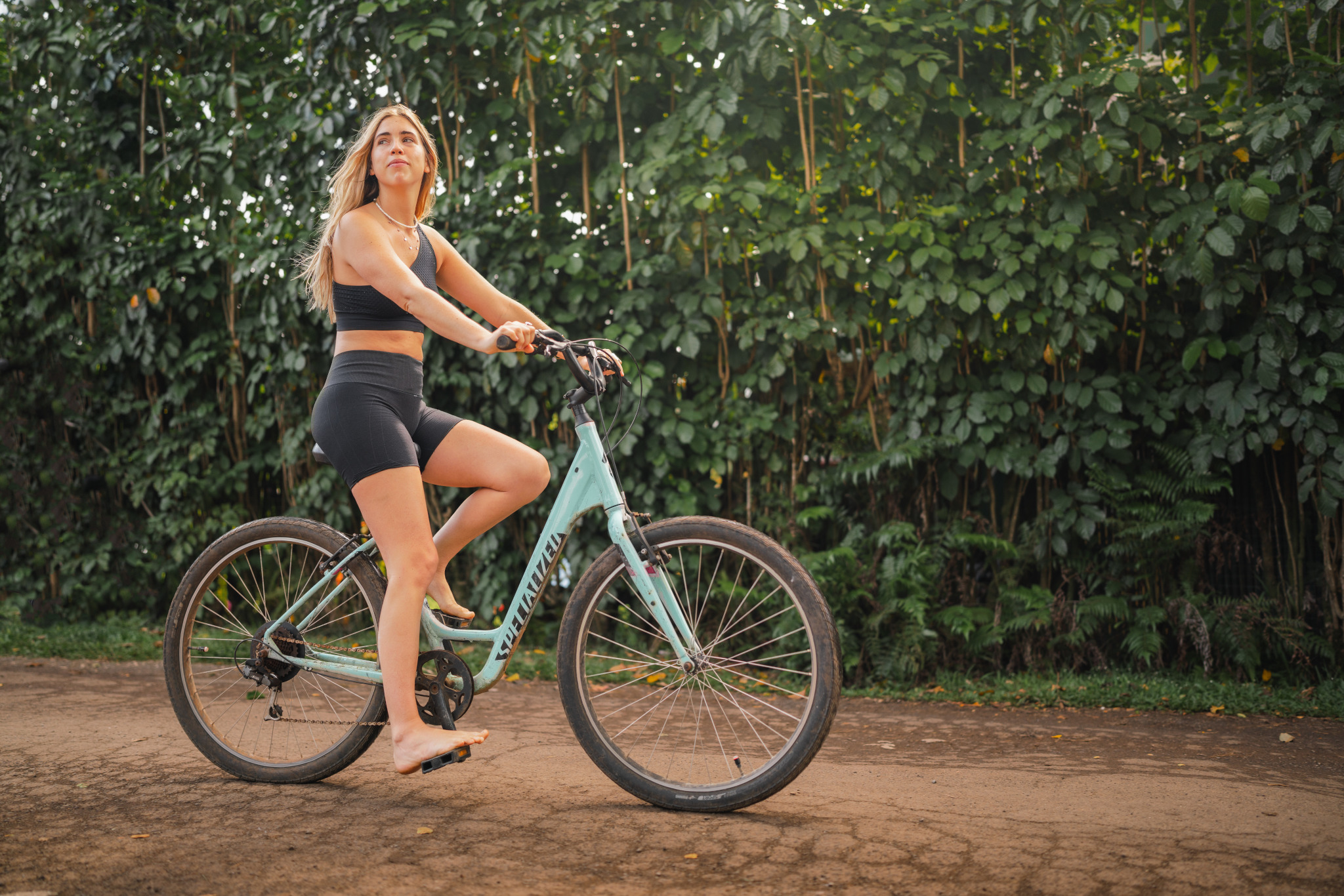 The island of Kauai, also known as the garden isle, has spectacular scenery and views. It would be hard to find a better way to enjoy it than from the seat of a bike. Pedal biking in Kauai is not encouraged on the main streets, and the highways of Kauai are quite narrow and at some points barely have a shoulder at all. Larger trucks can take up most of a lane, so safety is really an issue. However, with many off-road trails and paved pathways for riding in Hawaii, you can still get that thrill of wind blowing through your hair.
For beginners, there is a lovely paved 9 mile path on the East coast of Kauai, it stretches from Wailua Beach to Ahihi Point. The Hawaiian name is the Ke Ala Hele Makalae, meaning "the path that goes by the coast," and the round trip ride can take approximately 1.5 hours. It is a lovely way to spend a few hours with fabulous views, beach stops for a swim and bathrooms along the route. Bike companies in Kapaa can rent you the perfect beach cruiser for your day. There are also shops in Hanalei for renting bicycles, and this is also a perfect community for exploring on a beach cruiser.
Another option, would be a Hawaii bike tour for downhill mountain biking in Hawaii, at the Waimea Canyon State Park. They drive you up to the top at 3,600 foot elevation, then you ride mountain bikes down. This is an easy ride, with plenty of stops to enjoy the views of the Pacific ocean below.
For the more adventurous and experienced rider, there are other options, one being the Powerline Trail. This trail is strictly mountain biking and the red dirt can become very muddy, not the place to wear your favorite footwear. Check weather conditions before attempting it.
However experienced a rider you are, biking in Kauai can be great fun for the whole family. Fill your lungs with fresh air, smell the sweet plumeria and you'll feel fantastic in paradise.
What Kind of Biking is Available?
Getting bike rentals in Kauai is an easy task, many bike shops offer hourly, daily and weekly rates. These guys and gals are the experts and know exactly what you and your party will require, as well as, what Kauai bike trails to check out.
The selection of bikes available to rent include: single speed beach cruisers, full suspension mountain bikes, hybrid and e-bikes. As well, some companies rent 2 seater tandem bikes, child seats, trailers for two or even a child tag-a-long.
The eco e-bikes often come with the pedal assist option, so you can switch between pedaling yourself or go electric and let the bike do the work. With a common electrical outlet, recharging is a breeze. Some come with a USB attachment, so you can charge your phone while you ride.
When renting a bike on Kauai, your rental usually comes with all the standard accessories you will need. These include helmets, locks, baskets (on cruisers), cup holders, bike repair kits and some even have cell phone holders.
Other trail options for Kauai include the ride from Kekaha to the Kokee State Park. It is a 15 mile ride that climbs to 3,800 feet. In May, there is an annual race there called the Pedal to the Meadow. If attempting this route, best to go early to avoid traffic and the heat.
Mountain biking trails like the Maha'ulepu Heritage Trail on the Koloa coast near Poipu is another choice. This unpaved bumpy trail has beautiful ocean views, historical sites and cool rock formations. As well, there is the Hapa Trail that runs between Poipu on the coast to the town of Koloa, an easy ride with beautiful scenery.
No matter what kind of bike experience you have, there is a Hawaii mountain bike trail or smooth level path just for you in Kauai.
How to Prepare for your Hawaii Bike Trip?
When preparing for a day of biking in Kauai, you must cover yourself for all the elements. Weather in Kauai can change fast and dramatically, so you must be flexible in your route of choice. Local bike shop staff are the 'go to' when it comes to updates on conditions or just general advice for where and when to go. Their expertise on trail conditions can help you not get caught off guard, like when the weather is so bad you end up walking instead of riding…
Some of the items you will need to bring or wear include; a map of your route, water (camelbak) and snacks, sunscreen, gloves, sunglasses, closed toed shoes, socks and proper biking attire. Helmets and bike locks will usually be supplied by the bike shop. If you plan to stop for a swim, wear your bathing suit under your clothes and even pack a light towel. If you are going anywhere near the jungle you will need bug spray, or get eaten alive.
The Kauai dirt is famous for being red in color, so don't go riding with your favorite white sneakers, they may not be white by the end of the day. When it rains, that red dirt becomes red mud which can stain your clothes, shoes and skin.
Always remember to ride within your ability and what the weather conditions allow. You want to make riding in paradise an event you will never forget, in a good way.