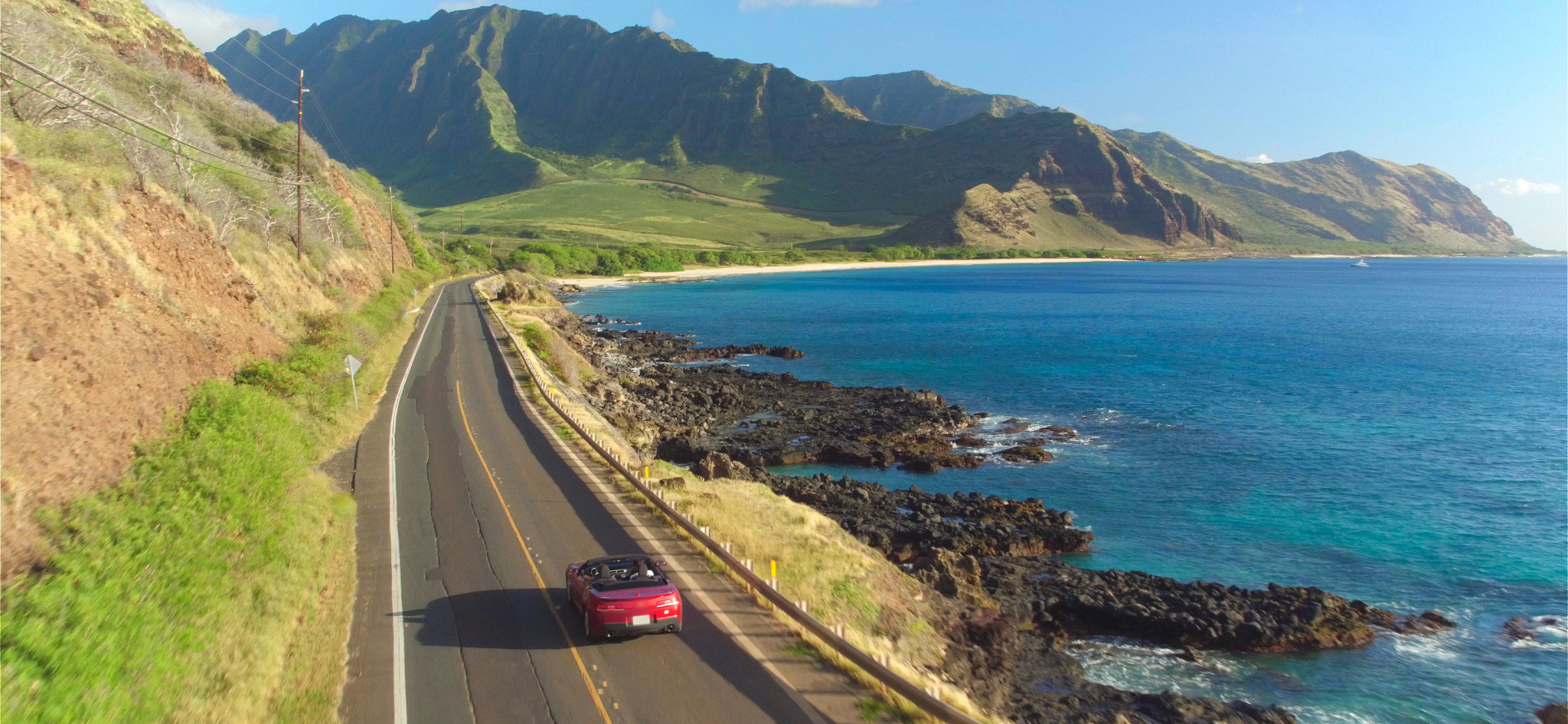 Top Rated Car Rentals in Hawaii
Hawaii - The Aloha State
The islands were first settled by Polynesians back between 124 and 1120 AD, and for the first 500 years, Hawaiian civilization was isolated from the rest of the world and lived as an independent nation with its own monarchy. In 1778 British explorer James Cook claimed to be the first to discover this civilization, landing at Waimea Bay on the island of Kauai. Cook named the archipelago the "Sandwich Islands". In January 1893 Hawaii became a Territory of the United States, and remained that way until it became the 50th State of the United States on August 21, 1959.
Hawaii consists of 8 main islands, 6 of which are open to tourism. Each island has its own attractions for visitors, with so many diverse climates and varying landscapes, with Mount Waialeale on Kauai being one of the wettest places on earth, Mauna Kea on the Island of Hawaii being the tallest volcano, at 13,796 feet above sea level, but also stretches an additional 19,680 feet below the surface of the water, makings it the tallest mountain in the world. Kona coffee grown with rich volcanic soil and ideal farming conditions, is one of the world's top 10 most expensive brews.
The weather is spectacular here – warm and pleasant, with each island having its own variations in climate, from very dry to very moist. Every island is worth discovering, with many activities to experience, and landscapes to explore. And then there are the beaches, with everything from still and quiet to some of the wildest surfing beaches in the world. So many breathtaking views on each island to experience.
The Aloha Spirit is the way of the Hawaiian people, meaning "the breath of life", Aloha is a way of living and treating each other with love and respect.
Which island(s) will you choose to visit this year?
Hawaii Car Rentals by Island
Each Island in Hawaii has its own unique offerings for visitors. Once you decide which island you want to visit, you can start planning. Many visitors choose more than one island, hopping between two or three islands, getting to know more about Hawaii.
There are no ferries to transport you and your vehicle from island to island, so you will have to arrange a separate car rental for each, and rely on flights between islands. We can help you make the most economical car rental plans, that would give you the best chance to discover each island and all it has to offer.
Book Now
Car Rentals by Airports in Hawaii
Traveling around the islands of Hawaii means flying in and out of Hawaiian airports. Whether you are island-hopping, and staying on various islands, or you are investing your time in really getting to know only one island, we have many options at each Hawaii airport car rental location to assist you in obtaining the best car rental experience.
Book Now
Hawaii Car Rentals by Car Type
There are many reasons to book a rental car for your trip to Hawaii. Adventurous travellers will make a Jeep Wrangler a part of their experience, whereas a family will require a vehicle like a minivan that fits all of their passengers, a few suitcases, and possibly a stroller or other gear. We have you covered, with all types of vehicles at different prices, as well as benefits to allow free extra drivers, and lower young driver fees for drivers between 20-24. We can help you choose the right option for your trip.
Book Now
We Work with the Best Car Rental Companies in Hawaii
Get the Best Car Rentals in Hawaii
Welcome to Discount Hawaii Car Rental. Our agents are skilled in serving the needs of our clients traveling to Hawaii. We can help you choose the right vehicle for your needs and budget, and we offer perks such as free additional drivers, reduced young driver fees, and our experience dealing with thousands of customers traveling to Hawaii every year.
Customer service is our strong suit. We love working with our customers, and your satisfaction is our number one goal. We will stand behind your rental experience, and step up to remedy any situation that arises.
Our customers are known to recommend us to their family and friends – this tells us we are doing a good job.