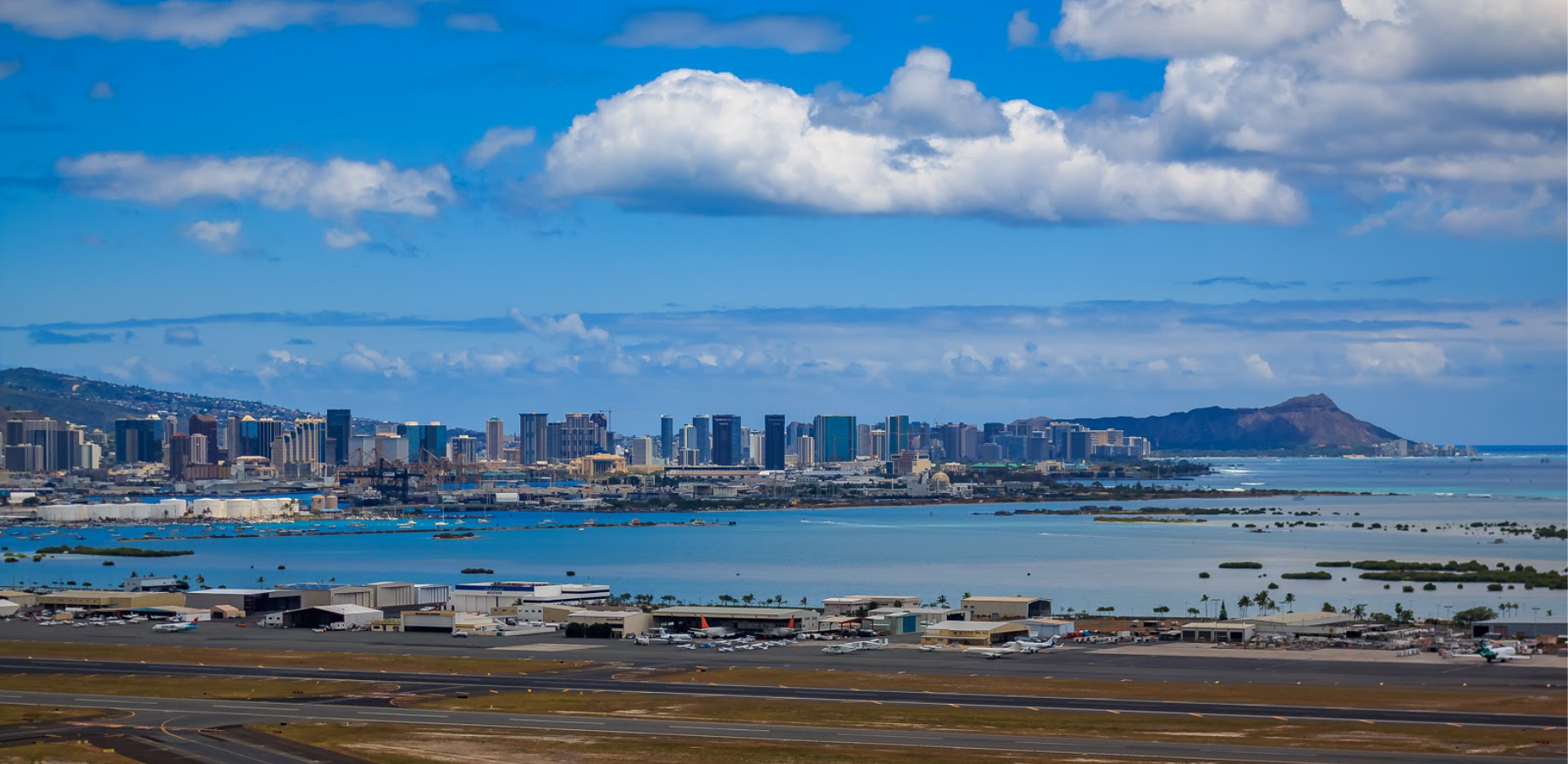 Car Rentals at Honolulu Airport
Honolulu (HNL) Car Rentals
Daniel K. Inouye International Airport (HNL), was formerly known as Honolulu International Airport and is often still called by that name for simplicity. The largest airport in the state of Hawaii handles flights from many countries around the world and consists of three terminals, all inter-connected by a regular "Wiki-Wiki" bus service. There are four active runways, including one of the world's first major runways built entirely offshore – Reef Runway, which is 12,000 feet long.
More than 20 million visitors a year arrive at and depart from this airport, which is served by domestic and international carriers, as well as interisland airlines and commuter flights.
There are many opportunities to enjoy Hawaiian culture right on the Airport Grounds, or in the terminal itself. Artwork is displayed around the terminals ranging from free-standing sculptures to murals, all commissioned by the State Foundation on Culture and the Arts. Made up of over 8,000 unique images, a giant mural commemorating the 50th anniversary of Hawaii's statehood can be found on the Diamond Head Breezeway, of Concourse E. in Terminal 2. This mural features the work of students nationwide, and is well worth a visit.
A vacation on Oahu starts at the Honolulu Airport. After arriving from your flight and collecting your luggage, you are ready to explore everything this island has to offer. Pick up your HNL car rental and start enjoying paradise!
What's available at Honolulu International Airport (HNL)?
Daniel K Inouye International Airport offers several garden sites right on airport grounds. Chinese, Hawaiian and Japanese Gardens were all designed back in 2962 when the Airport was built on this site. These Gardens surround the Ticketing Lobby, and E Gates of the airport. The C.B Lansing Garden is located at ground level of Terminal 1. Visitors may also be able to enjoy free Hawaiian entertainment in the Lobby.
Free Wi-Fi is available, as well as a baggage storage facility for those passengers needing to leave their bags for long and short term storage periods. Computer terminals are also available at The Business Center, and throughout the airport that can be accessed for a small fee.
Fresh floral greetings are popular, as welcoming visitors with a Lei is an important tradition here. You can pre-arrange your Lei greeting prior to arrival, with the actual greeting happening in the baggage claim area. Lei stands are located on airport grounds and Lei are also available from Florist shops and carts within the terminals, coming in many varieties of popular Hawaiian flowers.
Persons with Disabilities will find this airport accessible for wheelchairs, with assistance available upon request from the Porter Services. Skycap (porter) Services are trained to assist travelers with disabilities. Text telephones are available for the deaf and hard of hearing.
A 24 hour medical clinic is located in the main terminal on the ground level in the garden court area. VIP Staff are located at booths throughout the airport to assist travelers and provide information. Automated External Defibrillators are located about every 90 seconds walking distance through the public areas of the airport.
Restaurants, and snack bars are available alongside higher end boutique, and Duty Free shops. A large variety of shopping opportunities are available while you wait for your connecting flight to visit another Island, or your return flight home.
Oahu Car Rental pick up locations are accessible from the airport terminals. Some are located right on airport grounds, where you catch the shuttle corresponding to the car rental company you are booked with. A few rental locations are located just off airport grounds, with the same procedure – catching a shuttle that will take you to their facilities, just off the airport – about 5 minutes away. Car rentals at the HNL terminal are easy and convenient!
Honolulu Airport (HNL) Information
Honolulu Airport Rental Car Providers






CAR RENTALS IN HONOLULU AIRPORT (HNL) FAQs
Should I book a rental car before arriving at Honolulu Airport?
It is always a good idea to book your HNL airport rental car in advance, so it is ready for pick up when you arrive. Honolulu rental car costs can be higher at the airport when you arrive, as you are now subject to whatever is available at the rates being offered. Sometimes rental cars are sold out, and you could find yourself spending way more time than you want just procuring a vehicle that will suit your family. When you book your flight, secure your rental car as soon as possible. You can always search our website again later, and if prices do go down, you can rebook at a lower rate, but if prices rise, which they often do closer to your departure date, you know you have the best price available and a guaranteed vehicle.
What do I need to provide at the rental counter when arriving?
As a renter, bring your confirmation # with you to your pick up location. At this time you'll be given all of the rental information including rental policies and drop off information. Your driver's license is always a necessity. An International Driver's Permit may be needed as an additional document if your driver's license is not in English. A credit card matching the name of the main driver, or a debit card may be accepted if it has a Visa or MasterCard Logo, and passes a credit check where required. You will need to bring the additional drivers, their driver's license and credit card to the car rental counter as well.The decision is always up to you and what matters most, whether it is to spend the least amount of money, and still get around, or spend a little more and allow the driving to enhance your total experience as you feel the sun on your face, and the wind in your hair.
How can I get car rental deals at Honolulu International Airport (HNL)?
After booking with Discount Hawaii Rental Car, be sure to frequently check back. If you visit our website at a later date and see that prices have gone down, you can rebook at a lower rate, but if prices rise, which they often do closer to your departure date, you know you already have the best price available and a guaranteed vehicle. Prices can get very high closer to holidays and high seasons, so booking in advance can assist you in avoiding this rise in rates as well.
What types of car rentals are available at Honolulu Airport?
You can rent most varieties of cars at Honolulu Airport. You won't need a specialty 4WD to visit any spot on the Island that rental cars are allowed to go. Your choice of vehicle will depend on what type of experience you desire, whether it is a "top down, open air feeling" from a convertible, a "sporty ride" in a Wrangler or SUV, or a larger minivan or smaller economy class to accommodate your family and luggage.
Rentals by Island
Rentals by Island
Looking for an alternate way to find your perfect car?
Try searching by island instead.
Rentals by Island