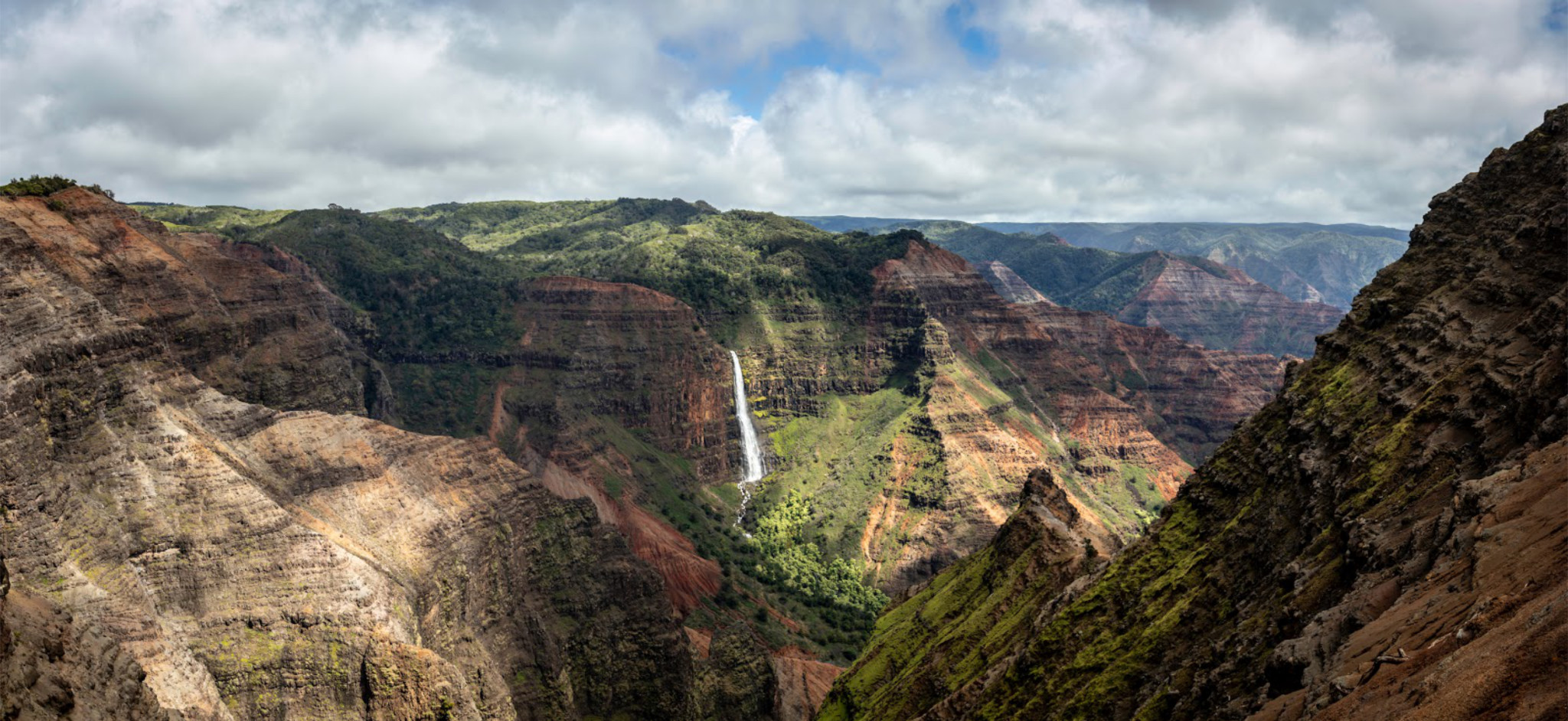 Car Rentals in Kauai
The Island is cozy but to get the most out of a visit we suggest booking a car rental in Kauai at the airport upon arrival. Having a vehicle makes visiting all the distinct pockets a possibility as the public transit system is not catered to tourists.
Our company offers the best car rentals in Kauai, including competitive rates, low young driver fees and multiple drivers that are not found with all car rental companies in the United States. Discount Hawaii Car Rental offers bookings for economy cars, full-size cars, SUVs and more. This combined with newer, low mileage vehicles guarantees a great deal for many.
Car rentals on Kauai are better than a company tour as you have complete control of your movements and you are not stuck with 20 strangers.
Taxis give you some control but if visiting multiple locations fares add up quickly. In some cases our daily rental rate is comparable if not lower than a single taxi fare.
Keep your needs in mind. Spending all your time alone relaxing on the beach is very different from a large group planning on exploring every aspect of the Island. Choose a rental car at Lihue airport carefully – your Kauai car rental is a big part of your trip planning.
Medium to large families often rent a minivan to ensure there is enough space for supplies, children and luggage. Decide whether a GPS is a useful tool.
The smallest vehicles will most likely only hold 2 passengers and their luggage comfortably. Consider the size of your travel group, and their luggage volume when making a decision on your car rental in Kauai.
ABOUT KAUAI, HAWAII
Although Kauai is the oldest of the visitable Hawaiian Islands it is only the fourth largest at approximately 560 square miles. It is well known for its relaxed atmosphere and Aloha spirit. The Islands peaceful ambiance is celebrated by local residents and all those who are fortunate to visit.
Kauai is a popular destination for visitors that prefer a more leisurely vacation but still want the opportunity for pursuits. Best known for its breathtaking landscapes viewable only while hiking the abundant Rainforest trails. However, activities range from swimming and surfing to ziplining, horseback riding and even "Jurassic" helicopter flights.
Whether you prefer luxurious Resorts or camping under the stars there is a reason for everyone to visit Kauai. We suggest booking a car rental in Kauai, Hawaii so you can visit the numerous parks and landmarks. Not to mention the 50 + miles of beautiful white sand beaches the Island has to offer.
Finding the best car rental at Lihue airport location will make the trip to the lone Costco 4 miles away from the airport car rental location easy.
Waimea Falls offers an amazing drive through Canyons and is known as the Grand Canyon of the Pacific. Regardless of the type of car you prefer a convertible or a cheap car rental in Kauai this drive will inspire.
When driving through the town of Hanapepe you may want to stop and view the talented local artist shops. Or let the kids experience the thrill of crossing the Hanapepe Swinging Bridge. Koloa offers you the chance to shop at a converted plantation for gifts and souvenirs.
Poipu greets visitors with premium resorts, fine dining and sleek shopping facilities at the South most tip of the Island. You will have your choice of a handful of child friendly beaches where Turtle watching, hiking or just lounging on the beach are encouraged.
Wailua Falls was filmed as the backdrop to the intro of Fantasy Island. Where the 175 foot falls carve the shores of the Wailua river back to the Pacific Ocean. Kapaa restaurants offer farm to table cuisine with amazing views while local shops offer Red Dirt T-shirts dyed with the unique dirt of the Island. Imprinting the spirit of the Island for visitors to wear proudly.
Botanical Gardens offer various sculpted landscapes and bird tours as you arrive in Princeville. With over 500 varieties of plants, 100 native only to Kauai and 80 species of birds this is a naturalist's Paradise.
With direct access to numerous personal beaches, sprawling golf courses and secluded trails Princeville may just be the best kept secret for relaxing in all of Hawaii.
Things to Do on Kauai
Kalalau Trail
Possibly the most challenging hike available on Kauai. The Kalalau Hiking Trail provides exclusive access to the Napali Coast and a private 100 foot waterfall. Walk the same 10 mile stretch through the Kalalau Valley as the Hawaiian Ancestors did.
Kauai Helicopter
A popular activity is taking a very unique 1 hour Helicopter flight exploring the "Grand Canyon of the Pacific," Waimea Canyon. Enjoy viewing the rare species of plants and birds at one of the wettest spots on earth. Awe in the rippled razor sharp sculptured cliffs of The Na Pali Coast
Guided Activities
Where else can you ride a Horse under a waterfall? Whale watching tours or a sunset dinner sail are a great way to spend time on the water. How about taking in a theatrical Luau performance while eating traditional cuisine? These are just a few of the guided options to deepen your intimate relationship with Kauai.
CAR RENTALS IN KAUAI FAQs
Can I get a month long Kauai cheap car rental?
Yes, longer term car rentals are popular with those that are staying for extended periods of time. Longer rentals often offer the lowest cost per day average. Some car companies will break up rentals of over 60 days at the counter and may require you to drop off a vehicle to the pick-up location for servicing. The benefit, you get a fresh vehicle that day.
Is it necessary to rent a car on Kauai?
In most cases, yes, as the island is spread out and a car is needed to travel between areas. There is a bus service, but it is not catered to tourists. Taxis get expensive for longer day trips or multiple excursions.
Do I need a 4wd vehicle anywhere on Kauai?
No - any rental car type will get you where you need to go, as long as you stay on the paved roads. There are some road restrictions on Kauai where rental cars are not allowed, and you would need to check at the counter when you pick up your vehicle. Often suppliers will provide a map detailing restrictions.
Can I drive around Kauai in one day?
Yes, although you can not actually drive completely around the Island due to the mountain range. But at just under 30 miles tip to tip and side to side car renters could navigate the entire Island in just one day.
Should I book my Kauai car rental before arriving?
Yes, to get the best rate we suggest booking as soon as you have your plans finalized then check back with us periodically for lower rates.
Kauai Island Information
Oldest of the visitable Hawaiian Islands
4th largest Island of Hawaii
Home of Waimea Canyon "The Grand Canyon of the Pacific"
Known as the Garden Island, supports Over 80 species of birds and 500 plant species
Contains the longest stretch of continual beach (15 miles) in the State of Hawaii, Kekaha beach
If you're looking to explore the island consider renting a Jeep in Kauai.
Cities in Kauai
Hanalei
Picturesque, with an abundance of waterfalls, beaches and everything outdoors. With the charm of Old Hawaii, and the largest bay on the island, Hanalei is a must see destination - you might even fall in love with it.
Book Now
Poipu
Poipu is known for its beaches - some of the best in the country for swimming, diving, and various water sports. If you are looking for a place to watch the sunset - you found it here, the sunsets are spectacular.
Book Now