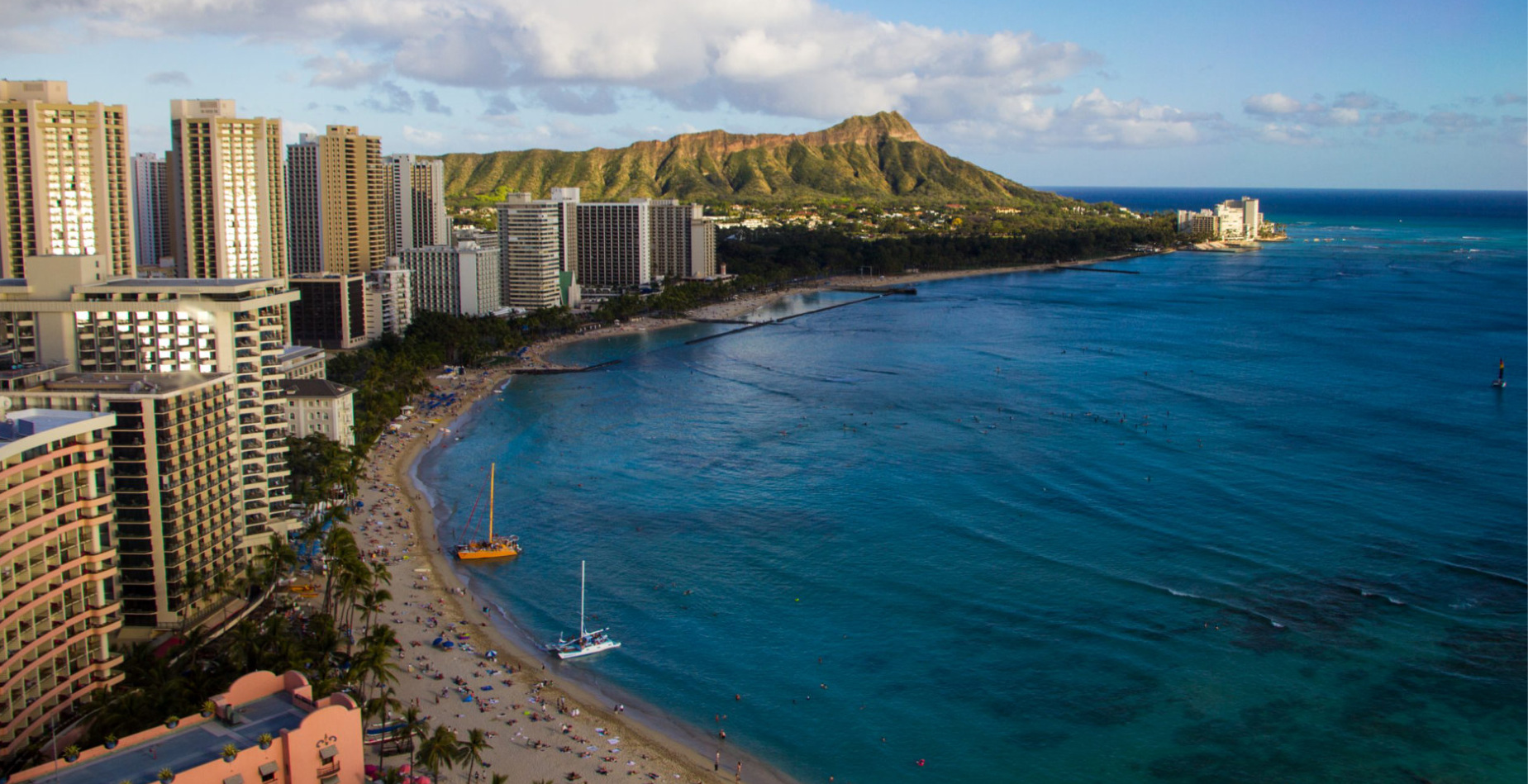 Car Rentals In Oahu
There are so many places to visit on the island, you will want to take advantage of the benefits of a car rental on Oahu. Your choice will depend on your specific needs activity expectations. With your own car rental in Oahu, you make the choices on where to go and when, as you are not on the schedule of a tour bus operator, or spending money taking a taxi.
You may have chosen to stay up on the North Shore, and spend your time surfing, exploring the beaches and immersing yourself in the culture of this area. A rental car is pretty necessary here, as you may be transporting luggage, surfboards, scuba gear, and family or friends. You will want to discuss your plans with your party, so you have a car rental on Oahu that will suit your trip, and accommodate your family and any items you want with you as you traverse the island.
If you wish to explore more than the city life, there is an approximately 96 mile circular (oval) shaped drive you can take around most of the Island. There is so much to discover on this drive depending on your desires: waterfalls, food trucks with the best shrimp, vantage points to stop and photograph the landscape, walking trails, and of course, the Diamond Head Crater and Hanauma Bay for a snorkel.
This trip alone is worth the price of an Oahu rental car, and may take you more than one or two days to complete, as each area is worth spending time and exploring its options.
ABOUT OAHU, HAWAII
If you are looking for an Island with a large variety of experiences, from city life to some of the best surfing spots in the world, you have found it right here on Oahu. Home to the largest population on all of the Hawaiian Islands, Oahu celebrates the best in night life, craft beer and food experiences, as well as world-class shopping destinations and small boutiques that cater to the beach towns. To make the most of these available experiences it's always recommended to pick up a car rental in Hawaii, Oahu especially!
There are some great destinations for history buffs, with Pearl Harbor, and Iolani Palace being high on this list.
Oahu is the third-largest Island, home to over one million residents, with about two thirds living in the state capital of Honolulu. This island is 44 miles long and 30 miles across, and is loosely divided into "areas" which may overlap, depending on who you ask. Residents identify strongly with their own part of the island, and can share stories of their unique neighborhoods and "areas".
The windward coast of Oahu is known for some of the most beautiful beaches in the world, with Waikiki and Lanikai Beach consistently ranked as some of the best.
Oahu is known for having the longest rain shower in history – lasting for 200 consecutive dates. One of the Island's nicknames is "Rainbow State", as rainbows are very common.
Captain James Cook spotted Oahu first, on January 19, 1778 while on his third Pacific Expedition aboard the HMS Resolution.
Tourism has become one of the biggest industries on Oahu, with over five million visitors per year. Visitors arrive from various airport locations, with the majority entering through Hawaii's largest airport hub – Honolulu International Airport (HNL).
Things to Do on Oahu
Pearl Harbour and the USS Arizona Memorial are well known attractions steeped in history. There are different tours available or you can go investigate this on your own.
A drive to the Polynesian Cultural Center in your Oahu rental car will provide you with a show, dinner and guided tour. A great place to explore the cultural aspects of Hawaii.
A Luau is best experienced at one of the popular locations that specialize in the complete Luau experience steeped in the culture of dance, music and food.
CAR RENTALS IN OAHU FAQs
Do I need to rent a 4WD vehicle on Oahu?
You will want to see as much of this island as possible, and even cheap rental cars in Oahu will take you where you want to go. A 4WD vehicle may be fun, but it is not necessary, as any vehicle (from an SUV to a minivan or even an economy car) will get you anywhere on the Island that rental cars are allowed to travel.
Can you drive around Oahu in a day?
You can most certainly drive around the Island in one day - and see and experience many different areas heading to the North Shore, and back. If you want to explore one particular area in more detail, you may want to return to that area on a separate day, and spend the day watching surfing, then dine out on the North Shore, or spend some time exploring the Polynesian Cultural Center, and not let time limit your ability to take in the whole experience. This will mean multiple trips, and rental cars will be needed on multiple days.
Why should I book my Oahu rental car through Discount Hawaii Car Rental?
Discount Hawaii Car Rental has discounted rates with the major car rental companies in Hawaii, as well as benefits that are not always available. Benefits include up to two free additional drivers in some cases, which can save quite a bit of money if you have multiple people in your party that wish to drive. We also have reduced young driver rates with some car rental locations that allow renters 20 to 24 years of age to drive with a reduced young driver fee. Our customer service staff are well-versed on how to help you save money, and can answer any questions you may have about your car rental on Oahu like options for pick-up locations, check in and drop off inquiries, and more.
Oahu Information
3rd largest island in Hawaii and the most populated
Most populated island in Hawaii
Iolani Palace is the only Royal Palace in the United States
Home some of the oldest plant forms on Earth
North Shore beaches are some of the most famous for surfing in the world
If you're looking to explore the island consider renting a Jeep in Oahu.