Big Island Beaches
Some of the best Big Island beaches, complete with pristine, white and multicolored sand, and unmatched beauty can be explored while you are enjoying your vacation. Have a look at the Big Island beaches map, and plan your tour of the best beaches Big Island has to offer.
We will take you on a tour of some of the best swimming beaches on the Big Island, along with dog friendly beaches and of course, best boogie boarding beaches as well. There are so many great spots to explore, you will need to make plans to fit in those that suit your travel plans.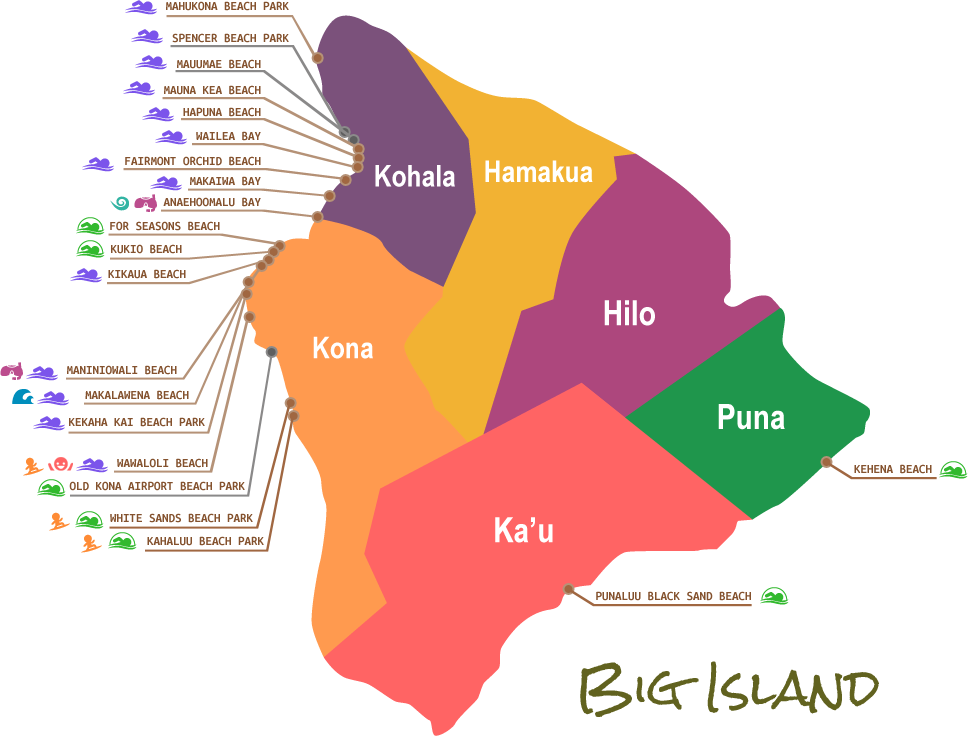 Green Sand Beach (Papakōlea)
Did you know that there are only four natural green sand beaches in the world and that one of them is located on the Big Island of Hawaii? It's called Papakōlea Beach, also referred to as Green Sand Beach, and it is very unique! The beach itself is carved in a 49,000 year old cinder cone belonging to the Mauna Loa volcano that contains the green crystals (olivines). These crystals are what give the beach its name. Green Sand Beach is located near South Point, in the Kaʻū district. And if you pick up some sand, you'll see the green crystals mixed in with some black and white fragments – the black being lava, and the white being crushed up coral and shells.
To reach the head of the trail to get to this beach, you'll need to hop in your Hawai'i rental car and carefully drive (some parts are one way only) the road to 'South Point' between mile markers 69 and 70 on Hwy 11 (between Kona and Volcano Village), and continue on to the small harbor at the end. On the left hand side there is a parking lot. South Point is actually the southernmost tip of the United States.
You'll then hike 2.5 miles (one way) from the parking lot to the beach. The hike to Papakōlea Green Sand Beach is hot but not challenging. Walk from the parking lot to the ocean and take the road to the left (facing the water, towards the east). Follow this road with the ocean on your right hand for about 2 1/2 miles where you will reach the cliffs above the Green Sand Beach. Be careful climbing down along the lava cliff on the west side of the bay.
It's important to note that there's only one way to legally get to this green sand beach in Hawaii: hiking. (Doing it this way helps to ensure we preserve the natural landscape and the cultural sites along the way, so try a Green Sand Beach hike!) Any form of driving, whether it's your car or the shuttle, is illegal and does irreparable damage to the area.
Swimming at the green sand beach is possible, but the surf is quite strong. There is no lifeguard, and there are no services of any kind, and no restrooms, not at the trailhead or at the beach.
Punaluʻu Beach
Punaluʻu beach is the best black sand beach in Kona area. What makes it so special is the spectacular jet black sand of course and that you can often see Hawksbill and Green Turtles soaking up the sun on the beach. Hawksbill Turtles are an endangered species, so consider yourself very lucky to witness such beauty up close (but not too close, it's important to maintain your distance).
Punaluʻu beach is just off highway 11 between Volcano Village (31 miles) and the town of Naalehu (10 miles).
This beach is very large and is easily accessible. It's a great place to take a leisurely swim, maybe do some snorkeling, enjoy a short hike, camp (with a permit only), and/or have a picnic. There are several swaying coconut palms that line the beach, offering up some shade for those very hot days.
There are a number of amenities here at the black sand beach, on Hawaii's Big Island, including bathrooms, showers, areas to have a picnic, a lifeguard station, and there is ample parking. Take caution when entering the water at Punalu'u Beach as there are some pretty strong currents at certain times, but you can definitely swim here. You can snorkel here too, but it's best to do so on a calm day, otherwise the visibility will not be great. Watch for the Honu (turtles in Hawaiian) here too. You could see them foraging in the water amongst the lava rocks, or basking in the warm sun on the beach.
Oh and there are also underwater freshwater springs in Punaluʻu bay. The water from these springs is colder than the seawater and drifts on top of the salt water because salt water is more dense than freshwater. These freshwater springs are likely what gave this Bay its name. Punaluʻu means "coral dived for" or "spring dived for" in the Hawaiian language.
Isaac Hale Beach Park (Pohoiki)
Pohoiki is officially known as Isaac Hale Beach Park. It's located in the lush and stunning Puna district, on the east side of the Big Island of Hawaii. Here you will find a lovely recreation area, as well as many ocean thermal ponds, and a "new" beach. It's also very popular with the surfers.
What makes this beach so special? Well, it was once a park and a boat launch, and now it is a black sand beach. It is one of the youngest pieces of Mother Earth that you can walk on. Makes you think just how powerful Mother Nature really is. Isaac Hale Beach Park has now reopened after the LERZ eruption but what exactly will happen with the new black sand beach is still very uncertain. New black sand beaches like this quite often wash away again within a few years because no new sand is being provided.
There is a lifeguard station, and portable toilets at Pohoiki Black Sand Beach. There is no drinking water or food stands, so be sure you pack your own. You could swim here, but only if you're a very strong swimmer. There are very dangerous currents.
Pohoiki Beach is located at the intersection of Pohoiki road and the scenic Kapoho-Kalapana road (route 137) in the Puna District of Hawaiʻi Island. These roads were overtaken by lava but by November 2018 a new road between MacKenzie State Park and Pohoiki was cleared.
Richardson Beach Park
Richardson Beach Park is another black sand beach, located just east of Hilo, Hawaii, in the Keokaha area.
Here you can enjoy some amazing snorkeling, do some surfing, find a picnic area, and there are plenty of small protected tide pools for little ones to splash around in. If you are a strong swimmer, you can go beyond the bay where you'll find amazing deep water snorkeling sites. This beach is frequented by the locals and can be very busy on the weekends. There is a lifeguard on duty during the day, picnic areas, showers, restrooms, parking, and telephones. There's a parking lot and street parking is plentiful as well.
What makes this park special? Well, Richardson Ocean Park contains a marine conservation area. And the ocean here is spring fed by freshwater which has formed many ponds, most of which are quite cold. This is a great place to snorkel. The reason for this is the spring water is colder than the ocean water, and when combined with shallow and calm waters, it makes for ideal snorkeling conditions.
And, if you pick up some sand, you'll see that most of it is made up of black lava and what they call green sand. The green sand is made out of olivine crystals, the same crystals that give the more famous Green Sand Beach its name.
Oh and keep an eye out for the green Honu (native sea turtles), basking in the sun on the hot lava rocks, the endangered Hawaiian monk seal, as well as migratory whales.
If you're coming from downtown Hilo, drive east down Kalaniana'ole Avenue which leads to a few beach parks. The two most popular of these beach parks are Carlsmith Beach Park popularly known as Four Mile after the mile marker, and Richardson's, almost at the end of the road.
Carlsmith Beach Park
Carlsmith Beach Park (also known as 4 Mile Beach Hilo) is a favorite for many as it's a great place to swim, and snorkel. It's well kept and is great for families. Plus, it's only around 10 minutes from downtown Hilo. There are lava rocks and a reef which protect the inner swimming area. They make it almost like a swimming pool. Your little ones will love it.
Carlsmith is not a typical beach as there is no sandy shoreline. Instead you'll find a lovely lawn where you can lie down in the sun, or enjoy your book in one of the many shaded areas. You can also find some picnic tables too to enjoy a nice lunch. Do watch for Honu, as they frequent the area enjoying the shallow pond and feeding among the lava rocks. But remember, as a legally protected species, visitors must stay at least 10 feet away from these magnificent animals.
The breakwater keeps the waves small most of the time, and the water temperature here can be somewhat low because of cool fresh water which seeps in out of the ground into the lagoon in several areas. This has the effect of creating a few cooler spots throughout the lagoons. There are many large lagoons. The coves have a soft sand bottom and because the waters are protected by a reef, the waters are calm and clear for swimming and snorkeling. Swaying coconut palms and lush tropical plants surround the area. It's beautiful.
There are a number of amenities at this beach including a lifeguard station, restrooms, outdoor showers, covered pavilions with electricity, drinking water, picnic areas and ample parking.
You can reach the Carlsmith Beach Park in a 5 to 10 minute drive from downtown Hilo. Follow Highway 137 east and park your car at the beach parking lot.
Onekahakaha Beach Park
Located just east of the Hilo Airport, less than 1 mile from Carlsmith Beach Park is Onekahakaha Beach. This is a large park with plenty of area to spread out.
It's perfect for keiki (children) as there's a shallow and sheltered swimming area as well as calm tide pools. The sand-bottomed ocean pool is one of the safest swimming areas along the Hilo coast because of the lava wall that protects it.
There is another large pond and more tide pools just north of the main pond. The tide pools are deeper and rockier with dangerous tides at times and strong currents. Enjoy the water in this area with caution.
In addition to lifeguard services, at Onekahakaha Beach there are picnic pavilions (with electricity), washrooms, showers, drinking water, fire pits, horseshoes, and ample parking.
Even though in recent years the sand at the park has been artificially replenished because of erosion, Onekahakaha has always had a gorgeous natural pocket of white sand. There are usually a few green turtles hanging around too.
Take Kamehameha Ave south, at the intersection with Banyan Dr, continue forward onto what becomes Kalanianaole Ave and drive 2 miles along the coast. Turn makai (toward the sea) on Onekahakaha Road, which will take you to the parking lot.
Pololu Beach
You'll find this beach in the Pololu Valley, located in north Kohala on the east side of the extinct Kohala volcano, located at the northernmost point of the Big Island.
To get to Pololu Valley Beach you have to follow the Akoni Pule Highway (highway 270) until it ends 8 miles east of the town of Hawi at the Pololu Valley lookout. There are not a lot of places to park at the lookout point. You may have to park on the shoulder of the road and then walk back a few minutes to the valley entrance.
There are no restrooms or amenities, so be sure you arrive prepared.
The stunning views of the valley and the steep cliffs that end in the ocean make the trip to the lookout point worth it, but what most people come here to do is to hike down to the picturesque Pololu black sand beach at the valley floor. It's a short but very steep hike down the side of the cliff. For the average hiker, it will take about 25 minutes or so to reach the valley floor. From there, it is a short and easy walk to the actual beach where you'll find a mixture of black sand and large boulders. It's not a very safe spot to swim though, as there is a pretty rough and high surf, a strong undertow, and rip tides.
Kiholo Bay
Along the Kohala Coast on the Big Island, you will find some of the most beautiful beaches and shorelines in the world.
To get to the trailhead: From Kona, travel north on Hawaii 19 (Queen Ka'ahumanu Highway). Pass Keahole Airport Road and go another 11 miles to a scenic overlook for Kiholo Bay on the left (makai side of the road). Drive 1 mile down this road to a trailhead parking area. There is a portable restroom at the trailhead, and is the last washroom you will see until you return. As there are no facilities at the actual Kiholo beach area, come prepared with plenty of water, reef-safe sunscreen and perhaps something to eat.
To reach the beach, you will need to walk about ½ a mile, but it will be well worth your time. Keep your eyes open while you walk as there are goats in the area.
The Kihola bay itself is a mixture of fresh and saltwater, surrounded by lava rocks and a relatively calm lagoon that has the most beautiful color of water. The lagoon is a lovely spot to cool off and do some swimming and snorkeling, since the water in it is typically calm compared to the rest of the bay.
As you make your way around the bay you will come across a small bridge. Once you cross over the man-made channel, you'll get a wonderful view of Wainanali'i lagoon. Remain on or near the shoreline as the surrounding area is a conservation area boasting an abundant sea life and is the perfect spot for taking pictures. For example, there are usually a lot of sea turtles here. They are often seen swimming around in the lagoon, munching on sea grass and limu (algae) along the rocks or just swimming effortlessly through the water.
Sometimes you may see them resting on the shore soaking up the sun, and as always, please keep your distance so as not to disturb them. Along the way to the lagoon, keep an eye out for a small tide pool named Keanalele in an ancient lava tube. It is easy to miss this landmark referred to as the Queen's Bath, so look for a sign and some large stones marking its entrance. Only ancient Hawaiian royalty (the Alii), were allowed to enjoy its waters as a place for bathing and relaxation.
Kua Bay Beach
Manini'owali Beach is a secluded and small white sand beach at Kua Bay, just north of Kona. The water in the bay is crystal clear and the beach is harder to reach than other nearby white sand beaches but it's one of the most picturesque in the region.
This state park has great hiking trails and lookouts that are well maintained, so you will have the opportunity to capture a lot of beauty with your camera. You definitely want to bring your snorkel gear as there's an abundance of beautiful marine life to explore in the clear water. If you're lucky you could spot whales breaching in the deeper waters and dolphins playing in the surf. The majestic Hawaiian Sea Turtles too can be found foraging or basking in the sun on the gorgeous white warm sand. There's great surfing here too, especially in the cooler months as the winter waves roll in, creating Kua Bay surf.
Be sure to pack a lunch and bring plenty of water, as there are no facilities.
Kua Bay Big Island can be reached by car via an unpaved road north of Kailua-Kona. Take the second turnoff to the Kekaha Kai State Park when heading north and continue through the park for approximately 1 mile (1.6 kilometers) until you reach the beach. There is no entrance fee.
Ahalanui Beach Park
Ahalanui County Beach Park no longer exists, as it was taken over by the lava in 2018. This beach was popular, and will be missed.