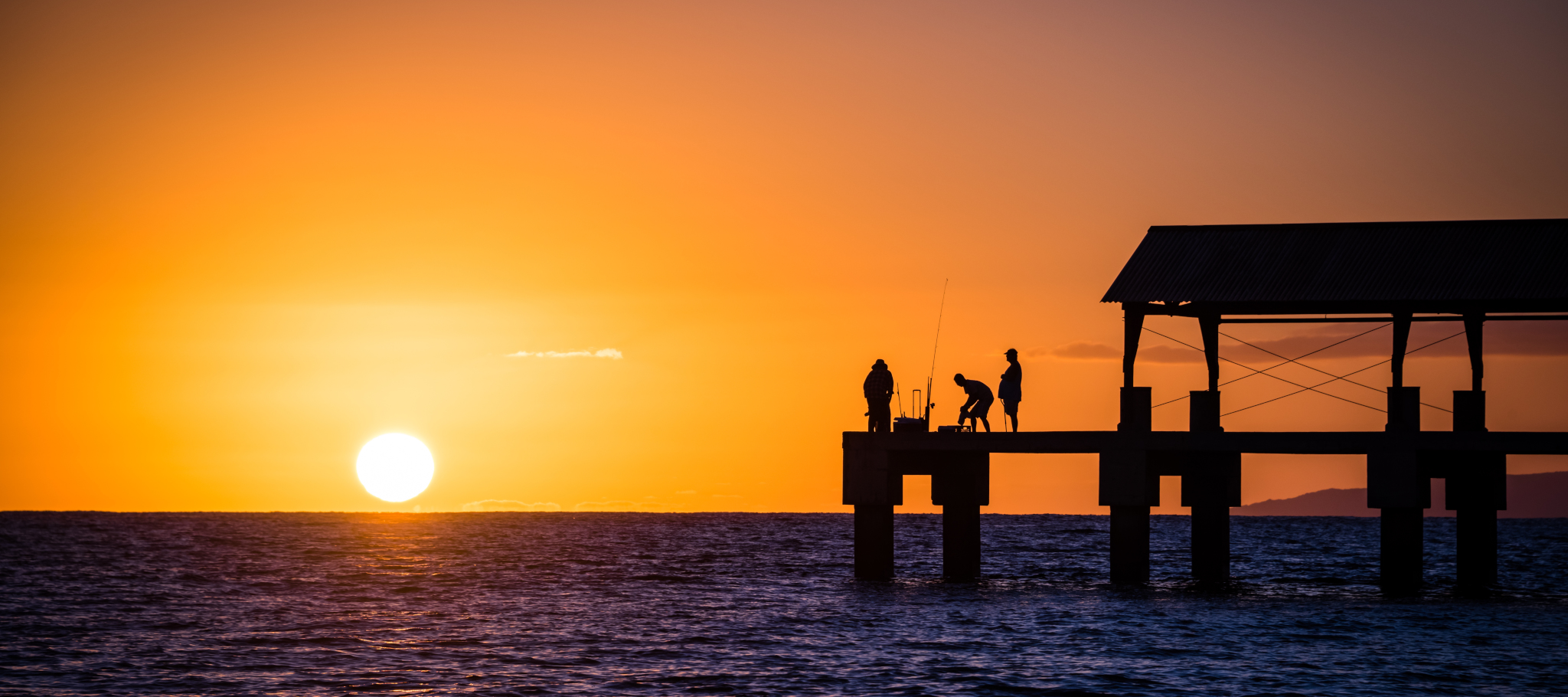 Kauai Fishing - All You Need to Know
Kaua'i, also known as the "Garden Island" offers some of the greatest sport fishing. The reason is because of the vast ocean depths surrounding the island allowing many big game fish to inhabit these deep waters. In some areas, the water can drop off more than 1000′ as close as one-quarter mile from shore, and drop again to 3000′ within a mile and to 6000′ within three miles of the coastline. This provides many opportunities to find many varieties of the very largest fish within minutes of your Kauai sport fishing departure.
Most of Kauai's fishing charters depart from Nawiliwili Harbor in Lihue, or the Port Allen Harbor in ʻEle'ele which is close to Poipu. Once the boat departs, it takes only 10 minutes or so to be in the heart of prime fishing grounds. Another bonus to the location of these chartered destinations is that you'll get to view some of Kauai's most spectacular scenery, including the inaccessible word renowned Nā Pali Coast.
Deep sea fishing on Kauai can land a variety of Kauai fish species including the well known and loved Hawaiian 'ahi, which actually consists of two tuna species, yellowfin and bigeye. Other species found in Kauai waters include mahi mahi, wahoo (ono), Pacific blue marlin and hebi (shortbill spearfish) , any of which will earn you bragging rights. Even though these fish are plentiful year-round, there are seasons where some species are far more prevalent. Tuna, for example, is likely to be caught more often during summer months, while marlin thrives in the fall. Winter traditionally has the least number of fish while summer provides ample bounty. You can plan your Kauai fishing calendar based on these facts.
Most of the Kauai deep sea fishing tours depart from Nawiliwili Harbor in Līhu'e or Port Allen Harbor in ʻEle'ele. The bonus of these locations is that you'll also get some exceptional views of the island not seen from land, possibly including the inaccessible Nā Pali Coast. And if you're especially lucky, you might see pods of Hawaiian humpback whales with their babies, depending on the time of year.
There's no fishing license required when planning to fish for marine sea life from an oceanfront beach in Hawaii. If your personal shore fishing plans include fishing in bodies of fresh water such as inland lagoons, rivers or lakes, you will need to buy a freshwater fishing license.
Types of Fishing in Kauai
Whether it be deep sea or freshwater fishing, Kauai will not disappoint. You can fish from shore, piers, boats, while snorkeling or scuba diving (and there's nighttime torch fishing for the adventurous). You can reel in trout, catfish, ono, bass, ahi, marlin, and more!
Deep sea fishing
Deep sea fishing in Kauai can produce quite a variety of species. Great Kauai deep sea fishing can be found all around Kauai thanks to the deeper waters close to shore. Within just one-quarter mile of the island, some areas of the ocean drop to 1,000 feet. Most fishing charters depart from Nawiliwili Harbor in Lihue or Port Allen Harbor on the South Shore.
Some of the state of Hawaii's record sized fish hail from the waters off of Kauai. The biggest lined butterflyfish was found in 12 feet of water at Moloa'a, and the largest orangemouth lizardfish recorded was hooked at Koloa in about 10 feet of water. Night fishing with a rod and reel using ika for bait yielded a 10 pound Pacific threadfin at Wailua. Make sure you get to know the legal fish that frequent your planned fishing area and know how to identify, catch and release fish that aren't legal to possess in Hawaii.
Beach or surf fishing
Beach or surf fishing is the sport of catching fish standing on the shoreline or wading in the surf. A general term, surf fishing may or may not include casting a lure or bait, and refers to all types of shore fishing – from sandy and rocky beaches, rock jetties, or even fishing piers. The terms surfcasting or beachcasting refer more specifically to surf fishing from the beach by casting into the surf at or near the shoreline. With few exceptions, surf fishing is done in saltwater.
Freshwater Bass Fishing
Freshwater Bass Fishing is another popular type of fishing to partake in while visiting Kauai. Kauai's fresh water reservoirs are home to the renowned Butterfly Peacock Bass. Pound for pound, they are one of the top three fighting fish in the world. The Peacock Bass swimming in shallow waters can only be found in Hawaii, parts of Columbia, Florida, and Venezuela.
Peacock Bass are aerial acrobatics to say the least, and are incredibly intelligent, and powerful. There are a few top notch guides that would be happy to help you catch your share of Largemouth Bass, Smallmouth Bass, and the world famous Peacock Bass.
What Kind of Fish Can I Find in Kauai?
Whether it be deep sea or freshwater fishing, Kauai fish species will not disappoint. You can fish from shore, piers, boats, while snorkeling or scuba diving (and there's nighttime torch fishing for the adventurous). You can reel in trout, catfish, ono, bass, ahi, marlin, and more!
What kind of fish can be caught while deep water fishing in Kauai?
The island of Kauai is surrounded by deep water which drops as sharply as the cliffs of the Grand Canyon. As a consequence, the Mahi Mahi, Ono and Ahi, usually found at sharp drops and underwater trenches, are much closer to shore than on the other islands, making Kauai fishing spots closer to shore.
Kauai is located in the middle of the migratory patterns of ocean living game fish. Kauai has a variety of oceanic fish to pursue. If you are fortunate, you could encounter up to six species of billfish (Blue, Black, Striped, Short-nosed Spearfish, Sailfish, and Swordfish), as well as five species of tuna (Yellowfin, Bigeye, Skipjack, Wavy back, and Albacore), Mahi mahi, and Ono.
What kind of fish can be caught from the shore in Kauai?
Most of Kauai's beautiful shoreline is open to those that would like to try their hand at some marine fishing. The exceptions are wildlife refuge beaches, natural reserve areas, as well as military bases and harbors. Be sure to keep an eye out for important signage at beaches and shores that give instructions or prohibit angling, and always check state fishing regulations for areas with specific rules. There are a variety of near-shore species to fish for such as, Uku (Green Job fish), (Giant Trevally), Ulua, Kahala, (Amberjack), Mano (Shark).
Kauai Fishing Seasons
Some of the more common fish that are caught in Hawaii are:
Ahi, also known as Yellowfin Tuna – a deep sea fish that provides a challenging yet exhilarating experience. It has two dorsal fins and bright yellow finlets
Aku, also known as Skipjack Tuna – Not an easy one to land, but if you do get lucky, be prepared for a moderate fight.
Blue Marlin – It is highly sought after by sport fishers and very popular due to the big fight you'll face when it is hooked. It's a challenge even for the most experienced offshore sport fishers.
Mahi Mahi, also known as Dorado or Dolphin – This is a beautiful colorful fish, identified by the hump on its head and is the fish most closely associated with Hawaii.
Ono, also known as Wahoo – This fish is typically caught while trolling.
Sailfish – It is a spectacular specimen and is highly prized by anglers. If you are lucky enough to hook one, it will put up a fight like you've never experienced. Once landed, it will leap and jump high up into the air. It's easy to recognize due to it's extremely large dorsal fin.
Kauai Fishing Seasons table taken from: https://hawaiideepseafishing.com/pages/kauai-deep-sea-fishing-faq-s