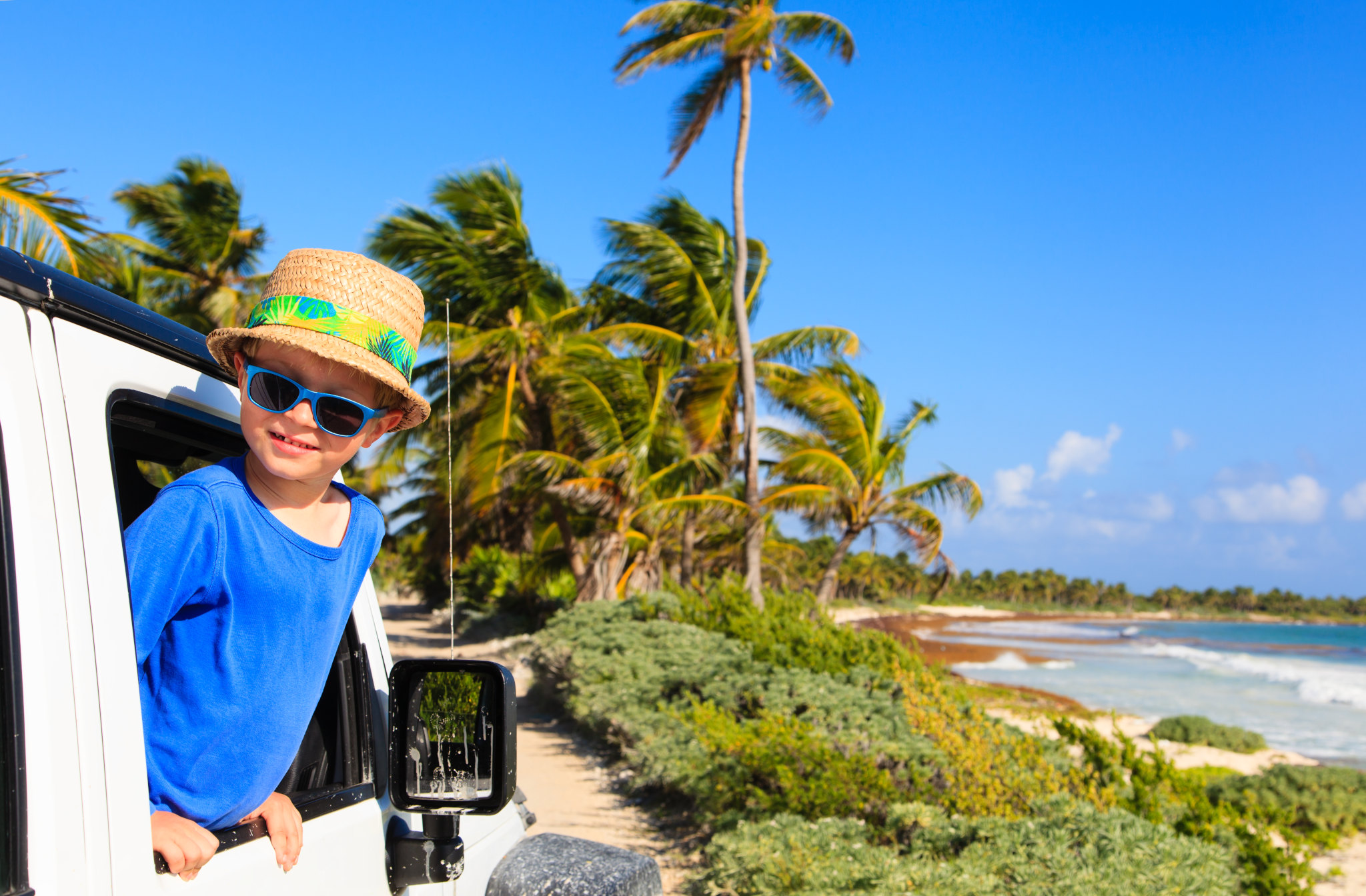 JEEP WRANGLER RENTAL IN HAWAII, MAUI, KAUAI, OAHU, KONA & MORE - ICONIC HAWAII DRIVING AT ITS BEST
For Canadians planning your once in a lifetime trip to Hawaii you may have already pictured yourself behind the wheel of a Jeep Wrangler, sitting high atop some mountain range with the sun rising beneath you. Well, we'd love to help you fulfill that desire.
The Jeep Wrangler in Hawaii is one of the most iconic vehicles on the planet and thus very popular. Available for rent at all rental locations on Oahu, Maui, Kauai, Molokai and the Big Island of Hawaii. We recommend Canadian visitors rent a jeep in Hawaii as soon as your trip has been finalized, the sooner the better.
There are 2 separate classes of Wranglers although there are multiple models. Both the sporty 2 door class and the family-friendly 4 door class come in multiple forms. Your choice of the model according to availability upon arrival.
If you're leaning towards a Jeep rental in Hawaii you probably love life and couldn't be bothered with fuel efficiency. Its all-terrain nature and automatic transmission make navigating any bumpy roads easy, fun, and safe. The 2 door model accommodates 13 cubic feet of luggage space where the 4 door model can boast an entire 32 cubic feet.
What is the best Wrangler on the Hawaiian Islands for you?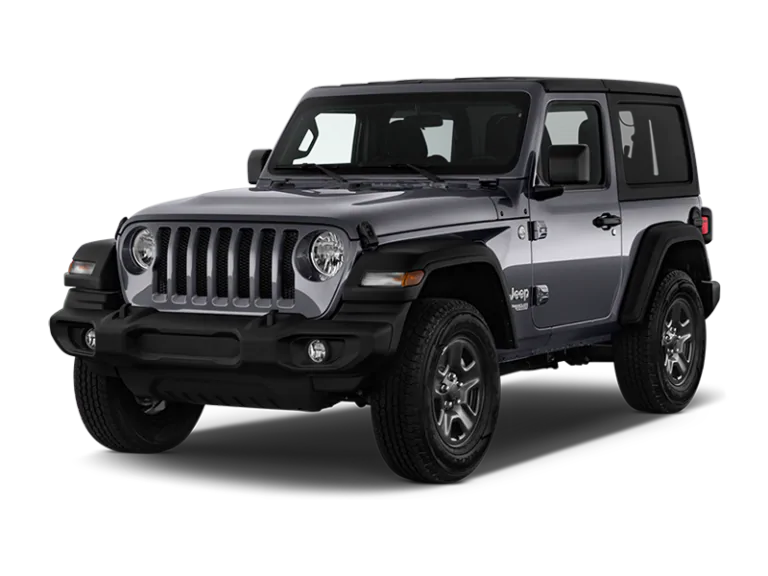 Why choose a Jeep rental in Hawaii?
The Jeep Wrangler stands alone, unique and proud, offering excellent visibility for drivers and passengers to behold the remarkable scenery. This is further enhanced if you are lucky enough to get a soft-top convertible model, the unicorn of cars.
This next-generation army-inspired vehicle offers maximum ground clearance and rugged tires that scoff at the potholes and trenches that you may encounter on many Hawaiian roads. Although off-road driving is strictly prohibited there is the odd time that slipping it into 4×4 mode can come in handy.
The Jeep Wrangler is one of the most fun vehicles to drive in the rental car line up. It has been designed from the ground up to create smiles and turn heads. It makes even the shortest of drives to the beach or corner store feel exciting. The 2 door model offers seating for 4 and the 4 door model seating for 5. The drive is smooth for both, with comfortable seating and a spacious interior. With legendary suspension and responsive handling, you'll be able to navigate those tight parking lots with no fear.
Even for a vehicle of its caliber pricing is reasonable so you won't have to break the bank. Often priced comparable to a full-size sedan, we suggest Canadians rent a Jeep Wrangler today.
Popular Jeep Wranglers
You can choose either the hardtop non-convertible, hardtop t-top convertible, or the soft-top convertible models according to availability upon arrival.
2 door Jeep Wrangler
(66.25 litres/tank/11.76 L/100km)
4 wheel drive when engaged
200 HP
Power steering/brakes
5 seats, 1-2 bags
4 door Jeep Wrangler Unlimited
(79.5 litres/tank/11.2 L/100km)
4 wheel drive when engaged
280 HP
Power steering/Brakes
5 seats, 4-5 bags
HAWAII JEEP RENTAL FAQS
Why should Canadian visitors rent a Jeep in Hawaii?
The Jeep Wrangler is a great fit for the Islands and you will feel like a champion driving it wherever you go. Many Canadians enjoy the sporty feel of exploring the islands in a Jeep Wrangler.
How do I get the cheapest deal for a Jeep Rental Honolulu?
Book our discounted rates as soon as you have dates finalized. Check our website often and If you happen to notice the price drop you can simply rebook and then cancel your old reservation.
Can I go off road trail driving with my Big Island Jeep rental?
No, even though this vehicle is capable, off road driving is restricted. Most rental companies will have a local area map describing out of bounds areas at the counter.
How many people fit in a Jeep Wrangler?
The 2 door model offers seating for 4 and the 4 door model seating for 5.
Can I take the doors or roof off my Jeep Hawaii rental?
As amazing as it would be unfortunately our suppliers DO NOT allow you to remove any parts of a vehicle.
Best Jeep Rental Driving Trips
If you have yet to experience a Jeep Wrangler rental in Hawaii then you may not have experienced the Hawaiian Islands to the fullest. Whichever Island you are visiting, one thing is certain, driving a Jeep is a great way to get around. These are some of our favorite trips we always recommend Jeep drivers consider while exploring Hawaii:
Big Island Jeep Rental
Mauna Loa, Volcano Village scenic drive is a popular area for many Kona Jeep Wrangler rentals. A trailhead at Kipuka Puaulu will reveal a glimpse of the most active volcano in the world, the Kilauea Volcano.
On the other side of the Big Island lies the Hamakua Coast. The riding height of a Wrangler vehicle enhances the scenic stretch of 40 miles that joins Hilo to Waipi'o Valley. There you can picture the Jeeps lined up in front of spectacular waterfalls and implausible canyons.
Oahu Jeep Rental
A Jeep rental in Oahu may lead you to the sprawling landscape of Diamondhead. This popular coastal path winds along the cliff overlooking the Ocean. In the winter months (December to March), many gather with binoculars to witness the whales breach just offshore.
Maui Jeep Rental
No Jeep rental in Maui is complete without taking the Road to Hana. A winding, full day journey where waterfalls, aqua caves, and roadside fruit stands converge. The drive, however, frequently passes Hana, ending at the crystalline, multi-tiered Pools of Ohe'o.
Kauai Jeep Rental
The Waimea Canyon offers many ideal locations to park your Kauai jeep for a photo opportunity. Some overlook the beautiful coastline, others the lush mountain landscape. One-stop overlooks a small private waterfall surrounded by the Island's iconic red dirt.
Molokai Jeep Rental
For some, Papohaku Beach Park offers the most natural backdrop for their Molokai Jeep Wrangler rental. The lack of commercial development and general traffic may make you feel like the lead character in your own 'Jurassic Park' episode.
The Hawaii Jeep Wrangler stands alone, distinctive and proud, offering excellent visibility and unmatched clearance. Check out our discounted rates on car rentals and rent your Jeep today!