Best Maui Beaches
Maui is home to over 120 miles of coastline with over 30 miles of beaches. Maui's ocean and beach conditions are unique and each presents its own personality. There are white, red and black sand beaches, some more accessible and within beach parks, while others are more undeveloped or "secret" and a little more off the beaten track. Maui has some of the best beaches in the world for swimming, sunbathing, snorkeling and even surfing. Let's explore some of the beaches on Maui, and help you discover the top beaches in Maui for your Hawaii vacation adventures.
Every vacation is different, and every family has their own agenda and wish list of activities. You may be looking for the best snorkeling beaches in Maui, or a place to celebrate Maui weddings on the beach or possibly even any nude beaches Maui might have. It's best to get yourself a map of Maui beaches, and plan your adventures according to location, spending your day on one area of the island each day, exploring the beaches in that location.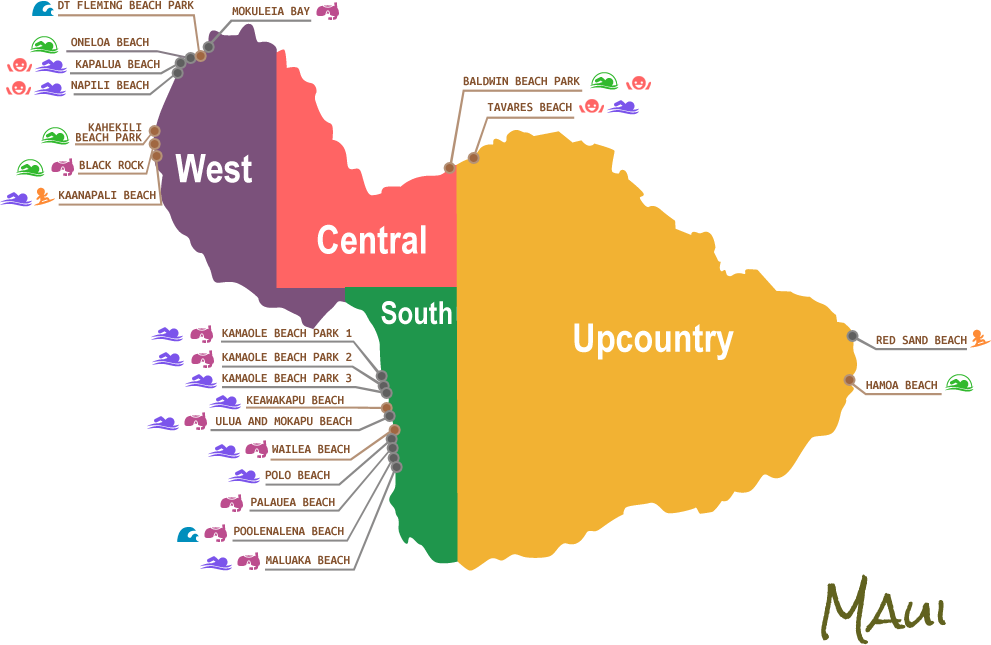 Hamoa Beach
Hamoa Beach is a picture perfect crescent shaped beach that's 100′ wide by 1000′ long crescent. It's surrounded by lush vegetation and sea cliffs. You will find this piece of paradise at the end of the one and only Road to Hana.
The Hotel Hana Maui in the 1930's kind of took over this beach. The hotel staff maintain the beach and landscaping, provide guests with shuttle service, beach chairs and accessories for guests.
Hamoa Beach surfing has been popular with Hawaiians for many many years. Boogie boarding and bodysurfing are also popular here. Hamoa beach snorkeling can be pretty good too in some areas, but beware as the beach isn't protected from the surf by any reefs, so there can be powerful currents and high surf. The sand is quite soft, and the water is usually very clear.
There are public washroom facilities and showers, as well as a place to wash the sand off your feet at the end of the path up to where you'd park, which is helpful with keeping sand out of your rental car. There is no lifeguard on duty here.
Hamoa Beach Parking
To get to this slice of heaven, Hamoa Beach on Maui, turn right on Hana Highway. Drive past Hana and turn left on Haneoo Rd. until you see an area with cars parked. Parking can be less than simple on nice days, as there is only on-street parallel parking, and the road is narrow. After you park, walk down the hill to the beach. The hill is very steep, so be careful.
Ka'anapali Beach
Located on the west side of the Island is the very popular area, Ka'anapali Maui. Ka'anapali Beach is a 3 mile long stretch of beach with beautiful water and golden-white sand and is a 50 minute drive approximately from the main airport, Kahului (OGG). There are several popular hotels and resorts that line this gorgeous beach, along with endless dining and shopping options.
One of the top attractions here is cliff diving, which takes place everyday off the beach's northernmost cliffs known as Puu Kekaa, otherwise known as Black Rock. Every night, a diver lights tiki torches on the cliff side, then dives off Black Rock, in a reenactment of a feat by Maui's King Kahelkilli.
The sand is very soft for relaxing on a blanket and is also ideal to enter the water without water shoes to enjoy a nice swim. Ka'anapali Beach snorkeling and Ka'anapali Beach surfing are great pastimes for both visitors and locals alike. A good place to surf is in front of the Ka'anapali Alii Hotel, and to the right of the Marriott Hotel, though in the Winter, waves can get pretty big, so be very careful.
There are showers located all along the Ka'anapali Beach walk, but there are no public restrooms. You would have to use the facilities at one of the numerous hotels along the sand. There are no lifeguards on duty.
Dogs are not allowed on Ka'anapali Beach.
Kapalua Beach
Kapalua Beach is located on the westside of Maui, approximately 1 hour from the Kahului (OGG) Airport, and just north of Kaanapali and Lahaina. It's a gorgeous family friendly beach along the shallow Kapalua Bay boasting golden-white sand, palm trees, and gentle waters.
Be sure to bring your snorkeling or scuba diving gear to Kapalua Beach as there is a lot of unique underwater marine life to explore and admire. While Kapalua Bay snorkeling, you can feast your eyes on beautiful corals, colourful tropical fish, and majestic Honu (turtles). If you'd like to try some stand up paddle boarding, there's a place to rent some gear. This bay is also the perfect place to watch Hawai'i's awe-inspiring sunsets.
Close by is a beach shack where you can get snacks and drinks. There are no lifeguards here, so please be careful and keep a close eye on your children. If you're hungry, there's a beach shack close by that sells snacks and drinks.
Another nice way to enjoy Kapalua Bay is to walk or jog the 2.5 mile long Kapalua Coastal Trail. You'll enjoy scenic views of the ocean, along this rocky coastline.
Dogs are not allowed on Kapalua Beach Maui.
Kapalua Beach Parking
At the foot of the beach path, there is parking available, as well as public washrooms. Kapalua Bay beach parking is also available in the back rows of the Tennis Club, or the parking lot at the end of Kapalua Place.
Honokalani Beach
This is Maui's most famous black sand beach and is a magnificent sight you just don't want to miss. It will make everyone want to take out their cameras so they can capture the usual yet beautiful phenomenon. Honokalani Black Sand Beach is located in Waianapanapa State Park which is around 3 miles north of the charming town of Hana. So if you're driving the fabulous Road to Hana, be sure to make a stop at this beach, located at mile marker 32.
There's a lot of history at this park – many legends are held here, and it's considered to be a very sacred spot by the Hawaiian people. In addition to the black sand beach, you can explore lava caves, unique foliage, stone arches and blow holes. Lots of great hiking to be had here as well. If you're a strong swimmer, you will enjoy the water, but do take extra care as there is a sudden drop from the shoreline into deep water and the rip currents can be very strong at times.
When visiting Honokalani Black Sand Beach, remember to have your shoes handy as black sand gets much hotter than white sand, and it's a little more coarse as well.
And if you bring camping gear to the park, you can enjoy the family campgrounds or a rustic cabin that sleeps up to 6 people.
Dogs are not allowed on Honokalani Beach.
Honokalani Beach Parking
Because it's a state park, there are amenities in Honokalani Beach which include a paved parking lot, picnic facilities, restrooms, showers, swimming, snorkeling, diving, and hiking trails. There are no lifeguards.