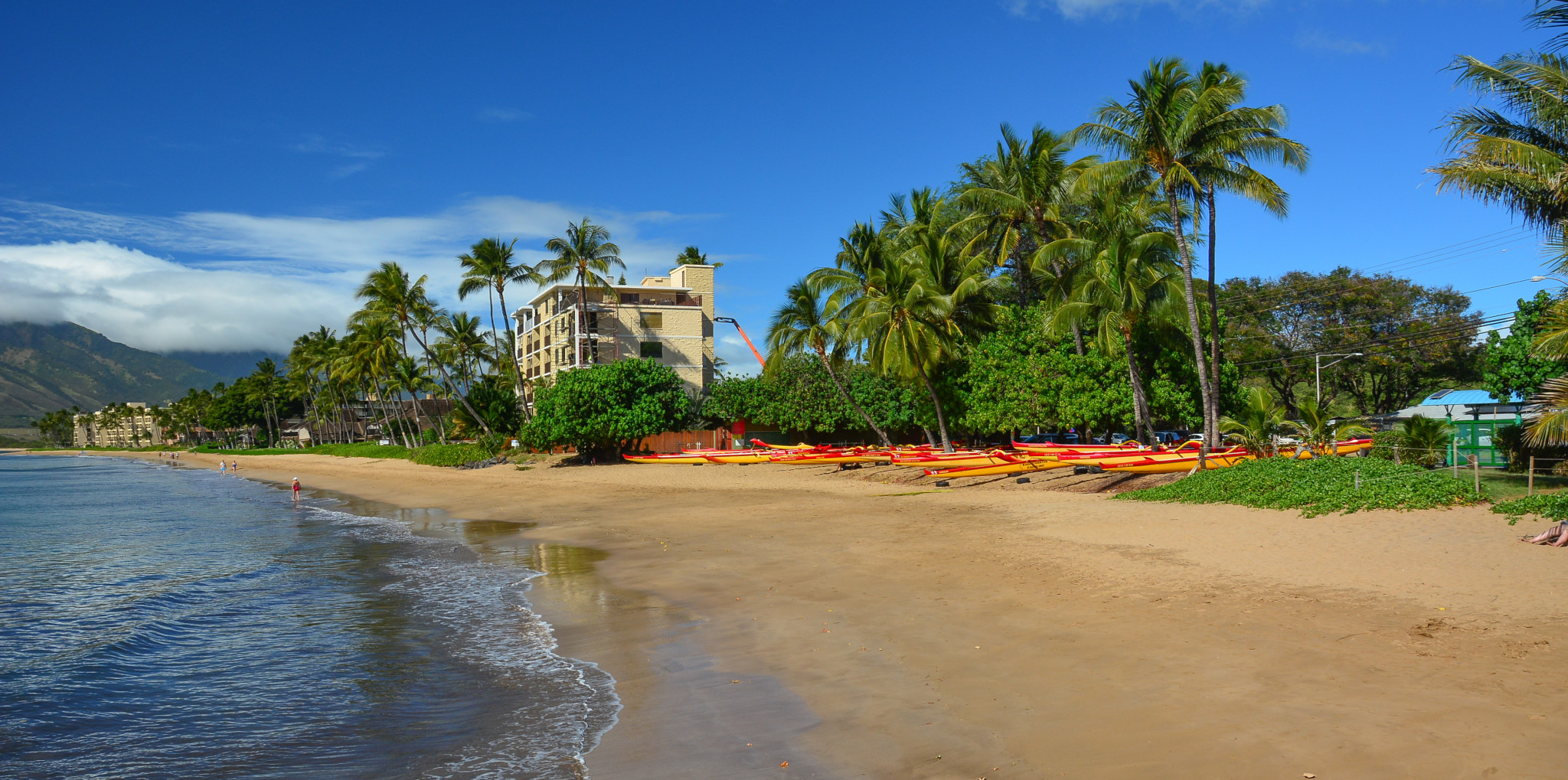 Renting a Car in Kihei, Maui
Kihei is all about the beaches! There are at least ten different beaches to explore in Kihei. Located on the most southern coast of Maui, the sun almost always shines harem making beach life the best life you could imagine. One of Maui's top spots for visitors from the United States and around the world, Kihei hosts the warmest temperatures on the Island, making activities such as snorkeling, diving, boogie boarding, paddling and surfing the best ways to enjoy the warm Kihei coast. Getting a car rental in Kihei, Maui is paramount to being able to enjoy all this town and Maui has to offer.
Kihei is a hot town for nightlife, with the focus being on "The Triangle", also known as Kalama Village, with its maze of bars, restaurants and dance halls. Also home to Maui Brewing Company, the largest local craft brewery on the island.
In the 1950's Kihei was not much more than a barren string of beaches, so remote that in World War II, the military used the beaches to practice amphibious assaults. Even before this time, Kihei was known as "Kamaole" in Ancient Hawaii – loosely translated to "barren" to describe the dry lifeless nature of the area in the early days.
Once water was pumped in from East Maui, life started to appear, and the area grew to what it is today, with a population of over 20,000 and over 6 miles of beaches to explore. Kihei does not have many large luxury mega-resorts or high-end shopping malls, instead catering to more moderately priced accommodations suited to the average budget-friendly traveler's needs.
Kihei is within reasonable driving distance for exploring other attractions on the North Shore, Iao Valley, Maalaea, and Lahaina.
CHOOSING A KIHEI CAR RENTAL
Renting a car is a must for getting around the island of Maui, and even for traveling around the Kihei area, depending on where you are staying. Some visitors prefer to take a taxi to Kihei, settle into their accommodations, and just relax on the local beach, and walk to shops and restaurants close by.
There are Kihei car rental locations right in the neighbourhood for those days when adventure calls. Cars can be rented for 24 hour periods to drive the Road to Hana, or take in a sunrise on Haleakala. A cheap rental car in Kihei will take you anywhere you wish to go – as long as you stay on paved roads and follow the rules of the Kihei car rental company.
Most visitors to Kihei will pick up their Kihei car rental when they arrive at the Kahului Airport (OGG), saving themselves the extra costs of taxis, shuttles etc., as Kihei has plenty of parking at most accommodations, allowing for more spontaneous visits to other areas of Maui.
The best way to decide where to pick up your Kihei car rental, or what type of vehicle to reserve, is to talk to your fellow travelers and find out what they would like to see and do. Make sure your vehicle will hold both passengers and luggage, and possibly even a few beach toys. Options include small economy cars, pickup trucks, minivans, SUVs and even luxury rental cars.
KIHEI INFORMATION
Road Distance from Kihei to Kahului Airport – 10.7 miles
Kihei is known for trade winds in the afternoon – a great refresh from the warmer weather
Home to the Humpback Whale National Marine Sanctuary
Warmest temperatures on the Island of Maui
Enjoying Shave-Ice is a favorite pastime
THINGS TO DO IN KIHEI
When staying in the Kihei area, you may be looking for things to do in that vicinity. There are many dining options all over Kihei, including the well-known Maui Brewing Company, where you will find some very interesting local beer selections, both with and without alcohol.
Don't forget to explore the beaches! Kamaole Beach in Kihei is one of the 10 best beaches on Maui. You can prepare for some snorkeling, swimming, or just a little waving jumping if that suits your abilities.
If you are more interested in learning about what's in the Ocean, you can stop by the Hawaiian Islands Humpback Whale National Marine Sanctuary in Kihei and learn about these incredible marine mammals, and how they are being protected in Hawaii.
For a few other ideas, you can visit one of these opportunities for adventure:
Maui Ocean Center
One of the most popular activities on Maui, Maui Ocean Center stays true to their mission to be 'Advocates for Maui reef and marine species protection".
Kihei 4th Friday Town Party
Open to visitors and residents, every 4th Friday of the month, there is a great community event for those looking for a night of activities to partake of with family and friends. Activities can expect to enjoy local food, dancing, guest speakers, keiki (kid) events, live music and art, with each month being different.
A Snorkel trip to Molokini
Set about 2.5 miles off of South Maui, the Molokini Crater is an underwater volcano islet. Picturesque, this partially submerged, crescent-shaped crater is unlike any other snorkelling destination in the world.
Car Rentals in Kihei FAQs
Why should I book my Kihei rental car through Discount Hawaii Car Rental?
We have very competitive rates with the major car rental companies that have Kahului Airport locations, and pickup locations within the town of Kihei itself and some of the surrounding towns as well. We offer benefits that can include free additional drivers, and reduced young driver rates with some car companies. Our great staff are available to answer your questions, and help you pick out the right Kihei rental car type for your needs.
Should I book my Kihei rental car before arriving?
If you already have your plans arranged, and wish to rent a car for the entire trip, it is wise to rent in advance, and usually when you arrange your flights, the next step is to book your car rental. Securing cheap rental cars in Kihei is much easier when you plan in advance. You then have the added benefit of taking advantage of lower rates that often show up months before you travel. Last minute bookings and pick up times often cost more, as the car rental companies anticipate these last minute bookings, and can implement a surcharge accordingly.
What is the cheapest way to rent a car in Kihei?
The best car rental deals and rates are often found farther out from your arrival date. Book your car rental in Kihei, Hawaii as soon as your flights have been confirmed. Cancelling and rebooking is always free - so you can book early, and hold that rate. If rates get lower closer to your trip, you can easily rebook on our website, and cancel the existing reservation. If rates go up, you already have the best rate locked in, and if they do come down, you can take advantage of rebooking at a lower rate with no penalties.
What is the most popular rental car in Kihei?
The most popular car to rent in Kihei is often the Jeep Wrangler, however there are other very popular rental cars in Kihei as well, such as the minivan for larger families, and the compact or midsize car for the cost conscious traveler. Many travelers absolutely love the convertible, as it allows them to travel with the open air experience, and be able to put the top up and down with the push of a button. These models often are the first to sell out, so it is important to get your reservation made as soon as you have your dates and times corresponding to your airline flights in and out of Maui Airport.
How much does it cost to rent a car in Kihei?
The cost to rent a car can vary depending on the season - with high season rates going up significantly, and the availability of cars going down. There are often sell outs during the peak seasons. We recommend you always book your car as soon as you know your flight details, and at least you have something locked in. You can always come back and search for rates within the often fluctuating prices, canceling any previous reservations as you go. With us, there is no charge to book, and no fee to cancel.
What do I need to know before booking a rental car in Kihei?
Before booking your vehicle, you will need to know the number of passengers, and the amount and size of their luggage. Often people end up with a car that is too small for their needs, and are then forced to upgrade at the counter at that day's going rate, which is often way higher than if they had booked a larger car online. If prices are very high, and you see a vehicle that might work, but maybe not all of your luggage - you can estimate how much it would cost to take a taxi to and from your accommodation and just transport the luggage in the rental car. If that cost is less than the larger vehicle, that might be an option. Some people actually pack a couple of bungee cords to assist in holding the trunk down with large suitcases. Just remember not to stop and shop on your way to your accommodation, as your luggage is vulnerable to theft.