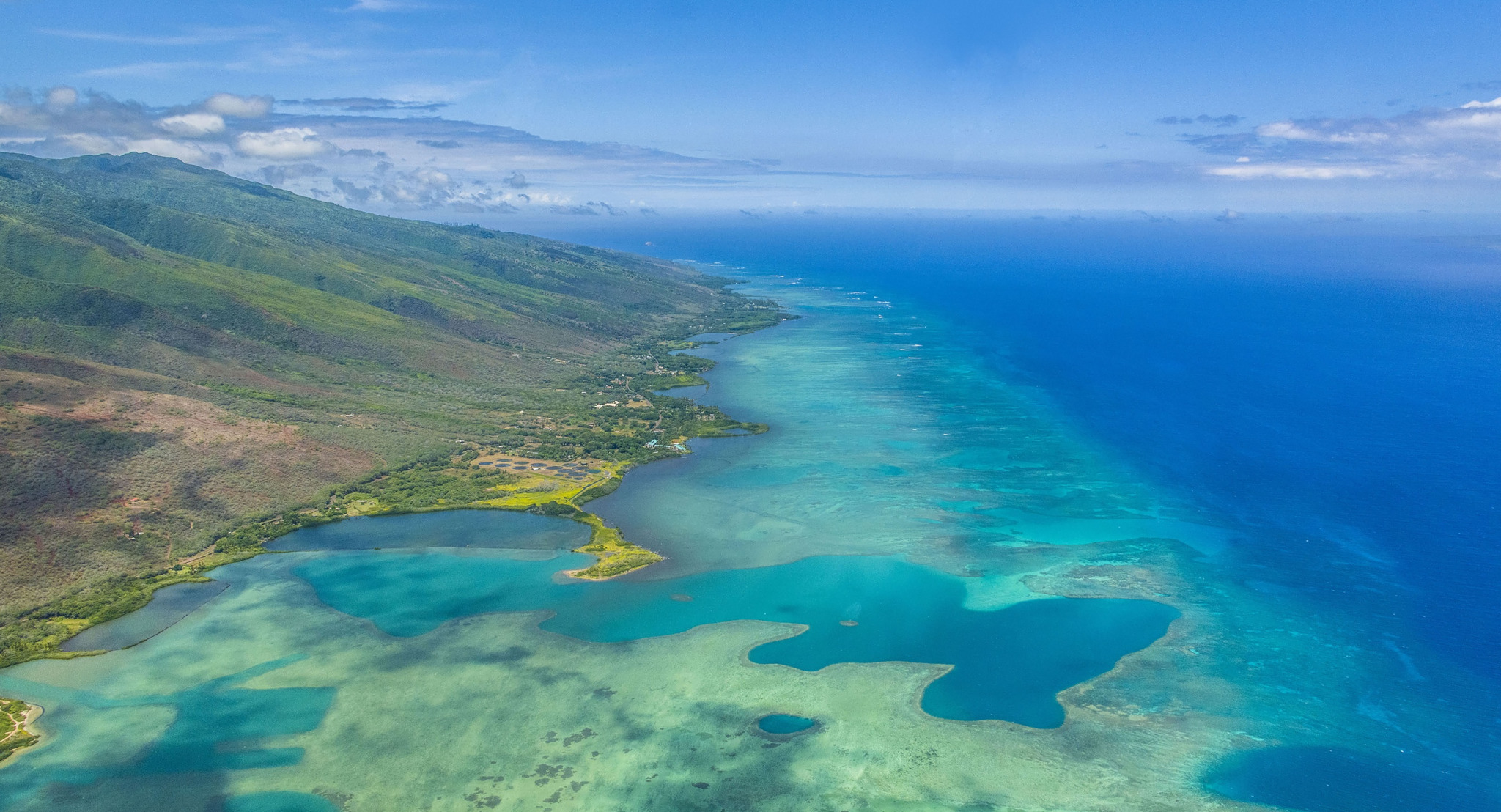 Renting a Car in Molokai, Hawaii
Molokai, known for its slower pace, and more rural atmosphere, is nicknamed "The Friendly Isle". Visitors to Molokai will notice the breathtaking natural beauty, as Molokai has no traffic lights, shopping malls, or skyscrapers. Instead, you will find tropical rainforests, white sand beaches, and lots of opportunities to relax without crowds, making Molokai a great destination for a different Hawaii experience.
Cattle ranching, and pineapple production are two of the most predominant agricultural industries, along with small-scale farming.
Molokai has two distinct geographical areas, with the lower western half being drier than the higher eastern half which includes the Molokai Forest Reserve, with lush forests with over 300 inches of rain per year.
Leprosy was introduced to the Hawaiian Islands more than a century and half ago, and because of the lack of immunity for Hawaiians at that time, a leper colony was established on the isolated Kalaupapa peninsula on the northern side. The colony officially closed in 1969. Take advantage of the guided tours by mule to take in the rich history of this geographical area.
From the Hotel Molokai on the oceanfront, to condos, cottages and Bed & Breakfast facilities, there are a variety of options for accommodations.
Every January, you will find the Hawaiian games of the Ka Molokai Makahiki Festival, which takes place in Kaunakakai, the largest town on the island of Molokai. This is an opportunity to experience authentic Hawaiian music and dancing, with workshops, hula classes and various competitions. If you're arriving in early June, you can take in the annual Ka Hula Piko Festival – complete with local craft booths, food, and Hula dancing. There are various events throughout the year to enjoy – check the calendar online for Molokai events.
Tips for Choosing a Molokai Car Rental
There is only one major Molokai rental car company. During the average tourist season, every rental car type in Molokai can sell out fast, so you will want to be sure to have your vehicle reserved well before arrival. The best way to handle this is to go online to our website as soon as you have your flight details confirmed, and book the best option for your needs at Molokai Airport. You can then check back periodically and see if there are any lower rates showing, and if so, rebook and cancel the existing rental.
A car rental on Molokai is pretty much a necessity, as there are not many other options for navigating your way around this island with few taxis. And there are plenty of reasons to get around and explore the history and take in the scenery and activities.
You can pick up your rental car, and visit the various beaches, including Papohaku Beach, which is one of the largest white sand beaches in Hawaii. Molokai is meant for adventurous travelers with lots of uncrowded wilderness to discover, including the Kapuaiwa Coconut Grove. Molokai is perfect for snorkeling in the longest continuous fringing reef in Hawaii.
Pack your gear into your car, minivan or SUV and get out into nature visiting the Halawa Valley located 1.5 hours from the Airport on Molokai. The drive itself is an adventure, as you pass by Hawaiian Fishponds, Kumimi Beach at the 20 mile marker, and two swimming beaches, Kaili and Kaiwili. The hike into the East End's cathedral valley gives you an opportunity to explore Hawaii of long ago, with beautiful vista and waterfalls. This area must be explored with a guide, as the trail does cross private property, and your guide can provide knowledge of the cultural heritage of this area.
Car Rentals in Molokai can make your trip well worth it and a Molokai Jeep rental will really be an fund experience!
Things to Do on Molokai
Take a diving or fishing tour – this is a very popular activity on Molokai and you could even get a chance to watch the whales breaching from January to May.
Canoeing, Kayaking and Paddleboarding are great ways to explore the waters around Molokai – visit secluded beaches and discover marine life in the south shore reef, visiting mangroves and fishponds along the coast.
Exploring the Molokai beaches to swim, surf, snorkel, or just enjoy the sand and warm sun is one of the best ways to enjoy your trip to Molokai. The best beaches Molokai has to offer are never crowded – this is one of the best parts of exploring this island, as you may find yourself alone on a long stretch of deserted beach, enjoying the Molokai surf.
You may want to take a Molokai Helicopter Tour, and see the island from the sky, and don't forget your camera here!
There are some great areas for Molokai hiking, so you may want to remember to pack your hiking gear.
Visit Kalaupapa by Mule or by Foot – this trail drops 1700 vertical feet with over 26 switchback turns.
Car Rentals in Molokai FAQs
Do I need a car rental on Molokai?
There are many opportunities to travel around the island visiting various locations, or taking a hike - all of which need a vehicle of some sort. Comfort and convenience are key when you choose - a rental car for Molokai is the best option overall. Booking with Discount Hawaii Car Rental helps ensure you get the best car rental available.
Should I book my Molokai rental car before arriving?
In Molokai there are few car rental locations, and only one major car company on the Island. During peak seasons, or when there are special events, the cars are often sold out - it is always wise to book as soon as you get your airline ticket.
Why should I book my Molokai rental car through Discount Hawaii Car Rental?
Compared to other car rental companies we have very competitive rates that include benefits such as free additional drivers. This makes your rate even lower if you have more than one renter. Our customer service staff are the best - we can help you with every part of your car rental experience from pick up to drop off - and work to resolve any problems you may encounter while your car is on rent or after you have returned home.
What is the most popular rental car in Molokai?
The 2 and 4 door Jeep Wranglers are quite popular in Molokai, as they allow you to sit up and feel sporty, as you traverse. Many have T-Tops that are removable, so you can experience some open air as well. The minivans often rent out during the paddling competitions, as groups of paddlers will rent one for their stay on Molokai before they head off to race to Waikiki. The most popular practical vehicle for 2 people is the compact, as it costs less in most cases, and is easiest to park, and of course burns less gas.
How much does it cost to rent a car in Molokai?
There is only one rental car company on Molokai, so they have more resort-style pricing, which could be a little higher than other islands. Pricing here will vary by season, and the prices may even be higher during festivals, and paddling competitions, as supply is in demand. Always book your vehicle well in advance, and make sure you book the correct size, as upgrading at the counter can be costly.
Molokai Information
Birthplace of the Hula Dance
Molokai is 38 miles long by 10 miles wide
(usable area of 260 square miles)
5th largest Hawaiian Island
There is only one 2 lane highway that takes you from end to end
Year round temperature averages 75 degrees (higher elevations can be cooler)
If you're looking to explore the island consider renting a Jeep in Molokai.
Cities on Molokai
Kaunakakai
On the island of Molokai, Kaunakakai is the largest town and main business sector for the island. This quaint Hawaiian town is a gathering spot for locals and visitors. Where a traffic jam consists of two cars stopped, just saying Aloha and a friendly chat.
Book Now