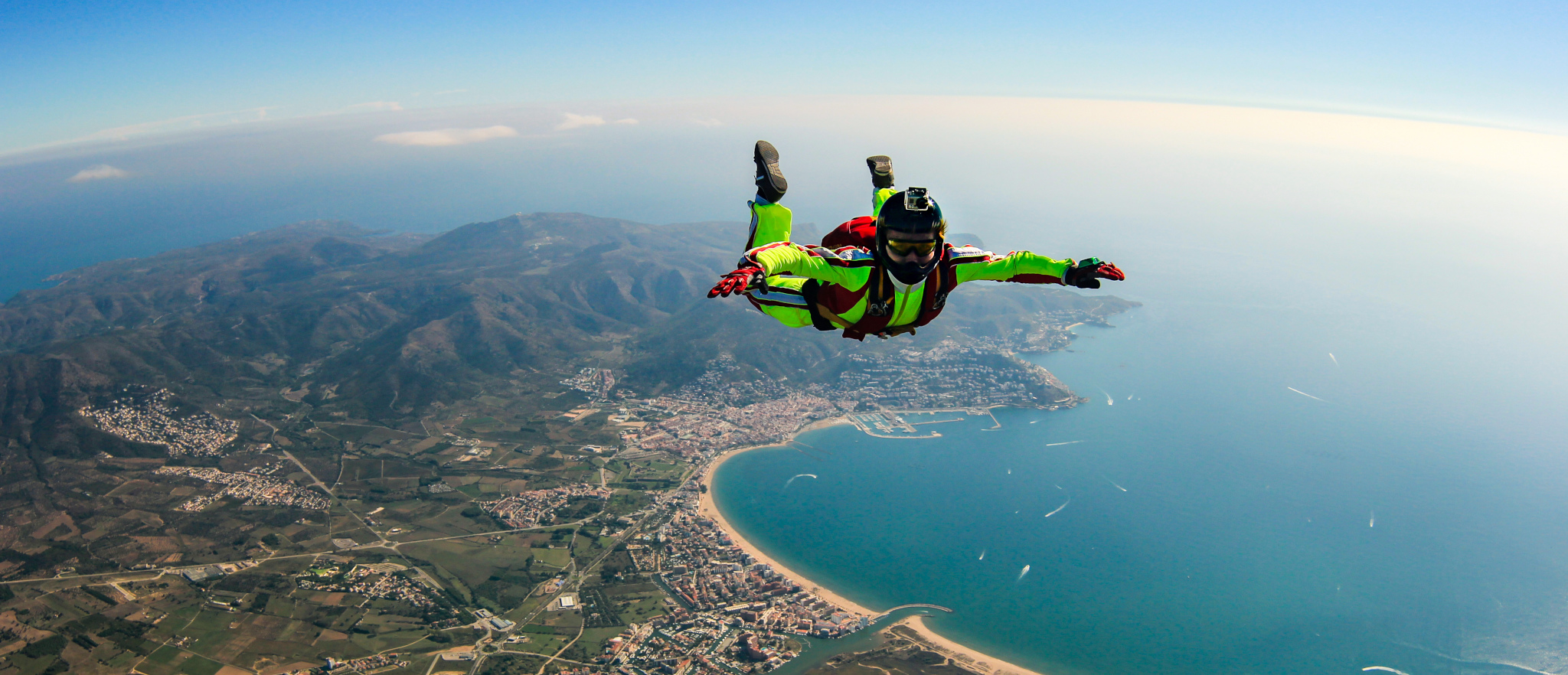 Beginner's Guide to Skydiving in Hawaii
Beginner's Guide to Skydiving in Hawaii
Have you ever dreamed about soaring above azure blue oceans, sandy beaches, active volcanoes, deep lush valleys and majestic mountains? Hawaii is known for its awe inspiring beauty, magical vibe, and most of all it's aloha spirit. It is the perfect vacation spot that will never let you down, and will lure you back year after year.
Hawaii offers the best adventure sports the USA has to offer and is a tropical escape. In Hawaii, you just want to be outside, enjoying the fresh air. Hawaii offers everything from scuba diving to skydiving to surfing and so much more. The Hawaiian islands are like floating jewels out in the Pacific ocean and are an absolute delight for all adventure seekers. Because of Hawaii's unique terrain and all around stunning, it's no wonder Hawaii is the ideal spot for skydiving.
So just imagine the excitement you would experience by leaping out of an airplane, from around 15,000 feet up in the air, and then just soaring like a bird for the first 60 seconds. You may even start flapping your arms like a bird. But then your parachute opens, and now you're soaring through the air admiring all that Hawaii has to offer. Skydiving in Hawaii will leave you with lifelong memories.
Will this be your first jump? Do you want to learn to skydive?
Without a doubt, tandem skydiving is the safest way to try skydiving for the first time.
Following a brief training session, you may experience the thrill of free-falling alongside a professional and take in the spectacular scenery as you both gradually descend to the ground.
Skydiving in Hawaii entails ascending above the clouds and descending through the atmosphere at 120 mph. It's an experience you will NEVER forget!
Tips for Going Skydiving in Hawaii
When participating in extreme sports, SAFETY is everything. When skydiving in Hawaii, or anywhere for that matter, here are some key safety tips:
Wear your Jumpsuit (if recommended) – It will all depend on the weather when skydiving in Hawaii. Be sure it fits right. Don't worry about what you look like. It's designed to protect you from the elements. Or, you may be able to just wear regular athletic type clothing – nothing too loose fitting though, and you might get a little dirty….but that's all part of the fun!
>Harness up – You'll be provided with one if you're doing a tandem-dive, and instructors will be sure it fits properly. Essentially the harness keeps everything in place, it keeps your body attached to your chutes (also known as canopies) and the container. Even though the harness and container are today a single unit, it is important to know that the container is built around canopy sizes, and the harness is built around body dimensions.
Understand all the gadgets – If tandem jumping as a beginner, your instructor will handle everything, but it's imperative that you know what each gadget is for.
Helmets – Helmets are necessary not because the chute may not open as most believe, but to protect you in case the landing isn't as smooth as it should be.
Confirm your Instructor's license – Never just take their word for it. Be sure you see their license and confirm your with a very reputable company, prior to signing anything.
Don't jump with an empty stomach – Yes, it does make a difference. Eat like a skydiving champion! Fuel your body properly. You'll already be feeling anxious and excited, so getting light-headed due to not eating properly would not be beneficial to your experience. No greasy food or alcohol!
Practice your deep-breathing – Feeling anxious is normal, so it's incredibly helpful to do some deep breathing. It's important that you remain calm and clear headed at all times. You'll enjoy your Hawaii skydiving adventure to the fullest if you're as calm as you can be from start to finish.
Know the signals – Don't be afraid to ask questions. And if something isn't clear, ask again and again so you feel safe and confident. Always go over your emergency procedures prior to each jump.
There are many more safety measures to keep in mind at all times, including how to load and exit the plane, and how to land safely. Your instructors will go over all of this with you of course in detail.
Where are the Best Places to go Skydiving in Hawaii?
Best Skydiving in Oahu
Hawaii's main city of Honolulu, located on the island of Oahu has some of the top drop zones in the world. Here you will find the world's oldest and most seasoned skydiving adventure. At 2000 feet, you will get out of the plane and feel an adrenaline rush like no other as you skydive Hawaii's Oahu. Hawaii's greatest panoramic vistas may be seen in Honolulu and around the island of Oahu. The stunning views of the Pacific Ocean and the vistas overlooking the volcanoes will make your heart sing with happiness as you experience the best skydiving Hawaii has to offer. This is where Hawaii's highest skydiving is located. Here, tandem skydiving might cost anywhere from $250 to $1,600. For an extra $150, you may choose picture and video packages to capture all the excitement of your skydiving adventure.
In all of Hawaii, Wailua provides the greatest Pacific skydiving opportunities. This is a great place to do your first jump since it has the greatest planes in the world and a passionate staff of tandem skydiving instructors. There are many historical landmarks and grand views in this town, which has a charming old-world feel. This beach park is in a lovely location, and the tranquility and beauty of the sea will take your breath away. In Hawaii, Waialua has the cheapest skydiving rates. This is the finest choice for thrill-seekers on a small budget.
Best Skydiving in Kauai
Another great place to skydive in Hawaii is while visiting the garden island, Kauai. Kauai's coastline is so beautiful, and the views of the sea, mountains, and volcanoes are spectacular. Taking the 14000-foot leap will get your endorphins racing without question.
Best Skydiving in Maui
Can you imagine skydiving in Hawaii over its tallest volcanic mountain? You'll never forget the panoramic views created by the Haleakala volcano and the local sources of water – all the streams and cascading waterfalls.
When is the best time to skydive in Hawaii?
The best time to skydive in Hawaii is during the months of April, May, September, and October. are the finest months to enjoy all adventure sports including surfing, snorkeling, and skydiving. The clearest views of the sky and Hawaii's serene beaches may be had at this hour. If you want to avoid the crowds, you should visit Hawaii in November as it is the least busy month there. The cheapest times to go skydiving are in mid-May and June. The summertime, when the weather is clear and nice, is the ideal time to jump in Hawaii.
newb question: after the Tauri app has loaded, if I redirect the webview be to my website to pull content from there (via window.location.href) do I still have access to the tauri back end?
Well, it depends. The cost to skydive in Hawaii depends on whether you're wanting to do a tandem dive, or go solo. Definitely the safest way to try it for the first time is to do a tandem jump of course. Most places offer skydiving at around 12,000 or 14,000 feet. Exiting the aircraft at 14,000 feet provides you with around 14 seconds more free fall time. And some companies offer an extreme skydive height at 20,000 feet! Not intended for beginners, mind you.
You get a better deal usually if you reserve online. You can sometimes save around $50 or so by doing it this way. A deposit though will be required, typically around $50.
Tandem dives range from $250 – $325. The cost for a solo jump ranges from $80-120. To jump solo though, you will have to provide proof that you have been certified through USPA. The minimum age to skydive in Hawaii is 18.
So take a deep breath, say aloha, and jump! Skydiving in Hawaii will be one of the best experiences you will ever have in your life!