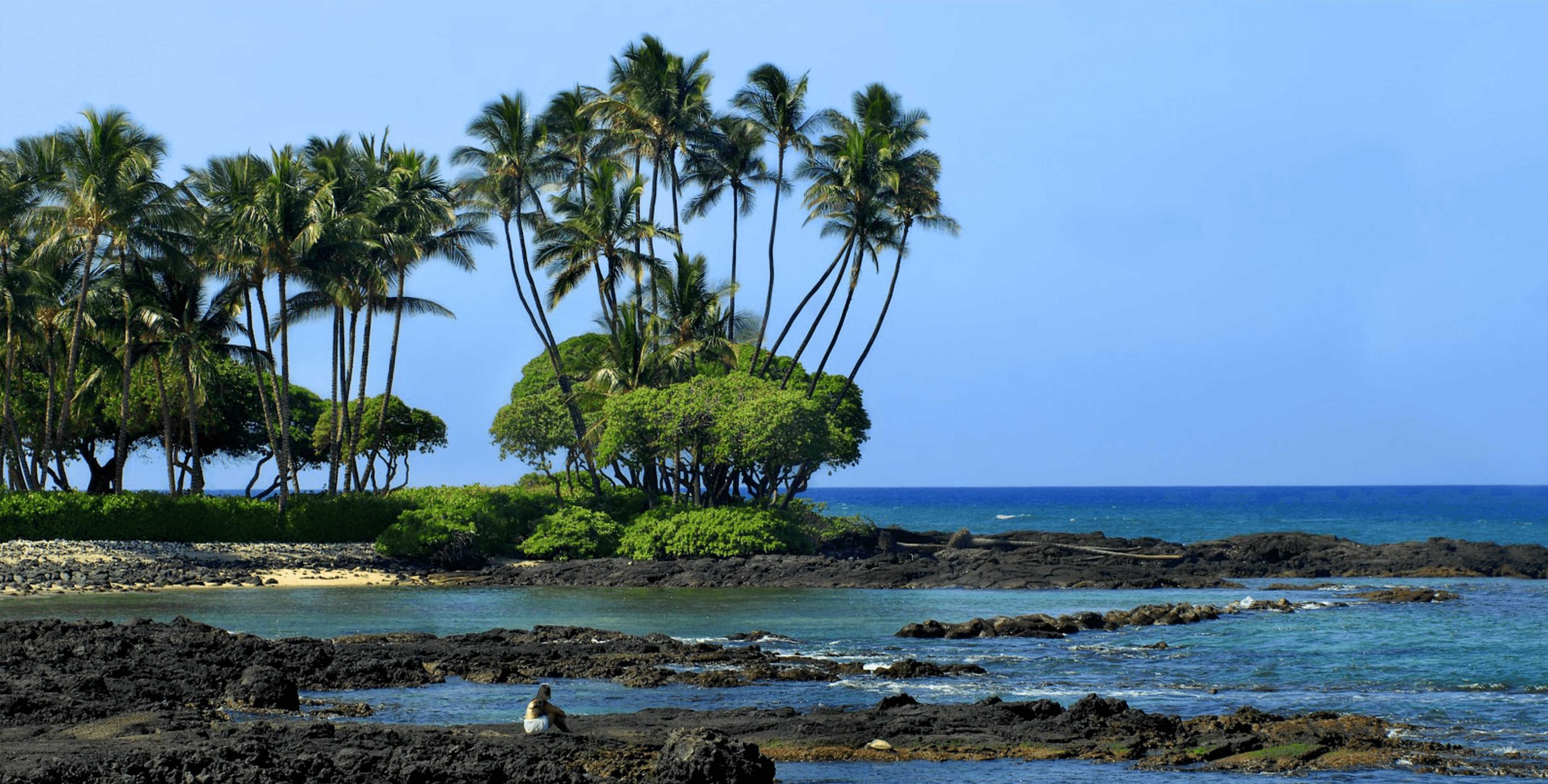 HAWAII - The Big Island
Exploring the Big Island of Hawaii in a rental car is the best way to get to everything you want to see. The largest of the Hawaiian Islands is also the youngest. Home to 10 of the world's different climate zones, from Tropical Continuously Wet to Periglacial with 8 in- between zones. There is no other comparison on earth as far as complex climate diversity in such a small area.
There are two distinct seasons – with the winter months (November through April) being warm with daylight highs up to 80 degrees and lows down to mid 60's. For those Canadian tourists who enjoy the cooler weather that reminds them of home, we recommend January and February.
Summer brings temperatures up to 8 degrees warmer, with July to September being the highest.
The east side of the island receives less sun, and tends to be a few degrees cooler than the sunnier west side. If you are into enjoying the beaches and swimming, the water temperatures here are usually between 75 and 82 degrees.
Hawaii (The Big Island)
The Island of Hawai'i
Hawaii, USA
Choosing a Rental Car on The Big Island of Hawaii
You'll want to secure the best car rental on Hawaii's Big Island for your needs in order to navigate this Island. This does not mean it has to be a 4wd vehicle, but it needs to be a great fit for your vacation. Car rentals on the Big Island are located both on and off airport depending on what your plans are. There are two airports on the Big Island – Kona Intl Airport (KOA) and Hilo Intl Airport (ITO).
If you're planning on spending most of the time at your resort, or only want to explore a little bit, a cheap car rental on the Big Island of Hawaii may be all you need! We can accommodate this in either Hilo or Kona, as well as the resort areas around Waikoloa.
If you are traveling with your spouse and want to spend your time around Kona town, you may have very different car rental needs than a larger group wanting to explore every aspect of the Island. Choose what works best for your trip – your Hawaii car rental is a big part of your trip planning.
Check with your travel companions to get a good idea of what you will be using your rental car for. Hawaii Big Island rental cars must be large enough to include both passengers and luggage to and from the airport, as well as guests and gear for trips around the island.
Car rental companies' smallest vehicles will really only hold 2 passengers and their luggage comfortably. The size of your travel group, and their luggage sizes must be considered carefully when making a decision on your car rental in Hawaii. Our customer service agents are very experienced with questions regarding both the size and type of vehicle you may need.
Hawaii Big Island Information
Largest and youngest of the Hawaiian Islands
Hawaii – The Big Island is known as the "Orchid Isle"
Ranching and agriculture are two of the Big Islands mainstays
Kilauea Caldera is the longest continuously erupting volcano in the world
Average annual rainfall ranges from 10 inches on the Kohala Coast to 128 inches in Hilo
If you're looking to explore the island consider renting a Jeep in Hawaii.
Things to Do on Hawaii (The Big Island)
Mauna Kea Summit Sunset & Stargazing on the tallest oceanic mountain in the world – this is a must see for visitors from Canada. You can drive in your Big Island rental car as far as the Ellison Onizuka Visitor's Center. If you wish to continue farther, you must book a tour. At the peak you may encounter snow, view the incredible sunset, photograph the stars, and view planets and stars through a powerful telescope.
Ocean tours include opportunities for whale watching, snorkeling, kayaking, and Manta Ray adventures are all very popular among tourists from Canada. There are lots of choices to suit your adventurous spirit.
Volcanoes! Yes, it is definitely worth the drive to Hawaii Volcanoes National Park and the surrounding areas. You will discover some of the most unique and amazing geographical landscapes in the world. The park encompasses the summits of both Kilauea and Mauna Loa – two of the world's most active volcanoes.
Kailua-Kona is home to restaurants, nightlife, shopping, and a great place to anchor yourself for your Hawaii vacation. A car rental in Kona is a necessity if you want to explore anywhere outside of the town itself.
Hilo on the northeast side, is blessed with more rainfall and is blessed with dramatic waterfalls, rainforests, and gardens. The downtown area offers visitors museums, art galleries, shops and restaurants.
A visit to Puna District, which is located south of Hilo is a worthwhile trip in your Hawaii car rental; located on the windward side and resembling a large greenhouse with very lush green surroundings. It is known for its heated tide pools, freshwater springs, and sometimes cold or hot spring water bubbling from the ground. There is much rugged coastline and lava fields.
You can enjoy some of the same activities as you would find on other islands, like air and helicopter tours, boat tours, fishing, snorkeling, diving, golfing, to name a few. The Big Island is also known for its volcanic activity which could be interesting for Canadian visitors who haven't seen a volcanic landscape in person.
CAR RENTALS ON THE BIG ISLAND FAQs
What's the best rental car on Hawaii's Big Island to drive up Mauna Kea?
There are road restrictions, so car rentals on the Big Island can only go as far as the Visitor's Center. All vehicles can get to that point.
Is driving around the Big Island of Hawaii easy?
The island has 6 main regions, each unique in climate and landscape, and they are all spread apart, and have paved roads. Driving is the best way to navigate this island and a rental car will get you anywhere you need to go.
How much does it cost for Canadians to rent a car on Hawaii's Big Island?
Prices will vary depending on the season, car rental location and company. As rates do vary, it is always wise to determine your needs:
Size of vehicle
Number of passengers
Number of drivers
Is there a young driver between 20-24 years of age?
What country is the driver's license from?
Pick up and drop off dates
Pick up location and drop off location
These questions will help as you navigate your search on our website to book from the best rental car companies. We highlight benefits such as free additional drivers or reduced young driver's rates. At Discount Hawaii Car Rental, we also have rates available for renters from other countries.
Cities on the Big Island
Waikoloa
Ancient Hawaiian history meets ultra modern resorts on the South Kohala coast, home to Waikoloa. A tropical paradise nestled among the lava fields, with minimal amounts of rain, and plenty of sun.
Book Now
Hilo
Hilo is located on the northeast side of the island, and is known for its rainfall producing gardens, waterfalls and tropical rainforests. Hilo is a great place to start an adventure if you wish to visit the volcanoes, or head up Mauna Kea and possibly experience some snow.
Book Now